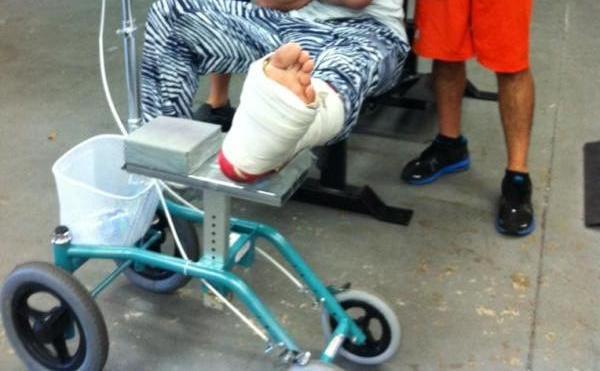 Of course we weren't giving up without a full shot of this now infamous scooter Rob Gronkowski has been using this week in Florida. We first learned of this scooter after Sunday night's party at the Jason Taylor benefit and it's been an obsession ever since. The thought of the guy throwing broads over his shoulder and scootering back to a hotel room is intriguing. And now we get a full look at this beast ride.
Nope, it's not one of those beer scooters that rednecks use at NASCAR races. Not even a beer holder. This thing actually looks legit. Something your insurance would give you to get around instead of fighting with crutches. So he walks around on one leg, the left leg gets propped on the seat and he rolls from party to party.
According to Chandler Marchman, who posted this photo a couple hours ago:
Had a special guest judge at the 2nd Annual MAN Cave Meathead Dance Off…Big thanks to Rob Gronkowski!!!
Cool story, bro. Anyway, where exactly does a guy get those zebra Zubaz parachute pants. Haven't seen those since like '89?

Filed under: Football
MORE FROM YARDBARKER:
The Worst: NFL Week 2
MORE FROM YARDBARKER
NFL News

Delivered to your inbox

You'll also receive Yardbarker's daily Top 10, featuring the best sports stories from around the web. Customize your newsletter to get articles on your favorite sports and teams. And the best part? It's free!