Found October 12, 2012 on Fox Sports Midwest:
PLAYERS:
Jeff Fisher
,
Steve Spagnuolo
,
Josh Mcdaniels
,
Ryan Tannehill
,
Scarlett Johansson
,
Eva Longoria
,
Greg Zuerlein
,
Josh Brown
,
Sam Bradford
,
Danny Amendola
,
Brandon Gibson
,
Lindsay Lohan
,
Stan Kroenke
,
Stephen Ross
,
Janoris Jenkins
,
Cortland Finnegan
TEAMS:
St. Louis Rams
,
Miami Dolphins
,
Tennessee Titans
,
Arizona Cardinals
,
Washington Redskins
,
Philadelphia Eagles
,
New York Jets
We all make choices in life. They range from serious to frivolous: Which car to drive, where to attend college, whom to approach at a nightclub, whom to date, whom to call at 3 a.m. if we need to post bond. We face decisions each day. Go back to January, and Jeff Fisher had a choice between South Florida sun and a Midwest franchise that had set. The St. Louis Rams were as stable as waves off Key West in a tropical storm after Steve Spagnuolo was fired. They went 15-65 in the last five years. They paid Josh McDaniels real money. They devised "Ram Rules." Little went right. Meanwhile, the Miami Dolphins rolled out the velvet carpet in their courtship of the former Tennessee Titans coach. They flew him to their Davie, Fla., facility via helicopter. They trotted out Carl Peterson. They ran two separate searches, knowing that, much like the current pair of New York Jets quarterbacks, two equals none at all. In the end, the chase worked out for everyone. The Rams got their man and the Dolphins got Ryan Tannehill's wife. Both catches are undefeated at home. Fate has a sense of humor, because Fisher meets his old flirt Sunday at Sun Life Stadium. He looks mighty fine after making over St. Louis from a homely schoolgirl into Scarlett Johansson through five games. Joe Philbin's no eyesore, but he's not Eva Longoria either. Who received the better bargain after trying to hook Fisher: St. Louis or South Beach? You choose. Onto Week 6 How will the Rams rely less on Greg Zuerlein? One day, a nickname will stick. More impressive than Zuerlein cranking 13 consecutive field goals including four from at least 50 years is that he has just about as many monikers floating throughout Internet Land. There's "Greg the Leg," "Young GZ" and "Legatron," a newcomer to the stable. Meanwhile, Josh Brown is pegged with "Unemployed." Zuerlein's launch into the NFL's stratosphere is like receiving a compliment from your sister: It turns your brain into a scrambled egg then you search for the true meaning behind those words. For the Rams, the answer can be found by looking at themselves through a cracked mirror. They rank No. 29 in total offense, averaging 278 yards per game. Sam Bradford threw two touchdowns in a Week 5 romp over the Arizona Cardinals, but before then, he had failed to find the end zone after tossing three scores in a Week 2 victory over the Washington Redskins. So Zuerlein has become a national-media crush while Bradford sits on aluminum bleachers with a wilted bunch of roses. Perk up, Sam. A facelift will come if you lift the Rams to more "7s" than "3s." How will the Rams survive without Danny Amendola? A trusted partner is hard to find. Batman had Robin, Regis had Kathie Lee, Caesar had Brutus. Only one of those dynamic duos never split. Amendola's clavicle injury, sustained in the second quarter of the victory over Arizona, puts a kink into a dry hose of an offense. The slot star was Bradford's wingman, leading the Rams with 395 yards on 32 catches with two touchdowns. Brandon Gibson, meanwhile, stands a distant second with 184 yards on 13 catches with two touchdowns. Good news for the Rams: Amendola could return in about six weeks. Worst news: That means about six weeks of Bradford working with a wide-receiving corps as deep as a kiddie pool. There's always a silver lining in the storm. Remember, St. Louis went through this song and rain dance in 2011. Amendola was injured early in the fourth quarter of a Week 1 loss to the Philadelphia Eagles. The results that followed were as pretty as a Lindsay Lohan mug shot. But hey, the Rams lived to swing another day. What will happen? This contest begs for a fitting title. Fisher Bowl? 'Stache Staredown? The "Thank-Goodness-We-Booted-Steve-Spagnuolo-and-Tony-Sparano-to-the-Alley" Game, presented by Stan Kroenke and Stephen Ross? For now, an unnamed Week 6 wrestle will do. The Rams are hot, but they've yet to prove their sizzle on the road. The Dolphins have a pulse, but they've yet to prove that they can breathe as an AFC East contender for more than a month. No matter what happens, Fisher will remain on top of his world. He's a savior in St. Louis, he gets to eat toasted ravioli whenever he wants, he has Janoris Jenkins and Cortland Finnegan in his secondary, and he works in "gorgeous" Earth City, Mo. (OK, chalk that last one up as a loss.) He made his choice. He chose wisely. Going south on South Beach? Nah, the Rams will keep jetting north in the NFC West. Pick: Rams 20, Dolphins 17
Original Story:
http://www.foxsportsmidwest.com/10/12...
THE BACKYARD
BEST OF MAXIM
RELATED ARTICLES
According to ProFootballWeekly.com, there's at least one source within the St. Louis Rams' organization that believes wide receiver Danny Amendola could be back sooner than expected from his separated AC joint."Our Rams sources are putting their money on WR Danny Amendola returning to action much sooner than later after suffering a shoulder joint injury that normally takes...
Bounty Gate has taken on a life of its own, and even after its resolution, there will probably still be conversation. Fresh off of Roger Goodell re-issuing his bounty punishments, news has leaked out possibly involving another witness to the transgressions. Only thing is, the new key witness says he's not a witness and was never spoken to. I know it sounds like an episode of The...
ST. LOUIS (AP) With prolific wide receiver Danny Amendola sidelined by a collarbone injury, the St. Louis Rams will probably need a group effort to make up the volume for the next several weeks. They're doing their best to put a positive face on the situation. Amendola is among the NFL leaders with 32 receptions, and has nearly 40 percent of the Rams' catches on the year...
The St. Louis Rams are 3-2 but have yet to win a road game. The Miami Dolphins are 2-3 but have won only one of their last three games.There is much buzz about coach Jeff Fisher playing against the team he turned down. Below are three bold predictions for the game.Greg Zuerlein breaks the NFL kicking recordSo far Greg Zuerlein has gotten close to a 65-yard field goal but it hasn...
(Eds: With AP Photos.) By R.B. FALLSTROM AP Sports Writer The perfect rookie kicker with the cannon leg has nothing on his rookie roommate with the St. Louis Rams. Just like Greg Zuerlein, who's 13 for 13 on field goals this year, punter Johnny Hekker is fast making a name for himself. Together, the youngsters have made quite an impact. One has been able to put the Rams (3-2...
  Looking at the numbers, this doesn't look good for the Rams. Since the end of the 2007 season, the Rams have won exactly five road games. Yes, this is a different team, but this new team is 0 and 2 on the road. The Rams need to be able to run the ball, or at least threaten the run to have offensive success. Turns out, Miami is the number one defense against the run in the...
The Miami Dolphins have a chance to even their record at 3-3 on Sunday, and keep pace (although it's early) in both the AFC East and Wild Card races.  The Dolphins have played better than most people expected before the year started. They've been rushing the ball effectively, getting solid play out of their rookie [...]
The St. Louis Rams come to town this week, and I noticed an interesting stat. The Rams play better at home than they do at away games. I guess we could say that about every team couldn't we? With the... Come here for the best Miami Dolphins blog on the web. We have all of the most up to date new and opinions on the Dolphins organization for its fans.
Beware Thy Neighbor! Week 6 NFC West Matchups + Previews RAMS vs. DOLPHINS (SAT Oct 14 1 PM ET) The Rams are off to a good start at 3-2 and their D has been stellar in their last 2 wins only giving up a combined 16 points. The defense may have to play well since the Rams' offense is not a high scoring one and on top of that they led their best WR in Danny Amendola, who is out...
It seems like ancient history, but it was only nine months ago that Jeff Fisher arrived in Miami with a hero's welcome as Dolphins owner Stephen Ross was trying to convince him to be his next head coach. There was no shortage of speculation in the ensuing couple of weeks as everyone tried to figure out which way Fisher was leaning. The most laughable talking point during those...
This Sunday, the Miami Dolphins take on the St. Louis Rams in what will prove to be a good match up for both teams.  However, the St. Louis Rams have started to turn some heads with quality victories over the Redskins, Cardinals, and Seahawks.  The Rams feature a tough defense anchored by their always up to no good Safety in Cortland Finnegan and incredible play by Robert Quinn...
NFL News

Delivered to your inbox

You'll also receive Yardbarker's daily Top 10, featuring the best sports stories from around the web. Customize your newsletter to get articles on your favorite sports and teams. And the best part? It's free!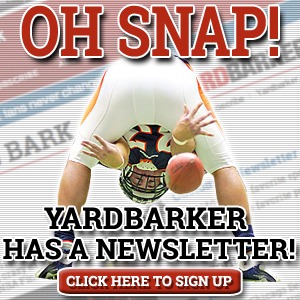 Latest Rumors
The Backyard

Today's Best Stuff

For Bloggers

Join the Yardbarker Network for more promotion, traffic, and money.

Company Info

Help

What is Yardbarker?

Yardbarker is the largest network of sports blogs and pro athlete blogs on the web. This site is the hub of the Yardbarker Network, where our editors and algorithms curate the best sports content from our network and beyond.