Found February 04, 2012 on NorthWest Sports Beat:
PLAYERS:
Peyton Manning
,
Drew Brees
,
Alex Smith
,
Aaron Rodgers
,
Jason Campbell
,
Carson Palmer
,
David Garrard
,
Vince Young
,
Pete Carroll
TEAMS:
Seattle Seahawks
,
Indianapolis Colts
,
New Orleans Saints
,
San Francisco 49ers
,
Green Bay Packers
,
Oakland Raiders
,
Jacksonville Jaguars
,
Philadelphia Eagles
T-Jack  just doesn't cut it
We have all seen, and heard, the Brett Favre-esqe story of Peyton Manning and where he will end up next year. If he is even cleared to play that is.
With that in mind, I have compiled a list of the top five free-agent Quarterbacks that I think the Seahawks should take a look at.
After all, what do we have to lose?
I am omitting the likes of Drew Brees, and Alex Smith (not that I would want him anyways), because they are most likely going to sign with the Saints and 49ers respectively
1. Matt Flynn
Flynn brought national attention to himself when he covered for Aaron Rodgers on that final day of the regular season this past season. His numbers were outstanding, as good as any given Sunday when Rodgers would be starting.
Just think what he could do for the Seahawks and their young receiving corps during a full season!
With a QB like that under center, the Seahawks would automatically be in the hunt for the NFC West title again. I can probably speak for a lot of fans out there in saying that I have grown accustomed to winning in this division.
This past year was no bueno, we own this division, and Flynn could put us back on top.
One of the other Seahawks bloggers here at NWSB Brandon Choate does a great job breaking down the Matt Flynn signing PRO's, and another article on the Matt Flynn CONS here.
2. Jason Campbell
If Campbell can win in Oakland, he could definitely win in Seattle. Before he was lost to the year to injury, Campbell had the Raiders looking toward a top seed in the AFC West.
Now that Carson Palmer is in Oakland, the Raiders can afford to part ways with their QB.
Campbell has been a good QB in Washington, and Oakland, despite not having any real threats. Neither of those teams are Super Bowl threats year in and year out, but a strong showing over his career could land him a starting job in Seattle no problem.
Chad Henne is another QB who has had a down-on-his-luck career. Could he be in Seattle in 2012?
3. Chad Henne
Henne is another QB who has had a down-on-his-luck career so far. Henne has the arm to be a top passing yard QB, but has just lacked the coaching, and talent.
Coaching and young receiving talent are just what the Seahawks have, and given the way the Hawks passed the ball during the second half of the season, Henne's arm would be perfect for this young offense.
 4. David Garrard
Of course if the Seahawks want to get in on the triple-option a la Tebow and the Broncos, Gerrard is always an option. So is Vince Young for that matter, but I think Pete Carroll is still holding a grudge.
Gerrard is built like a bull, can run, and has a pretty strong arm. He's only two seasons removed from a Pro-Bowl appearance, but his neck injury will make him a liability signing no matter where he ends up.
5. Peyton Manning
Though he isn't technically on the market as of yet, he soon will be. This is a tough call, should the Seahawks go for broke and sign him to the big bucks he deserves?
Right now the Cardinals are interested in him as well, and it would be worth the money just so they don't sign him.
Like Gerrard, his neck injury adds some serious liability issues.
Though Manning is a no doubt hall of famer, the money he will want may not justify his signing.
But, this could be a once in a lifetime signing for the Seahawks. I say if the opportunity is there, we jump all over it!
CLICK HERE TO CHECK OUT THE SEAHAWKS BLOG PAGE IN OUR CLUBHOUSE SECTION AT NWSB!
© Clinton Bell for North West Sports Beat, 2012. | Permalink | No comment |
Follow NWSB on Twitter or join US on Facebook for real-time updates OR... | Share This on Twitter | Share NWSportsBeat.com on Facebook
Post tags:
2012
,
2012 Offseason
,
Chad Henne
,
David Garrard
,
Jason Campbell
,
Matt Flynn
,
NFL
,
NFL free agency
,
NFL Free Agents
,
NFL News
,
Peyton Manning
,
Quarterbacks
,
Seahawks
,
Seahawks Blog
,
Seahawks Gossip
,
Seahawks News
,
Seahawks quarterbacks
,
seahawks rumors
,
Seattle Seahawks
,
Seattle Seahawks Football Blog
,
Seattle Seahawks QB's
Original Story:
http://www.nwsportsbeat.com/seahawks/...
THE BACKYARD
BEST OF MAXIM
RELATED ARTICLES
Paul Kuharsky thinks the Colts won't budget even if Peyton Manning is healthy but it could be a boon for potential suitors: I don't think it has a bearing on the Colts' decision, which is going to be to release him, avoid long-range cap problems and draft Andrew Luck to be the centerpiece of their next era. But Manning should be able to show his next team that he can...
Peyton Manning received medical clearance to return to the NFL in 2012 during a postoperative visit Wednesday with the surgeon who performed the Sept. 8 spinal fusion procedure on the Indianapolis Colts quarterback.
Wouldn't it be nice to be a fly on the wall when Peyton Manning and Jim Irsay finally sit down and come to a resolution as to the future of No. 18 as an Indianapolis Colt?  On Thursday, the news broke that Manning has been medically cleared to resume his NFL career.  That announcement firmly places the ball in the court of the Colts' owner as to whether or not Manning returns...
Bob Kravitz spoke to two general managers who know a thing or two about releasing a Hall of Famer. Carmen Policy decided to cut bait with Joe Montana, who served his exile in Kansas City, and go with Steve Young while Peter Pockington sent Wayne Gretzky packing from his beloved Edmonton Oilers. Both men say it was the right decision: "And that's the thing: You have to separate...
Peyton Manning has been medically cleared by two doctors, including Dr. Robert Watkins, who performed the most recent surgery on the Indianapolis Colts quarterback's neck, to resume his NFL career, sources told Chris Mortensen and Adam Schefter of ESPN.
Even during Super Bowl week, the Peyton Manning saga has been the hot topic in Indy. Now add a new wrinkle: Andrew Luck, the Colts' likely No. 1 pick, is in town, writes Don Banks.
Get used to seeing Colts quarterback Peyton Manning in a uniform other than the one worn by the Colts. Per a source close to Manning, the long-time Indy starter will play in 2012.  The source also has predicted that Peyton eventually will be the comeback player of the year next season. But will he play…
INDIANAPOLIS (AP) - Jim Irsay is trying to put a happy face on an ugly public spectacle.After Peyton Manning stole the big stage from his little brother, Eli, all week, the Indianapolis Colts owner tried to resolve the second public spat in two weeks with his star quarterback. The latest ...
For the second time in five seasons, quarterback Eli Manning directed an underdog Giants team past Tom Brady and the Patriots in the Super Bowl, this time doing it in brother Peyton Manning's town.
The best quarterbacks bring fans out of their seats. Aaron Rodgers and Peyton Manning did exactly that Saturday night when the NFL Most Valuable Player accepted the trophy from the only four-time winner of the award.
NFL News

Delivered to your inbox

You'll also receive Yardbarker's daily Top 10, featuring the best sports stories from around the web. Customize your newsletter to get articles on your favorite sports and teams. And the best part? It's free!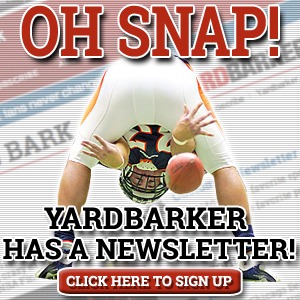 Latest Rumors
The Backyard

Today's Best Stuff

For Bloggers

Join the Yardbarker Network for more promotion, traffic, and money.

Company Info

Help

What is Yardbarker?

Yardbarker is the largest network of sports blogs and pro athlete blogs on the web. This site is the hub of the Yardbarker Network, where our editors and algorithms curate the best sports content from our network and beyond.