Found September 27, 2012 on NorthWest Sports Beat:
A wild finish Seattle Seahawks 14, Green Bay 12
When: 5:30 PST, Monday, September 24, 2012
Where: CenturyLink Field, Seattle, Washington Bad calls all the way around. As I am writing this the news is breaking that the NFL and NFLRA (Referee Association) have reached an agreement.  The real refs will be back for tonight's game in Baltimore.
This will end all of the complaining about bad calls right? Fat chance, but I am very happy they have reached an agreement and we can now move on.
It looks like the referees, which is a part-time profession, will receive $173,000 dollars per season, according to Pete Prisco's twitter account. Here then are my Five Seahawks who impressed against the Packers Monday night. Jon Ryan #9 When the lights were on, and the Seattle Seahawks needed it the most, Jon Ryan delivered a couple booming kicks, including a 73-yard punt that was muffed. That punt was the longest in the league this year. Of course, it is still well shy of the NFL record 98-yard punt by Steve O'Neal back in 1969.  Ryan is currently ranked 7th in the league for punts downed inside the 20-yard line, and 4th in the league for average return against. Both of those stats are attributed to Jon and an outstanding punt coverage team. Speaking of joint effort, the punt unit has the second best net punt average in the NFL. Ryan is currently ranked 7th in the league for punts downed inside the 20-yard line Bruce Irvin #51 On Monday Night, you could hear the 12th man chanting "BBBBBRRRRRUUUUUUUUCCCCEEE" after Bruce Irvin made both of his sacks.  He should have had a third, but Packers' guard Bryan Bulaga held him, and tackled him to the ground. No matter, Chris Clemons cleaned up the play with a sack of his own.  Bruce loves to prove his doubters wrong, so far he is doing a great job of that.  Irvin now leads all NFL rookies in sacks. Did I mention that both of Irvin's sacks Monday came in the first quarter? Golden Tate #81 Golden Tate has been the center of controversy for the past two weeks.  Packers fans have been classless towards Golden since Monday night.  They have been calling him the N-word among other things. Of course, they have only been following Packers' idiotic, loud mouthed guard, TJ Lang. Tate seems to be handling the situation well. In the second quarter Golden Tate ran a nice double move post route.  During the play he made Packers' cornerback Tramon Williams look like a rookie. Russell Wilson, who actually is a rookie, delivered a great pass for a 41-yard touchdown. Ever since the last second play, Golden Tate has been the center of attention.  Like it or not, Tate did what he had to do to "compete" for the ball.  Yes, he pushed a defender out of his way. That said, it is not his fault the referee didn't call him for offensive pass interference.  After that, he went up and fought for the ball.  He fought until the play was absolutely over, and he was the player who emerged with the ball when it was all said and done. I can't pretend to know what was going through the officials' minds at that moment, but I do know they called it a touchdown.  It is not his fault, he just line up and "balled-out". Clearly the Packers game was one of the best ever for Brandon Mebane. (Photo: The News Tribune) I wouldn't want it any other way. Chris Clemons #91 I apologize to Chris Clemons for even considering that he might have lost his edge.  After watching him during the preseason I was extremely concerned. No matter what I type about his performance Monday, nothing would be better than simply stating the fact that he had 4 sacks in the first half, THE FIRST HALF!!! He is now third in the NFL with 5.0 sacks this season. Brandon Mebane #92 Brandon Mebane had 2 sacks Monday night.  He has only ever had more than 2 sacks in a season one time, back in 2008.  If he doesn't have another sack all season, he will end up 0.5 sacks short of his total from 2009-2011. Clearly the Packers game was one of the best, if not the best, game he has had in his professional career. I would also like to give an honorable mention to every Seahawks defender.
I couldn't list them all, but it was an outstanding defensive performance.  
They are going to be an exciting group to watch this season, "Better get your popcorn ready". Agree? Disagree? I'd love to hear your take! CLICK HERE CHECK OUT THE SEAHAWKS BLOG IN OUR CLUBHOUSE AT NWSB! © Brett Bivens for North West Sports Beat, 2012. | Permalink | No comment | Follow NWSB on Twitter or join US on Facebook for real-time updates OR... | Share This on Twitter | Share NWSportsBeat.com on Facebook Post tags: 12th man, Brandon Mebane, Bruce Irvin, CenturyLink Field, Chris Clemons, Golden Tate, Jon Ryan, Monday Night Controversy, Monday Night Football, Russell Wilson, Seahawks Defense, Seattle Seahawks, TJ Lang
Original Story:
http://www.nwsportsbeat.com/seahawks/...
THE BACKYARD
BEST OF MAXIM
RELATED ARTICLES
Seahawks All Access Earl Thomas is the small guy in a vary large Seattle Seahawks secondary. At 5'10″, on stilts, and about 200 pounds, soaking wet wearing sponges, he looks out of place when the defense is in the huddle. Don't let that fool you. . . Once the ball is snapped Earl uses his great instincts to get himself into possition to be around the football.  Then, Thomas...
Proving the doubters wrong, one sack at a time When Pete Carroll took over as the head coach of the Seattle Seahawks the mantra painted on the wall was "Always Compete."  With that competing philosophy in place, it has opened the doors for the young guys to leap up the depth charts during the offseason. Last season we witnessed the arrival of undrafted free agent Doug Baldwin...
Seahawks head coach Pete Carroll commented on his team's controversial win Monday night. In Carroll's book a win is a win, even if everyone else is the country is screaming otherwise. You have to love that he answers with a straight face, and he actually may believe the stuff he is spinning. Anyways, Carroll has the win against the Packers and he's not going to let anybody...
Start 'em & Sit 'em Week 4 Fantasy Football – Seattle Seahawks Week 4 Predicctions Well, at least the debacle in Seattle last week resulted in something good – the regular Refs are coming back to work! See – everything happens for a reason!?! The Seahawks figure to have a much easier time against St. Louis this week although there is not a whole lot of Fantasy Gold...
We've learned this AM that Chris Clemons has grabbed the Week 3 NFL defensive player of the week honor. Well deserved eh? RT @brian_mcintyre: RT @rliunfl: NFC Defensive Player of Week 3: #Seahawks DE Chris Clemons— Q Smith (@NWSBQ) September 26, 2012 Posted on Seahawks.com offical website of the Seahawks by Clare Farnsworth. Quote: Chris Clemons has bagged...
Last week: 24 (+7) Record: 2-1 Bogus win aside, do you really trust anyone on this offense aside from Marshawn Lynch? Their offense was stagnant all night on it took some blown calls to even get them into double digits. Russell Wilson was 9 of 20 for 106 yards and a touchdown before that late touchception. That's not all him, his receiving corps and offensive line aren't very...
Golden Tate, Russell Wilson, Pete Carroll and the Seattle Seahawks stole one from the Green Bay Packers. There is no disputing that, anyway you try to cut it. Seattle fans are not ignorant. They understand their team won when it shouldn't have. But they don't care. A win is a win. And for a city that has been on the receiving end of controversy so many times in the past decade it...
(Eds: Adds details, quotes. With AP Photos.) Eight sacks in a single half may even be more than Pete Carroll envisioned for his young, explosive defense. But Monday night's dominating performance against the high-octane Green Bay Packers offense showed the Seattle Seahawks defense may be among the league's best. Seattle's secondary was already thought to be one of the...
http://www.totalprosports.com/2012/09/25/stat-line-of-the-night-92412-chris-clemons/ Just how good are the Seattle Seahawks? They were balling and harassing Aaron Rogers all night with Chris Clemons and Bruce Irvin obliterating the Packers offensive line, but their offense could not do jack for the majority of the game save a miraculous (and incorrect) game-winning Hail Mary. Marshawn...
NFC West matchup: SEAHAWKS vs. RAMS (Sun Sept 30 1 PM ET) The Seahawks are coming off their controversial win over the Packers at Monday night and they are tied at 2-1 with the 49ers 1 game back of the surprising Cardinals. It is no surprise that the Rams are at the bottom of the division at 1-2, but at least they are home in this NFC match up. The Rams are coming off a weak offensive...
Perhaps the worst officiating weekend in NFL history culminated in a "successful" Hail Mary attempt by Seattle Monday night in their 14-12 defeat of Green Bay. To see all the officiating blunders, see my run down of the Sunday day games here.The final play was a Hail Mary pass. Green Bay rushed three players. At the last moment before being hit by Clay Matthews, Russell...
NFL News

Delivered to your inbox

You'll also receive Yardbarker's daily Top 10, featuring the best sports stories from around the web. Customize your newsletter to get articles on your favorite sports and teams. And the best part? It's free!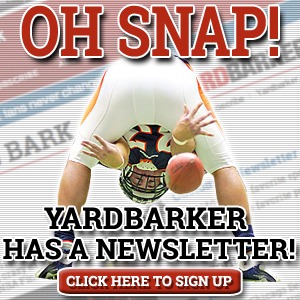 Latest Rumors
Best of Yardbarker

Today's Best Stuff

For Bloggers

Join the Yardbarker Network for more promotion, traffic, and money.

Company Info

Help

What is Yardbarker?

Yardbarker is the largest network of sports blogs and pro athlete blogs on the web. This site is the hub of the Yardbarker Network, where our editors and algorithms curate the best sports content from our network and beyond.