Found November 10, 2012 on NorthWest Sports Beat:
PLAYERS:
Russell Wilson
,
Marshawn Lynch
,
Adrian Peterson
,
Percy Harvin
,
Mark Sanchez
,
Tim Tebow
,
Sidney Rice
,
Antonio Cromartie
,
Pete Carroll
,
K.J. Wright
,
Bruce Irvin
,
Chris Clemons
,
Shonn Greene
,
Jeremy Kerley
,
Dustin Keller
TEAMS:
Seattle Seahawks
,
Minnesota Vikings
,
New York Jets
The usual suspects The Seattle Seahawks are at home again this week, welcoming in the New York Jets. The Seahawks are looking to go on a win streak after reversing their recent luck last week in a win over the Minnesota Vikings. The Jets are just looking to keep their head above water as they sink further and further down the AFC ranks. Last week, the Seahawks must have read this weekly piece I do. Russell Wilson and his wide receivers all stepped up and Marshawn Lynch played the physical game he needed to play in order to help the Seahawks to victory. While Adrian Peterson DID go off, Percy Harvin was an absolute non-factor…and it paid dividends. This week, the Seahawks face a similar kind of situation that they did last week: a primarily run based team who can eat up the middle of the field with dink and dunk dump passes. The only difference is that they are facing one of the more volatile QB duos in Mark Sanchez and Tim Tebow. With all that being said, let's see who must step up this week in order to be victorious over the Jets. Russell Wilson Yet again, Russell Wilsonwill need to play well in this game to give the Seahawks a chance. While they will undoubtedly find success in the run game, they need to utilize Lynch in order to open up the pass game for. That's where Wilson comes in. Sidney Rice can help this team in a big way…whether he makes a catch or not The Jets, despite how overall bad they are, still possess a good pass defense. Need I remind you that a man named Antonio Cromartie is in their secondary? He still has the ability to be lethal when most needed. Russell Wilson can't overlook that when trying to force passes to Sidney Rice. Wilson will need to play the same way he has been playing recently and will have to continue to make smart decisions when passing the ball. He will also need to sharpen his spidey senses. If the pocket collapses on him, he must be able to tuck the ball and run. Sidney Rice Despite the fact that he will draw the hardest Jets defender as an assignment, Sidney Rice will need to play a big role in this game. Rice can play that role in 2 different ways depending on how the defense plays him and how he reacts. Let me explain. Rice will draw the toughest coverage assignment in the game, most likely Cromartie. Cromartie is a big guy, much like the Legion of Boom. Pete Carroll will definitely test the waters and take a shot or two with that matchup. If Rice can outwit his defender and make the tough catches, they will keep going to him. If he has difficulty, though, he needs to become a distraction. If Rice can get a couple open looks by beating his coverage, the Jets will have to assign multiple guys to cover him. If that happens, it takes a defender off of someone else, who should in turn be open. Marshawn Lynch The Jets have a pretty decent pass defense which may force the Seahawks to run the ball a few more times. If that's the case, then workhorse Marshawn Lynch will have to have another good week on the ground. Most importantly, he has to make it out healthy. Beast Mode will have to run through a big Jets defensive line, but shouldn't have too many problems doing so. Either way, he will need to do what he usually does and go off and hurt some defenders with his physical run style. Mike Morgan must step up big time in order to fill KJ Wright's shoes. It shouldn't be a problem Bruce Irvin We all know Chris Clemons will come ready to chase the quarterback. Now we need it from Bruce Irvin. Irvin is going to need to find inventive ways to slip through or around the line and hit Mark Sanchez and/or Tim Tebow as many times as possible. He will need to stop trying to over power people by bull rushing them and find other ways to use his athleticism to help him break through. With the Seahawks allowing so many rushing yards on defense, I would normally be worried. But they have Shonn Greene. The game will get out of hand quickly and they will give up on the run. That means it should be a QB feeding frenzy for Irvin all game long. Mike Morgan Mike Morgan will be under the biggest microscope this week. With KJ Wright out with injury this week, Morgan gets to fill in for him. Wright's position was locked down last week and the Seahawks expect Morgan to keep that up this week. Morgan will have to fill in some big shoes, as many regard Wright as one of the team's top defenders. It shouldn't be too difficult this week, but it WILL be good practice and tryout for potential replacements. Sanchez may resort to trying to dump it off to Greene or to WR Jeremy Kerley or TE Dustin Keller. Morgan needs to be there to stop it quickly and prevent them from doing it over and over again. CLICK HERE CHECK OUT OUR SEAHAWKS BLOG AT THE NWSB!
Original Story:
http://www.nwsportsbeat.com/seahawks/...
THE BACKYARD
BEST OF MAXIM
RELATED ARTICLES
Russell Wilson threw touchdowns of 38 yards to Golden Tate and 31 yards to Sidney Rice, and the Seattle Seahawks sent the New York Jets to their worst start since 2007 with a 28-7 win on Sunday. Wilson was harried for much of the day by the multiple looks from the Jets' defense. But the Seattle rookie responded with key throws, hitting Tate on the opening drive, then connecting...
Russell Wilson threw touchdowns of 38 yards to Golden Tate and 31 yards to Sidney Rice, and the Seattle Seahawks sent the New York Jets to their worst start since 2007 with a 28-7 win on Sunday. Wilson was harried for much of the day by the multiple looks from the Jets' defense. But the Seattle rookie responded with key throws, hitting Tate on the opening drive, then connecting...
Lead writer Nick St. Denis and AFC East Daily contributors Dan Begnoche and Sean Donovan pick the New York Jets' inter-conference road battle with the Seattle Seahawks.Nick's take:In Seattle, the 12th man isn't a cliché. It's a fact. The Jets travel to the top-left corner of the country to take on a Seahawks team that is 4-0 at home. Seattle rookie quarterback Russell...
Mark Sanchez was almost a Seahawk. When he was available in the draft back in 2009, the Seahawks supposedly were strongly considering him. They instead went with a guy considered to be a safe bet, in linebacker Aaron Curry. Curry didn't work out for the Seahawks and they eventually traded him to the Raiders for a pair of picks. Curry didn't do much in Seattle and spent most of...
Start 'em & Sit 'em Week 10 Fantasy Football – Seattle Seahawks Week 10 Predictions The Seahawks are at home for the second week in a row and that can only mean one thing: better than average numbers for all of their position players. Last week it seemed that everyone had a good game, and this week shouldn't be much different. The visiting Jets come in off a bye week...
Coming out of a bye week, no one is expecting the 3-5 New York Jets to beat the 5-4 Seattle Seahawks. The Seahawks have the 3rd best defense in the league, are undefeated at home, and have the advantage when it comes to both their offense and their defense. Unlike the dismissive and treasonous so-called Jet fans that have been outnumbering the real Jet fans in Metlife stadium, the...
A frustrating loss at St. Louis in Week 4 sent Seattle Seahawks head coach Pete Carroll in search of ways to make his offense more productive. Russell Wilson and the Seahawks' offense had scored more than 20 points just once in four games and were converting just 28 percent of third down opportunities for the season. Against the Rams, Seattle was just 2 of 9 in third down conversions...
SEATTLE -- It was so much more than a win over the Seattle Seahawks and a loss for the New York Jets. Seattle's 28-7 thumping of the Jets on Sunday at CenturyLink Field was a showcase of teams headed in different directions. The Seahawks won their second straight game and improved to 5-0 at home. With the continuing maturation of rookie quarterback Russell Wilson and the running...
Jets couldn't take off Boxscore | Play-by-Play | Q's Post Game Recap They couldn't even leave the hanger… The only flight that was allowed near CenturyLink Field on Sunday was a pre-game fly over to honor this countries Veterans.  I would like to thank all of those who have served, and continue to serve, this country to protect the freedoms we enjoy daily. As I am sitting...
Joe Caporoso - 12 Pack  Chris Gross - Prediction: Seahawks 23 Jets 13 – The Jets enter week 10 heading into a hostile environment at CenturyLink Field. Seattle utilizes their 12th man like no other team in the NFL, making CenturyLink a nightmare for opposing teams. In order to keep it close, the Jets must be able tune out the roaring crowd, a daunting task for a team that has...
NFL News

Delivered to your inbox

You'll also receive Yardbarker's daily Top 10, featuring the best sports stories from around the web. Customize your newsletter to get articles on your favorite sports and teams. And the best part? It's free!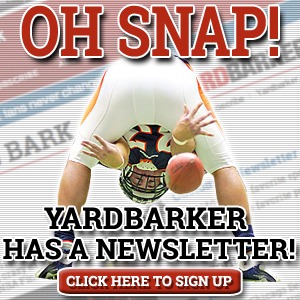 Latest Rumors
Best of Yardbarker

Today's Best Stuff

For Bloggers

Join the Yardbarker Network for more promotion, traffic, and money.

Company Info

Help

What is Yardbarker?

Yardbarker is the largest network of sports blogs and pro athlete blogs on the web. This site is the hub of the Yardbarker Network, where our editors and algorithms curate the best sports content from our network and beyond.