Found October 05, 2012 on NorthWest Sports Beat:
PLAYERS:
Cam Newton
,
Russell Wilson
,
Doug Baldwin
,
K.J. Wright
,
Bobby Wagner
,
DeAngelo Williams
,
Angelo Williams
,
Jonathan Stewart
,
Anthony McCoy
,
Zach Miller
TEAMS:
Seattle Seahawks
,
Carolina Panthers
,
Minnesota Vikings
Superman's kryptonite It's week 5 for the Seattle Seahawks as they head into Carolina this weekend to take on the Panthers. The Seahawks will be looking to recover from a devastating loss against the Rams last week and will have their work cut out for them against Cam Newton and company. The offense sputtered last week for Seattle, who blew multiple chances to win the game against the Rams.
This week, they will need to fix those flaws in order to beat a very versatile Newton. Many people will have to step up to win this game.
We all know the Seahawks can win this game, but the question remains – will they let Russell Wilson loose? Here are my 5 Seahawks who must impress against Carolina on Sunday. Russell Wilson Whether you point the blame at Russell Wilson or not for the poor offense, you have to see the bigger picture by now. In the pre-season, the Seahawks allowed Wilson to air the ball out and take chances. This season, though, they have completely restricted his opportunities for big plays. Baldwin needs to step up again in Week 5 in order to help the attack get on track (AP Ted S. Warren) This needs to stop. Immediately. Wilson has the poise, arm strength and accuracy to make big, explosive plays.  The Seahawks have been lacking those in a big way and Wilson will need to deliver some this weekend. By using his feet or his arm to extend plays and drives, Wilson needs to step up big time. Doug Baldwin Doug Baldwin was injured after week 1, but made his return last week. With little fanfare, Baldwin didn't do much in the game. That needs to change, and it needs to change quickly. Seattle is depleted in passing options seemingly and Baldwin needs to be that spark again this year, much like he was last year. Baldwin needs to show that last year was not a fluke and that he can be a serious asset to the passing game. Being in the slot is key, because if the Panthers blitz  Wilson heavily, there will be many quick passes to be caught. Baldwin's relevance could be questioned if he doesn't have a good game this week. He must step up in order to help Wilson, help the pass game, and help this team win. KJ Wright KJ Wright has been impressive all season long. He has been the playmaker of the 3 starting linebackers, despite a very good rookie campaign already from Bobby Wagner. Wright's speed and tackling ability will have to come into play in this key matchup. Wright will always have to keep an eye on Carolina's 3 running backs: DeAngelo Williams, Jonathan Stewart and Cam Newton. While trying to protect the middle of the field and the flats, he will need to be conscious about whether or not either of these 3 are running with the ball. If he sees that, he will need to use his quickness and strong tackling to close in on the ball carrier and bring them down. Wright has played a big role in stopping the run this year and not allowing receivers to get extra yardage off of broken tackles. He will need to do it again this week. Anthony McCoy & Zach Miller The tight end tandem of Anthony McCoy and Zach Miller will have to play an integral role in this game. Miller has been used primarily as a blocker since his arrival in Seattle and has been labeled a bust for that reason. Darrell Bevell is sadly going to be the difference maker in this week's game. Seattle fans thought they were getting the 700+ yard season from him when in reality, he is much needed as a blocker. Now's the time, though, for him to get downfield and make those TE plays. Same goes with McCoy. Teams who have had success against the Seahawks blitzed Wilson A LOT. To counter that, Wilson will need to get rid of the ball quickly, usually via dump passes. This is where the TE come into play. McCoy and Miller must get open in the middle of the field and be ready to make themselves available to Wilson if they see he's in trouble. Darrell Bevell Bevell is not a player, but in my opinion is the Seahawk who needs to step up most. His play calling has been nothing short of terrible for a large portion of the season. Whether it's Pete's decision or not to handcuff Russell Wilson and not allow him to play, Bevell needs to unleash the rookie. This preseason Wilson was airing out the ball with great success. He was especially spectacular on first down passing. I know this is a run oriented team, but you need to open that game up and draw defenders away from Lynch so that he can run free. In order to do that, you need to make big plays through the air to have the defense reeling and backing off the line in order to scramble to cover the pass. Bevell's playcalling has been nothing but atrocious and needs to get better. With 3rd and 2, you don't call a QB option when everyone knows he's not going to pass the ball.
This game, even in Carolina, is extremely winnable for the Seahawks.
They cannot take any team lightly, but if there was a team to go after through the air, this Panthers team would be that team to attack. CLICK HERE CHECK OUT OUR SEAHAWKS BLOG AT THE NWSB! © Brandon Choate for North West Sports Beat, 2012. | Permalink | No comment | Follow NWSB on Twitter or join US on Facebook for real-time updates OR... | Share This on Twitter | Share NWSportsBeat.com on Facebook Post tags: Anthony McCoy, Darrell Bevell, Doug Baldwin, KJ Wright, NFC West, NFL, Russell Wilson, Seahawks, Seahawks Blog, seattle, Seattle Seahawks, Seattle Seahawks Blog, Zach Miller
Original Story:
http://www.nwsportsbeat.com/seahawks/...
THE BACKYARD
BEST OF MAXIM
RELATED ARTICLES
The last few weeks have not been kind to Cam Newton. Underwhelming performances, coupled with a woe-is-me, sulking persona, has ignited criticism from fans, media, and even his own teammates. Just a year ago, Newton was tearing up the league as a rookie phenom. Now he's made a mockery of — in his own town, no less. He's found out the hard way that it's not easy playing quarterback...
Former Seattle Seahawks great Warren Moon believes that head coach Pete Carroll needs to stop having rookie quarterback Russell Wilson play like a robot to limit turnovers. "He feels that he can do more and handle more than they're giving him," Moon told Doug Farrar of Shutdown Corner. "You've got to remember — Pete's a defensive coach, and he preaches, 'Turnovers...
The first quarter of the 2012 season is over, surprised as fans and analysts may be the Arizona Cardinals are holding the top spot in the NFC West. Before the start of season the prevailing opinion was the 49′ers were not only the best team in their division but in the entire NFL. While San Francisco has played well, a loss to the Minnesota Vikings has relegated them to second...
Goodbye Super-Cam, Hello Clark Kent. This season has been quite the roller coaster ride for Cam Newton and the Carolina Panthers. Over the first four weeks of the season, Newton's QBR has been 34.5, 88.3, 15.6, and 68.7. With 50 being the average in the QBR rating system, you can see how Cam's numbers fluctuated week by week. The Panthers are far from the electrifying offense...
Don't give up now The Seattle Seahawks have found themselves embroiled in quarterback controversy since last season ended. With the loss of Charlie Whitehurst and the signing of Matt Flynn, things got really interesting in Seattle. Then draft day rolled around and the Seahawks grabbed another QB – Russell Wilson from Wisconsin. So began the 3 headed race that never was to be...
I will try to ignore the controversy that took place 2 weeks ago, but I admit it will be hard to avoid. At 2-2 the Seattle Seahawks have been on quite a roller coaster. A big win vs. the Dallas Cowboys showed how strong this team can be at times, while losses against the Cardinals and Rams also frustrated Seahawks fans. When you throw in some luck, and some great defense it has been...
According to Dan Arkush of ProFootballWeekly.com, the Seatlte Seahawks are still concerned about the Matt Flynn's elbow. One of the reasons it wouldn't make sense to bench Russell Wilson in favor of Flynn if the Seahawks don't improve, is that no one knows how his elbow will hold up. "The thing is, they're giving Wilson the great majority of reps in practice, because they...
Replacement Refs, QB Controversy, Inconsistencies In part one of our four part series, NWSB examined the first four games of the Seattle Seahawks' 2012 schedule.  Fearlessly, I predicted that the Seahawks would find themselves sitting with a record of 3-1 at this point in the season and, needless to say, I was wrong. It's been a frustrating campaign so far — to say the least...
Oregon's Time It has not been even two years since Cam Newton and the Auburn Tigers won the 2011 BCS National Championship, and yet, so much has changed. Newton is now a second-year NFL star with the Carolina Panthers while the Auburn Tigers are struggling to keep up pace with the rest of the SEC. Michael Dyer, once a budding college football running back made famous by his controversial...
Going for broke On Sunday, the Seattle Seahawks take their number one ranked run game into NASCAR country to take on the Carolina Panthers. This game is a tale of two beasts in the backfield that will hope to lead their teams to victory as both QB's are having a rough go of it lately. Matchup: Seattle vs. Carolina Venue:Bank of America Stadium Time: 1:05 PM (Local) Date: October...
    Kramerica Sports weekly player rankings are based on Yahoo Sports standard scoring settings. Positional ranks are based on numerous factors, including opposing defense, historical data, player health, gut feelings, and other classified variables.     Play of the Week- Matt Ryan has emerged as an elite fantasy quarterback in 2012. His week 5 matchup against the Redskins...
The Seahawks are on the road again this week taking on yet another opponent they should be able to beat in the Panthers.  The lynchpin of Carolina's offense is still Cam Newton, who through four weeks has been putting up similar numbers to those from his Pro Bowl rookie season.  He's getting plenty of help in the ground game from DeAngelo Williams, but his only...
NFL News

Delivered to your inbox

You'll also receive Yardbarker's daily Top 10, featuring the best sports stories from around the web. Customize your newsletter to get articles on your favorite sports and teams. And the best part? It's free!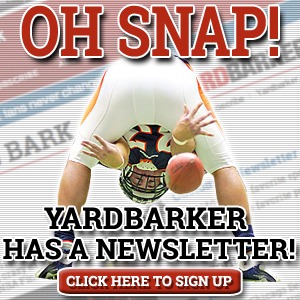 Latest Rumors
Best of Yardbarker

Today's Best Stuff

For Bloggers

Join the Yardbarker Network for more promotion, traffic, and money.

Company Info

Help

What is Yardbarker?

Yardbarker is the largest network of sports blogs and pro athlete blogs on the web. This site is the hub of the Yardbarker Network, where our editors and algorithms curate the best sports content from our network and beyond.