Found November 09, 2012 on Turn On The Jets:
The 3-5 New York Jets have an embattled GM, a coaching staff searching for answers, and a fan base wondering where the talent and depth filled "Goddamn Snack" squads of 2009 and 2010 went. Gang Green must go 6-2 in order to have a probable shot at a postseason berth. Here are five keys needed in order to make it happen. 1 – The Quarterback Becomes The Leader Mark Sanchez will be given every opportunity to remain the starter. If the Jets can't rise on offense collectively, will Tim Tebow get the chance to elevate his teammates? The Jets desperately need leadership at the QB position in the second half. 2 – A Pass Rusher Is Found: Coples Anyone? The Jets have to locate a pass rushing presence among it's own front seven. Rookie Quinton Coples has recently begun to show signs of life. If he can take it to the next level, the Jets secondary can collectively settle in, and even choose to play the ball more often. 3 – Dustin Keller Emerges This was yet again, supposed to be a breakout year for the eternally emerging tight end. A hamstring injury however, slowed him in the first six games. Keller has to become that All-Pro threat over the next eight games, in order to help open up the passing game outside. 4 – The Special Teams Unit Reawakens What in the world has gone on with Mike Westhoff's group over the past two games? A Jets special teams crew that has thrived under Westhoff, a true gem coaching in his final season, has suddenly gone south. Lately, monumental game changing plays have gone against a unit that is always heavily counted on. Despite their recent struggles, this area will still be a key part of the winning formula for the Jets down the stretch. 5 - The 2012 Jets Identity Finally Crystallizes Who are these 2012 Jets? Good question. We hear all the time about who they want to be. They are not however, that dominant ground attack and feared defense that Ryan hoped they would turn into. Not yet at least. Add in the confusion surrounding Tim Tebow's purpose (or lack thereof) in the offense, and you have an even bigger mystery.  Let's hope that the bye week helped the Jets assess who they ought to become the rest of the way based on what they truly are and can achieve. Any gadgetry and trickery that lends itself to the game plan is fine by us. A continued lack of honesty regarding this club's identity on either side of the ball, is not.
Original Story:
http://turnonthejets.com/2012/11/five...
THE BACKYARD
BEST OF MAXIM
RELATED ARTICLES
Coming into the NFL, Tim Tebow was a long shot to be a starting quarterback. But he took over for Denver last year and appeared to make progress — until this offseason, when he may have hurt his chances at a permanent starting job even more. Most critics would agree that the area where Tebow needs help is his throwing motion. He takes a while to wind up to pass, resulting in fumbles...
Grantland came up with this genius idea of setting up a fake email for Jets QB Tim Tebow giving us a glimpse of what his inbox probably looks like. Click the inbox for a bigger version.  
Ever wonder how much the New York Jets actually intend to use Tim Tebow as they prepare for a team each week?  A lot of Jets fans would like to know if there is even really a game plan for the rarely used quarterback. The Tim Tebow package consists of about 15 plays said Tony Sparano — shedding a little light on what goes into the secretive world of how the Jets prepare the Wildcat...
As quarterback Tim Tebow is still playing back up to Mark Sanchez, he seems to be frustrated with the lack of playing time he is receiving with the team (Credit: AP Photo) Last season Tim Tebow was leading the Denver Broncos to the playoffs and a win over the Pittsburgh Steelers in the Wild Card round. This season, Tebow is playing back up to quarterback Mark Sanchez and taking a...
Dustin Keller vividly recalls the last time the Jets traveled to the unfriendly confines of Seattle. He may not want to, of course. But he does nonetheless. ''It was 2008 ... and it was loud,'' Keller said. ''It snowed that day, so people were throwing snowballs at me. I was ducking a lot of them.'' The Jets could not manage any offense on Dec....
Pete gets to face Sanchez Mark Sanchez and the New York Jets come into CenturyLink Field on Sunday to face off against Sanchez's former head coach, Pete Carroll of the Seattle Seahawks. Matchup: New York vs. Seattle Venue: CenturyLink Field Time: 1:05 (local) Date: November 11th, 2012 Weather: 47 high. 40 low. Cold and cloudy Team Records: Seattle (5-4) New York (3-5) Standings...
If you order a puke green Nissan Xterra, you have bad taste. Thrown some NY Jets logos on it and -- you have bad taste in teams. Decorate the monstrosity with Tim Tebow's name, number, and football... Full story at Bob's Blitz ~ http://www.bobsblitz.com
Tim Tebow hasn't been given much time to assert his presence in the Jets offense. One season after totaling 18 touchdowns with a playoff-bound Broncos team, Tebow has been relegated to spot duty in Rex Ryan's offense this year. And the 25-year-old isn't pleased with his new role. "I think when you're getting the ball a lot during the game you can get the rhythm of the game...
The Jets' front office can't seem to get enough offensive lineman to protect quarterback Mark Sanchez. Add Hayworth Hick's name to the list of the newest members of the Green and White.
The New York Jets are 3-5 this season and while players on the team continue to say words of support for quarterback Mark Sanchez, public opinion remains split. Now word come that at-least one executive inside the front office wanted to draft Russel Wilson. Senior Personnel Executive Terry Bradway wanted the Jets to draft former Wisconsin quarterback Russel Wilson. That there was...
Joe Namath criticized how the Jets have built their team in 2012 on SNY?s ?The Jets Blog Podcast? on Wednesday, questioning why the Jets aren?t using Tim Tebow more often.
Mike Vorkunov of the Newark Star-Ledger writes that Jets senior personnel executive Terry Bradway was reportedly very high on Russell Wilson heading up into this year's draft. In fact, Wilson was nicknamed "Russell Bradway" around the Jets organization. "We knew about him and liked him," said Jets' defensive coordinator Mike Pettine. "He's proving he's a...
Jets News

Delivered to your inbox

You'll also receive Yardbarker's daily Top 10, featuring the best sports stories from around the web. Customize your newsletter to get articles on your favorite sports and teams. And the best part? It's free!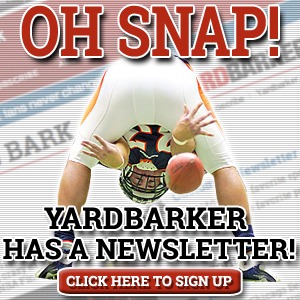 Latest Rumors
Best of Yardbarker

Today's Best Stuff

For Bloggers

Join the Yardbarker Network for more promotion, traffic, and money.

Company Info

Help

What is Yardbarker?

Yardbarker is the largest network of sports blogs and pro athlete blogs on the web. This site is the hub of the Yardbarker Network, where our editors and algorithms curate the best sports content from our network and beyond.