Posted January 29, 2013 on AP on Fox
PLAYERS:
Joe Flacco
,
Steve Carell
,
Alec Baldwin
,
Jim Harbaugh
,
Ed Reed
,
Randy Moss
,
Justin Tucker
,
Beyonce Knowles
,
Vernon Davis
,
Brian Jennings
,
Boomer Esiason
,
Torrey Smith
TEAMS:
Baltimore Ravens
,
San Francisco 49ers
Baltimore Ravens quarterback Joe Flacco apologized for his word selection in criticizing the NFL's decision to hold next year's Super Bowl in an outdoor stadium at a cold-weather site. On Monday, Flacco was asked about the game being played at MetLife Stadium in New Jersey. ''I think it's retarded. I probably shouldn't say that. I think it's stupid,'' he said. On Tuesday, he was contrite. ''Obviously, it was a poor choice of words,'' he said. ''At home, I have a close relationship with Special Olympics. I didn't mean to offend anyone.'' Flacco would like nothing more than to return to the Super Bowl next year, even if it might be in freezing conditions for the first time. It's in his home state to boot. The fifth-year pro from Audubon, N.J., preparing for Sunday's Super Bowl against the San Francisco 49ers, is not a fan of playing the next big game in East Rutherford. ''I think it's obvious reasons,'' Flacco said. ''They've done it the way they've been doing it for 47 years. There's a lot that goes into this game, more than just playing the game: It's about the fans and it's about the players that played for the right to get there. There are a lot of things that go into it and it's just kind of a crazy decision, I believe.'' --- NFL HONORS: Celebrity presenters for ''NFL Honors,'' the TV show featuring The Associated Press awards, will include Steve Carell and Channing Tatum. The program will air Saturday night, Super Bowl eve, from 9-11 p.m. EST on CBS, which also is televising the game on Sunday. Other presenters will include Connie Britton, Jason Clarke, Josh Charles, Craig Ferguson, Nina Dobrev, Jeremy Renner, Olivia Munn, and Zoe Saldana. The AP will present the league's MVP, Coach of the Year, Comeback Player of the Year, Offensive and Defensive Players of the Year, and Offensive and Defensive Rookies of the Year during ''NFL Honors.'' Actor Alec Baldwin will host the show, which will feature live performances from One Republic and New Orleans' natives The Soul Rebels. --- NECKLACE? WHAT NECKLACE? 49ers coach Jim Harbaugh was asked about the ''necklace'' he wears on the sideline during games that includes a Sharpie. He seemed taken aback. ''Well I take great offense that you call it a necklace. It's a whistle,'' he said with a smile, drawing laughs from the media. ''It's a coaches' whistle that coaches have long worn around their neck. I believe every coach should have a whistle. It's hard to imagine going out to practice without a whistle. ''Then I just put a pen onto the whistle string. It's not complicated at all. If I need a pen, it's just right there.'' --- MOSS WANTS MORE: Last week, the Ravens' Ed Reed said he plans to be back for another season. On Tuesday, the 49ers' Randy Moss said he wants to come back, too. One of the first questions Moss was asked when the 49ers kicked off Super Bowl media day Tuesday was whether Sunday's game would be the final one of his 14-year, five-team, potential Hall of Fame career. ''I've thought about it,'' the 35-year-old Moss said, ''I do want to play another year.'' Moss has seen limited playing time this season with 28 catches for 434 yards and three TDs, plus five catches for 71 yards in the playoffs. The 34-year-old Reed promised to be ''playing next year,'' ending speculation he was about to call it a career. Reed, a nine-time Pro Bowler and probable Hall of Famer, is finishing his 11th season, and was one of only two players on the Ravens' defense to start all 16 regular-season games. He has a club record 61 interceptions and the NFL-record of 1,541 yards in interception returns. --- NEVER TUCKERED OUT: Ravens kicker Justin Tucker was extremely patient telling every single person just how much it means to be an undrafted rookie in the Super Bowl. Even the guy who asked him to answer a series of questions in hash tags, Twitter-style. ''In Twitter hash tags? All right, let's try it out,'' Tucker responded to the odd request in a day full of them. Being at the Super Bowl? ''Hash tag, awesome.'' Beyonce Knowles? ''Hash tag, awesome.'' Destiny's Child reunion? ''I mean, hash tag, awesomer, I guess. That's a pretty good group.'' Winning the Super Bowl? ''Hash tag, unbelievable.'' --- DANCIN' NINER: The 49ers' podium move of the day goes to Vernon Davis. The tight end sat up straight in his seat and demonstrated longtime long-snapper Brian Jennings' unique pregame ritual for the media day crowd. Davis crossed his arms in front of his face and fluttered them in a smooth, downward motion. Yoga or tai chi, perhaps? ''It's yoga, tai chi,'' Davis said. ''It's weird, but it works for him.'' Davis' pregame routine sounds rather boring in comparison: He eats lots of vegetables and a chicken breast. --- MARYLAND CONNECTION: The University of Maryland has produced several notable NFL quarterbacks, including Boomer Esiason, Frank Reich and Neil O'Donnell. The quality of quarterbacks in College Park hasn't been up to that standard lately, but there will be two Terrapins with solid hands playing in the Super Bowl. Tight end Vernon Davis will start for San Francisco and wide receiver Torrey Smith is starting for Baltimore. ''He's one of the greatest Terps,'' Smith said of Davis. ''He's a great guy and we hang out in the offseason.'' This isn't for bragging rights. ''We're not really playing against each other since we're on the same side of the ball,'' Smith said. ''And so, either way, the University of Maryland wins.'' --- Online: http://pro32.ap.org/poll and http://twitter.com/AP-NFL
Original Story:
http://msn.foxsports.com/nfl/story/Fl...
THE BACKYARD
BEST OF MAXIM
RELATED ARTICLES
OOPS
Ravens QB Joe Flacco is glad he's in the Super Bowl this year and not the next when the game will be played in New Jersey. Flacco misspoke when saying at his news conference that a cold-weather Super Bowl was 'retarded'.
Joe Flacco got himself a very sweet endorsement deal. (Photo courtesy of Haribo) It's only fitting that the spotlight is shining a bit brighter on Baltimore Ravens quarterback Joe Flacco. Leading your team to the Super Bowl will have that effect. It also means Flacco can help his wallet by signing some shiny new endorsement deals. Flacco's list of endorsement deals now includes...
According to Pat O'Brien and Steve Hartman of the Fox Sports Loose Canons Radio Show, they walked out of their hotel last evening in New Orleans to attend dinner. Who would they see walking down the street? A tall figure walking with a much shorter man. As they walked closer they were able to identify at least one of the men as Baltimore Ravens quarterback Joe Flacco. One...
Who is ready for more Super Bowl 47 odds? Earlier we talked Super Bowl MVP odds. Now I want to concentrate on Joe Flacco specific prop bets. There are a ton of different bets that have to do with touchdowns, of course. Here are some of my favorites. First, I want to talk about Joe Flacco. Total TD Passes – Joe Flacco (BAL) 1 Touchdown (+175) 2 Touchdowns (+250) 3 Touchdowns (+450...
Joe Flacco might soon cash in on his Super Bowl run. The Baltimore Ravens quarterback hopes to negotiate a new contract that will pay him $20 million per season, according to multiple media reports. Such a deal would put him in the financial ballpark with two one-time Super Bowl winners: Peyton Manning, who has a five-year, $96 million deal; and Drew Brees, who has a five-year...
This post season Joe Flacco has been making great decisions on the field, but his comments off the field about next year's Super Bowl might come back to bite him. When asked, the Ravens' quarterback proceeded to rip the idea of a cold-weather game as reported be the NY Post. "I think it's retarded," Flacco said at yesterday's press conference before catching himself...
According to Ian Rapoport of the NFL Network, contract talks between the Baltimore Ravens and quarterback Joe Flacco's reps will ramp up after the Super Bowl. Flacco's reps have told Rapoport that they believe he's playing better than Broncos' quarterback Peyton Manning who's currently earning $8 million per season.  He expects Flacco's agents to shoot higher than Manning's...
We mentioned over this past weekend that ESPN's John Clayton believes Baltimore Ravens quarterback Joe Flacco may get $20 million per season with his next contract. ESPN's Chris Mortensen agrees with Clayton that Flacco getting $20 million per season " is not unreachable." I think if the Ravens win Sunday's Super Bowl, Flacco deserves to get paid $20 million per season...
Rapid Eye Media writers and staff give you their predictions on Super Bowl xlvi between the Baltimore Ravens and the San Francisco 49ers.  The Ravens dominate the women picks while most of the guys are picking the Niners.  Will Joe Flacco be the worst quarterback to win a Super Bowl since fellow Raven Trent Dilfer?  [...]
NFL News

Delivered to your inbox

You'll also receive Yardbarker's daily Top 10, featuring the best sports stories from around the web. Customize your newsletter to get articles on your favorite sports and teams. And the best part? It's free!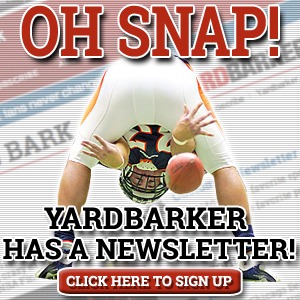 Latest Rumors
The Backyard

Today's Best Stuff

For Bloggers

Join the Yardbarker Network for more promotion, traffic, and money.

Company Info

Help

What is Yardbarker?

Yardbarker is the largest network of sports blogs and pro athlete blogs on the web. This site is the hub of the Yardbarker Network, where our editors and algorithms curate the best sports content from our network and beyond.