Posted March 03, 2013 on AP on Fox
PLAYERS:
Joe Flacco
,
Peyton Manning
,
Drew Brees
,
Aaron Rodgers
,
Eli Manning
,
Philip Rivers
,
Tony Romo
,
Brett Favre
,
Ben Roethlisberger
,
Carson Palmer
,
Kevin Kolb
,
Tom Brady
TEAMS:
Baltimore Ravens
,
New Orleans Saints
,
Green Bay Packers
,
New York Giants
,
San Diego Chargers
,
Dallas Cowboys
,
Minnesota Vikings
,
Pittsburgh Steelers
,
Oakland Raiders
,
Arizona Cardinals
,
New England Patriots
(Eds: With AP Photos.) By BARRY WILNER AP Pro Football Writer Joe Flacco's impeccable timing earned him the richest contract for a quarterback in NFL history. That doesn't mean he's the game's best QB. Flacco agreed to a six-year, $120.6 million deal Friday after leading the Baltimore Ravens to the Super Bowl title. He gambled by playing out his five-year rookie contract rather than renegotiate before last season. And it paid off, catapulting him to the top of the money list at the game's glamor position. A look at perhaps the league's 10 best quarterbacks shows Flacco the equal of Peyton Manning, Drew Brees and Aaron Rodgers for championship rings with one each. At 28, his chances of adding to those titles seem better than those for Manning (37 this month), and Brees (34). Even though Flacco has surpassed the future earnings of every NFL quarterback - for now - does he measure up as a player? And where in the top 10 does he belong? Here's a look at the resumes of those quarterbacks, in order of how much they will make in base salary for 2013: -Joe Flacco, Baltimore - Flacco already has set records for road playoff victories (six) and is the only QB to win postseason games in his first five seasons. But this was the first time he could get the Ravens to the Super Bowl in five tries. Of course, they won, and he was superb in January and February. His base salary is unknown until details of his new contract become available when he signs it, likely this week. -Peyton Manning, Denver - His $20 million base is befitting the NFL's only four-time MVP, all with Indianapolis. After missing 2011 because of neck operations, he moved to Denver and nearly won the award again. No one with the Broncos is complaining about Manning's salary after he helped turn the team into a title favorite again. -Eli Manning, New York Giants - Peyton's younger brother has one more Super Bowl championship to his credit, and his postseason work in the 2007 and 2011 seasons more than offset some inconsistent regular-season performances. He will make $13 million in base salary and his salary cap hit, including signing bonus tops the league: $20.85 million. -Philip Rivers, San Diego - No Super Bowls to go with the $12 million the Chargers owe him in salary this year. Then again, Rivers has seen the talent base around him diminished by trades, free agency, injuries and bad management decisions, even as he entered the prime of his career. A tough player - he once played an AFC championship game with torn knee ligaments - and aggressive leader who flourished with stars around him, but no more. -Tony Romo, Dallas - Some would say Romo's inability to produce in big games, regular season or playoffs, makes his $11.5 million payday (plus another $5.3 million against the salary cap) ludicrous. Others would argue the Cowboys never would contend without him. Regardless, he is making more this year than four Super Bowl winners. -Matt Ryan, Atlanta - After finally winning a playoff game following three losses, maybe Ryan won't be heavily criticized for how much he makes ($10 million). His improvement has been steady, though, and some rate him as more efficient than Flacco. -Drew Brees, New Orleans - Brees had the biggest QB contract at $100 million over five years before Flacco one-upped him. The unquestionable leader of the Saints, and a record-setting passer, Brees is in the perfect place with the perfect offense for his skills. At a $9.75 million salary in 2013, he's a Big Easy bargain. -Aaron Rodgers, Green Bay - Probably the next quarterback to get a huge new deal, Rodgers has been so good the last three years, including one NFL title, that the folks in Titletown no longer miss Brett Favre. So his $9.25 million salary looks cheap. -Ben Roethlisberger, Pittsburgh - At $2.6 million, the two-time Super Bowl winner is scheduled to make less in salary than Carson Palmer or Kevin Kolb this year. Again, this is a situation where the total compensation is wrapped up in bonuses - just under $11 million. It's difficult to argue that Roethlisberger hasn't lived up to those numbers with three Super Bowl trips in nine pro seasons. -Tom Brady, New England - How in the world did Brady land this low? Well, the three-time Super Bowl champ and two-time MVP always has done cap-friendly deals with the Patriots. He renegotiated last week and upped his guaranteed money to $33 million over the next five years, but gets only $1 million in salary in 2013. Brady plans to play until he is 40, desperately seeking another championship; the last one came in 2004. Who knows how much he might be earning then?
Original Story:
http://msn.foxsports.com/nfl/story/Fl...
THE BACKYARD
BEST OF MAXIM
RELATED ARTICLES
Once the news broke last Friday that Joe Flacco and Baltimore Ravens had agreed on a new contract that will pay him $120 million over six years, I immediately was interested in finding out how much of his contract is guaranteed. According to NFL.com, Flacco will earn $52 million in guaranteed money, which is less than the $60 million guaranteed that Drew Brees got from the Saints...
Baltimore Ravens quarterback Joe Flacco has signed a new contract worth $120.6 million over six years, making him the highest paid player in NFL history. The Super Bowl MVP finalized the deal Monday. Flacco will receive a $29 million signing bonus and $52 million in guaranteed money. Flacco says, ''It's not really about the money, it's about that respect.'&...
As we reported Friday, the Baltimore Ravens and Joe Flacco have agreed to new deal that will make him the highest paid player in NFL history. Terms of that deal are now starting to leak out as Flacco is set to sign the contract Monday at 2 p.m.  Ian Rapoport of NFL.com is reporting that the numbers are six years, $120.6 million with $52 million guaranteed. Flacco's salary cap...
Joe Flacco's new deal with the Baltimore Ravens is worth $120.6 million over six years, according to ESPN's Adam Schefter.Fantasy Spin:The contract makes Flacco the highest-paid player in NFL history. Flacco may have proven himself as a clutch player in winning the Super Bowl but he hasn't put up the regular season stats to warrant taking him as a top 10 fantasy quarterback.
The Ravens have agreed to a new contract with quarterback Joe Flacco, FOXSports.com has learned. The details of the deal aren't yet known, but Flacco will reportedly sign on Monday. He was set to become an unrestricted free agent on March 12. Flacco led the Ravens to a victory over the 49ers in Super Bowl XLVII and was named the game's MVP. Drafted in the first round back...
I hate when teams overpay based off of a short period of uncharacteristically strong play. I always like to consider where a guy was a year ago when grading moves. Well with Joe Flacco, you don't even have to consider where he was a year ago. All you have to do is consider where he was 4 games ago. Going into January, he might not have gotten 60 million total on a contract (somewhere...
Joe Flacco and the Baltimore Ravens agreed on a new contract that the Super Bowl-winning quarterback will sign on Monday, FOX Sports' Jay Glazer reports. Flacco's contract situation has been a big topic of conversation around the NFL the past few years. The two sides were unable to reach agreement on a new deal the past two offseasons, leading Flacco to play last season as a...
Baltimore Ravens quarterback Joe Flacco signed a new six-year, $120.6 million contract Sunday that makes him the highest paid player by average 
Life is good if you are Baltimore Ravens quarterback Joe Flacco. You have just won the Super Bowl along with the game's MVP trophy and now you have some extra pocket cash as a result of a very lucrative long-term deal. A source has told ESPN's Adam Schefter and FoxSports Jay Glazer that the Baltimore Ravens have agreed to a new deal for quarterback Joe Flacco. The deal is a reported...
A look at some of the top story lines in the AFC North as the NFL free agency period looms on the horizon:Baltimore - The Ravens made quarterback Joe Flacco the highest-paid quarterback in NFL history, signing him to a six-year, $120 million contract. The move was seen by many as not only the right thing to do, but also necessary.The problem for the Ravens is that they still have...
NFL News

Delivered to your inbox

You'll also receive Yardbarker's daily Top 10, featuring the best sports stories from around the web. Customize your newsletter to get articles on your favorite sports and teams. And the best part? It's free!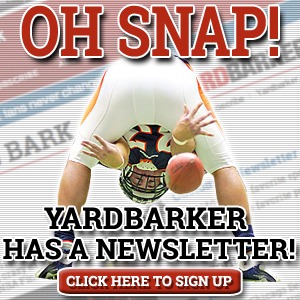 Latest Rumors
The Backyard

Today's Best Stuff

For Bloggers

Join the Yardbarker Network for more promotion, traffic, and money.

Company Info

Help

What is Yardbarker?

Yardbarker is the largest network of sports blogs and pro athlete blogs on the web. This site is the hub of the Yardbarker Network, where our editors and algorithms curate the best sports content from our network and beyond.