Found August 09, 2012 on Cippin on Sports:
PLAYERS:
Eli Manning
,
David Wilson
,
Bill Belichick
,
Aaron Rodgers
,
Clay Matthews
,
Charles Woodson
,
A.J. Hawk
,
Marvin Lewis
,
Rex Ryan
,
Ray Rice
,
Joe Flacco
,
Lee Evans
,
Alex Smith
,
Brandon Jacobs
,
LaMichael James
,
Frank Gore
,
Mario Manningham
,
Randy Moss
,
Michael Crabtree
,
Vernon Davis
,
Jim Harbaugh
,
Peyton Manning
TEAMS:
New York Giants
,
New England Patriots
,
Green Bay Packers
,
Baltimore Ravens
,
Cincinnati Bengals
,
Jacksonville Jaguars
,
San Francisco 49ers
No team is without its flaw. Join us as we take a look at the fatal flaw that might cost 5 contenders a shot at Super Bowl glory.
New York Giants: Questionable Running Game
The Giants ranked 32nd (last in the league) in run production last season. Part of that was due to Pro Bowler Amhad Bradshaw's foot injury, which caused him to miss four games. Their passing game actually improved despite the trouble that they had running the ball, as quarterback Eli Manning had the best year of his career. Manning and the passing game will likely be strong again, and the addition of rookie running back David Wilson should help improve their running game. However, until the young rookie proves himself, and Bradshaw can stay healthy, the running game is the biggest question mark in the Giant's Super Bowl defense.
New England Patriots: Question Marks on Defense
The Patriots offense is only a step below the Packers offense particularly in consistent explosiveness from several threats. However, similar to the Packers, the Patriots lack consistent defensive play. Their offense can outscore almost any team in the league, however when the Patriot's offense is slowed down even a little (as they were in the Super Bowl) their defense shows its weaknesses. Head Coach Bill Belichick used his first six picks in the draft to help bolster the young defense. The Patriots are absolutely a force to be reckoned with, but their defense posses a lot of questions and the answers to those questions could mean another Super Bowl victory, or another disappointing end to the season.
Green Bay Packers: Inconsistent Defense, especially in the Secondary
The Packers offense dominated last season, losing only one game and scoring at will consistently. The problem was that once a team like the Giants was able to slow down Aaron Rodgers and the offense, the defense was exposed as being weaker than expected. Their defense has the playmakers in Clay Matthews, Charles Woodson, A.J. Hawk (among others) however last season they ranked last in the league in yards allowed. Their running game has not been consistent in a few years, however with all the talented receivers and Rodgers they do not seem to really need one. This team still might be the most talented team in the NFL and if their defense can even start to figure things out again, they will be tough to beat.
Baltimore Ravens: Inconsistent Passing Game
One thing has been synonymous with the Baltimore Ravens for the last twelve seasons, defense. Their defenses have been in the top ten or top five basically since they won the Super bowl in 2001 with Marvin Lewis (not Rex Ryan) as their defensive coordinator. Unfortunately the Ravens have never been able to make it back to the Super bowl despite their solid defenses. Ray Rice is as consistent of a running back as there is in the NFL. As the focal point of their offense he is very solid, however the NFL is a passing league. Joe Flacco has been steadily getting better but if this team wants another Super Bowl, Flacco needs to be the one to bring them to that level, not Rice. Another smaller weakness is not catching game winning touchdowns when the ball is put in the receiver's hands. I'm looking at you, Lee Evans.
San Francisco 49ers: Can Alex Smith Build off Last Year?
Am I the only one not completely sold on Alex Smith being a quarterback who can lead a team to a championship? Alex Smith finally played not terrible last season after being drafted twenty-three spots in front of Aaron Rodgers. The 49ers were a special team's fumble away from the Super Bowl last season and have added running back Brandon Jacobs and drafted Oregon's LaMichael James to complement Pro Bowler Frank Gore. The team has also added wide receivers in Super Bowl hero Mario Manningham and newly unretired Randy Moss to go along with Michael Crabtree and tight end Vernon Davis. The 49ers have helped their one glaring weakness by getting more weapons for Smith to throw to. However, their team is still dependent on Smith to make plays consistently and last year he did that, the six years before that he simply did not. Jim Harbaugh's heavy pursuit of Peyton Manning probably does not help his confidence either. The 49ers will be strong, but how strong will depend on how consistent and reliable Alex Smith can be.
Original Story:
http://feedproxy.google.com/~r/Cippin...
THE BACKYARD
BEST OF MAXIM
RELATED ARTICLES
Denver Broncos QB Peyton Manning throws before the Broncos' 2012 preseason opener against the Chicago Bears. The Broncos routed the Bears 31-3 in Manning's Broncos debut. (Andrew Mason/MaxDenver.com) The hit everyone was waiting for never happened. Left tackle Ryan Clady would rather be penalized than see Peyton Manning get zinged during the Denver Broncos' first preseason...
The 10-snap cameo appearance that Peyton Manning made in his return to the field on Thursday night demonstrated that the four-time Most Valuable Player hasn't lost his sense of timing or his feel on short and intermediate routes. But it did show that the Denver wide receivers still have some work to do in matching Manning's nonpareil precision, even after a summer of working...
In his Broncos debut, quarterback Peyton Manning completed four of seven passes for 44 yards and an interception.Fantasy Spin:Manning's interception wasn't really his fault as the ball fell through his receiver's hands before Chicago safety Major Wright reeled it in on the deflection. Don't expect Manning to get too many reps during Denver's exhibition slate as...
Baby steps, not giant leaps. That's how Peyton Manning is marking his comeback. So, he was glad to get his first game in 19 months out of the way and use it as a building block. Manning was uneven in Denver's exhibition opener at Chicago on Thursday night even though he didn't have to contend with Julius Peppers or Brian Urlacher and had plenty of time to throw. His...
I think John Elway is subliminally saying that Manning isn't better than him until he gets two more rings. I see you John you aren't fooling me. Trying to motivate the older Manning. In Elway's opinion, if Manning were to close out his career by winning two Super Bowls as the Broncos' quarterback — the same way Elway closed out his own Hall of Fame career — that would...
JACKSONVILLE, Fla. (AP) -- The Jacksonville Jaguars' starting unit faded after a fast start. The New York Giants were the opposite, scoring on four consecutive series after being stopped on their opening drive. Eli Manning only played two series and produced three points before taking the rest of the night off in the Giants' 32-21 loss in both teams' preseason opener...
Time for the first part of our position-by-position NFC East analysis and rankings! We'll be starting with quarterbacks. There is no single factor that will make or break any of the candidates-- they will be assessed based on the five grading criteria below. Note that RGIII will not be rated due to the fact that he has yet to prove himself on an NFL level. BIG PLAY ABILITY...
The Oakland Raiders are going to face many tough tasks over the course of the 2012 season. Among those include executing new offensive and defensive schemes from rookie head coach Dennis Allen, and a tough three game stretch from weeks 10-12 where they will face three playoff teams from 2011 (at Baltimore, New Orleans and at Cincinnati). However, the biggest home game of the 2012...
NFL News

Delivered to your inbox

You'll also receive Yardbarker's daily Top 10, featuring the best sports stories from around the web. Customize your newsletter to get articles on your favorite sports and teams. And the best part? It's free!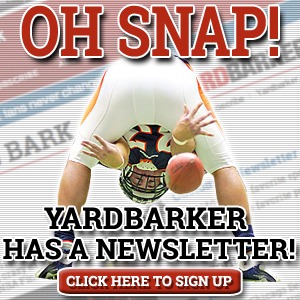 Latest Rumors
Best of Yardbarker

Today's Best Stuff

For Bloggers

Join the Yardbarker Network for more promotion, traffic, and money.

Company Info

Help

What is Yardbarker?

Yardbarker is the largest network of sports blogs and pro athlete blogs on the web. This site is the hub of the Yardbarker Network, where our editors and algorithms curate the best sports content from our network and beyond.