Found June 25, 2013 on NESN.com:
Aaron Hernandez admitted to NFL teams during the 2010 draft process that he had failed drug tests while at the University of Florida. Media reports right after the draft took that number closer to six. Now, amid all the speculation surrounding Hernandez's past, Florida athletic director Jeremy Foley has finally come out in response to the reports of the Gators' negligence, according to Al.com. "The information from the NFL sources is wrong," Foley said on Tuesday. The initial reports of Hernandez's numerous failed tests came from sources in a story published in the Boston Globe immediately after the draft in 2010. A recent story from Sports Illustrated backed up that assertion. Foley still denies the allegations and stands by the school's policies. "The University of Florida follows its drug-testing policies," Foley said. "We do not deviate from our drug-testing policies for anyone. We never have, and we never will." Foley's No. 2, Steve McClain, who is Florida's senior associate AD,
Original Story:
http://nesn.com/2013/06/florida-athle...
THE BACKYARD
BEST OF MAXIM
RELATED ARTICLES
12► Shayanna is going to have to make a decision. Stand by her man or turn state's evidence.  Complicating matters is she has a 6-month-old daughter at home.  According to the prosecution originally Jenkins was cooperating, but then that suddenly changed. "Prosecutors told the court that they went to speak to Aaron Hernandez's girlfriend Shayanna Jenkins after Odin...
TMZ got a hold of a photo of former Patriots tight end Aaron Hernandez with a Glock handgun. Aaron Hernandez brandishing a Glock handgun for a selfie iPhone pic http://t.co/dsKeJGOopk pic.twitter.com/Ene9YROtkh — TMZ (@TMZ) June 26, 2013 The police haven't been able to find the murder weapon, but you have to wonder if the gun he's holding is the one used to kill Odin Lloyd...
You had to know this was coming, right? After Aaron Hernandez was arrested and led out of his house while handcuffed under a white tee yesterday, 'Hernandezing' has officially become a thing. Guide to proper 'Hernandezing': 1. Must be a white t-shirt. 2. Hands must be together in the back, as if cuffed. 3. Red shorts is always a plus. 4. Need dour expression. No smiling....
People describe these sayings as cliches. "Girls are attracted to bad boys." "Nice guys finish last." Maybe there is something to these cliches. aaron hernandez can have my babies, he hella sexy tbh — B. (@Breeyiana) June 26, 2013 I know Aaron Hernandez is involved in a murder but got damn he is sooo sexy Aaron Hernandez is too damn sexy to be charged with anything. —...
Thoughts on what Aaron Hernandez's arrest could mean for the Patriots - Going Deep - Boston.com:...
A.B. As you can see below, Aaron Hernandez's NFL career stats are no longer listed on NFL.com. At first glance I figured it was an error – maybe even a database or website issue with NFL.com. But after typing other random current NFL players in the search field, and their stats showing up, it seems Hernandez's missing stats may be intentional. Why the NFL would remove (if done...
The New England Patriots wasted no time distancing themselves from Aaron Hernandez after the tight end was arrested and charged with first-degree murder on Wednesday. Less than two hours after the arrest, the Pats announced they released Hernandez. They have continued to cut ties from Hernandez as he faces serious charges. Hernandez's jersey is no [...]
Shortly after Aaron Hernandez was arrested this morning, the Patriots announced that they had released the tight end, ending his three-year tenure with the club. They ended the announcement of the release saying that they believed it was "simply the right thing to do." The decisive action could mean that the team also knows that this is about to get a whole lot worse. What a...
The most important takeaway from the Aaron Hernandez murder investigation is that a 27-year-old man lost his life at the hands of a cold-blooded killer. However, the reality of the situation is that Hernandez's arrest will have major implications for the New England Patriots and the NFL. The Patriots' passing attack has taken a major [...]
The New England Patriots wasted no time in releasing tight end Aaron Hernandez following his Wednesday morning arrest and now they will suffer big salary cap ramifications as a result. https://twitter.com/AdamSchefter/status/349923379693879296 According to Adam Schefter of ESPN on Twitter, the Patriots have forfeited all rights to recoup bonus money or salary given to Hernandez...
What happened last night in the sports world? Patrick Kane was on Letterman just a few hours after spraying Blackhawks f…
It hasn't been a good few days, either personally or for the Boston sports scene. On the other hand, if you're a sports radio host or TV reporter or newspaper, this has been a bonanza. Murder! Misery! Heartbreak! End of eras! We've got: The Hernandez case. The Bruins losing two straight in the Stanley Cup Finals with the possibility of the series being over tonight. The Red...
NFL News

Delivered to your inbox

You'll also receive Yardbarker's daily Top 10, featuring the best sports stories from around the web. Customize your newsletter to get articles on your favorite sports and teams. And the best part? It's free!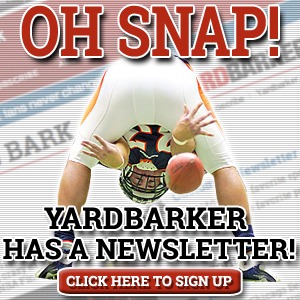 Latest Rumors
Best of Yardbarker

Today's Best Stuff

For Bloggers

Join the Yardbarker Network for more promotion, traffic, and money.

Company Info

Help

What is Yardbarker?

Yardbarker is the largest network of sports blogs and pro athlete blogs on the web. This site is the hub of the Yardbarker Network, where our editors and algorithms curate the best sports content from our network and beyond.