Found January 15, 2013 on WhoDeyFans:
PLAYERS:
Rey Maualuga
,
Vontaze Burfict
,
Manny Lawson
,
Brandon Johnson
,
Thomas Howard
,
Dan Skuta
,
Vincent Rey
,
Marvin Lewis
,
Dontay Moch
,
J.K. Schaffer
,
Philip Wheeler
TEAMS:
Cincinnati Bengals
,
Pittsburgh Steelers
,
Oakland Raiders
This is the first in a series of articles looking through each of the position groups with an eye toward free agency. And why not begin with one of the lightning rods for this team? Rey Maualuga: unrestricted free agent Often a liability, he should not be the middle backer next year. But I say he will be a Bengal in 2013. [Collective groan.] Face it. Rey will draw zero interest, making him cheap to re-sign. And he has experience in Zimmer's system. He is a reclamation project at this point. If Zim can tear him down and rebuild him again (by benching him and making him earn his way onto the field again), he just might find a serviceable player hiding in there somewhere once Rey stops trying to not lose his job. Vontaze Burfict: signed through 2014 The kid was simply brilliant. Moving him to the middle of the defense is inevitable. Marvin showed his GM skills by reaching out to a kid that everyone else had given up on and finding a real gem in the process. Manny Lawson: unrestricted free agent He had a decent if unspectacular season. Re-signing him wouldn't be a bad move, but it feels like settling. How often did you hear his name? For similar money, I'd prefer Brandon Johnson. This position could be a prime target for a high draft pick. Thomas Howard: unrestricted free agent I'd like to see the Bengals give him another chance after missing most of last season. Howard and Burfict could be quite a tandem, the core of the best LB corps the team has had in a long time. (If Maualuga returns to the SAM spot, it has to be behind Howard. It could be very good for Rey.) Dan Skuta: unrestricted free agent Jack of all trades, master of none. One of those guys is good to have, but Lemur is just as good and cheaper. Vincent Rey: restricted free agent The kid has hung on longer than I ever thought he would. Good for him. I see another year on the fringes for him as the Bengals hang on to him for depth. Emmanuel Lemur: signed through 2014 With a season under his belt, I look for Lemur to take another step forward in 2013 as a primary backup player. He made he most of limited chances, and he deserves to be the pacesetter for the non-starters through the off-season. He has Marvin Lewis' endorsement so far. I think he will live up to it. Dontay Moch: signed through 2014 After being sidelined for the past two years with physical issues, this is the last go around for Dontay if he can't get and stay on the field. It would be a shame to see him end up in the over-stuffed "What Might Have Been" NFL drawer, but his time to avoid that fate is running short. Only three guys are signed past next month (and you could argue that Moch shouldn't count since the team was trying to convert him to a defensive end) plus J.K. Schaffer on the practice squad. So some big-impact decisions must be made for this position group. Could this be a spot where the Bengals actually spend money to bring in a free agent? Free Agent Wish List I would love, love, love to see the Bengals pursue and sign Dannell Ellerbe. Could you imagine a mid-field of Ellerbe, Burfict and Howard? Sure, someone would have to move to WILL, but it sounds like an enforcer-minded unit that would pound opponents into submission. I love the way Ellerbe pursues the play and has a nose for the ball. With Flacco's impending contract looking likely to squeeze out guys like Dannell, finding $3-4M/yr to put him is stripes would make a huge statement in my book. The cash-strapped Raiders are going to have a difficult time re-signing Philip Wheeler. So why not pillage that team a little further? The guy is a tackling machine, logging 78 tackles, 3 sacks and 6 passes defensed. And as an OLB, he should be an easier fit than Ellerbe. There might not be a lot of sizzle here, but Brandon Johnson was always a solid contributor when he was in Cincinnati. He wasn't actually a starter in most of that time, but he played almost as much as one. Plus, any day the Bengals can add to their team by taking away from the Steelers, I call that a good day.
Original Story:
http://whodeyfans.com/2013/01/15/focu...
THE BACKYARD
BEST OF MAXIM
RELATED ARTICLES
Bengals left tackle Andrew Whitworth has been added to the Pro Bowl squad, replacing Denver's injured Ryan Clady. Whitworth was a first alternate for the Jan. 27 game in Honolulu. It'll be Whitworth's first trip to the Pro Bowl. The seventh-year lineman has started every game for the Bengals since 2009. His streak of 67 straight starts is the longest on the team. The...
Michael Johnson should be Cincinnati's number 1 free agent target Well, we all would have liked the season to have extended a bit further than it did, but the positives to take away from the 2012 campaign are many.  First, the team broke down several long-standing barriers on the way to back-to-back playoff appearances.  Secondly, the young up-and-coming stars got another season...
The Cincinnati Bengals have reached the playoffs in the last two seasons and are currently building a very talented, young team. Despite their success on the field, the Bengals organization announced on Monday that the team is going to be reducing season ticket prices in 20 sections of Paul Brown Stadium for next season. The Cincinnati Bengals finished the 2012 season ranked 24th...
Cincinnati Bengals tight end Jermaine Gresham and teammate Andrew Whitworth (LT) have been added to the 2013 Pro Bowl roster.Both were originally voted as first alternates.Gresham, who is making his second trip in as many years, will be replacing the injured Pittsburgh Steelers tight end, Heath Miller, who tore an ACL in Pittsburgh's Week 16 loss to Cincinnati.Whitworth...
2012 was a great year to be a Bengals fan! They made the playoffs in back to back years for the first time in 30 years. That's amazing. The Bengals are an up and coming team STILL and they play in a division where the rest of the players are turning into grumpy old men. Ed Reed, Troy Palamalu can't play forver. Its guys like Ray Rice, Antonio Brown, Mike Wallace that scare me...
NFL News

Delivered to your inbox

You'll also receive Yardbarker's daily Top 10, featuring the best sports stories from around the web. Customize your newsletter to get articles on your favorite sports and teams. And the best part? It's free!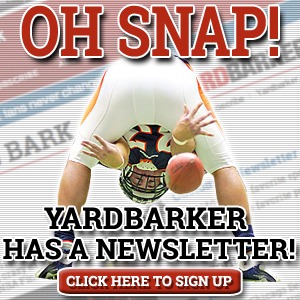 Latest Rumors
Best of Yardbarker

Today's Best Stuff

For Bloggers

Join the Yardbarker Network for more promotion, traffic, and money.

Company Info

Help

What is Yardbarker?

Yardbarker is the largest network of sports blogs and pro athlete blogs on the web. This site is the hub of the Yardbarker Network, where our editors and algorithms curate the best sports content from our network and beyond.