Found January 17, 2013 on WhoDeyFans:
PLAYERS:
Andy Dalton
,
Drew Brees
,
Philip Rivers
,
Bruce Gradkowski
,
Zac Robinson
,
Tarvaris Jackson
,
Rex Grossman
,
Brady Quinn
,
Jordan Palmer
TEAMS:
Cincinnati Bengals
,
New Orleans Saints
,
San Diego Chargers
,
Buffalo Bills
,
Washington Redskins
,
Kansas City Chiefs
,
Penn State Nittany Lions
There will be plenty of angst from certain quadrants of Bengals Nation in regards to Andy Dalton over the next 6 months. The pessimists among us are plentiful and proud. But are they right? Will certain fans try to sack Dalton during the off-season?Andy Dalton: signed through 2014 2012 was a mixed bag for Andy Dalton. He improved in most important stats: TDs thrown (+7), yds thrown (+271), completion % (+4.2), and QB rating (+7.0) among them. But he also increased in picks (+3) and in sacks (+22), many of which resulted from either scrambling too soon or holding the ball too long. Cue the hand-wringing. Let's be honest. On one hand, any derivative of the word "regress" is just wrong. Most of his stats improved from last year. We might not have seen as much progress as we had hoped, but he didn't get worse. On the other hand, he made some bad decisions with the ball–particularly in December–and struggled at times with accuracy, particularly when going deep down field. He grew in many areas but not all. And that is n-o-r-m-a-l for QBs in their second season. Take a look at the second year stats for Matt Ryan, who is poised to break into the "elite QB" conversation. You'll see a mixed bag. Same goes for Drew Brees and Philip Rivers in their second full seasons. Or look at Joe Flacco (a closer comparison for Dalton in terms of ceiling IMO… both may be top 10 QBs one day but I don't see either being a top 5 guy) in his second season, and you'll see numbers very similar to Dalton last year. The bottom line is this: Don't panic. The second season just isn't a good gauge for a QBs career path. If we do not see a clear step forward in his third season, then we will be having a very different conversation next year (against a loud chorus of "I old you so" from Pessimism Inc.) about what to do at QB. But we are not there yet. Andy deserves another year of development. Besides, there is squat among free agent QBs and the team is not going to draft another QB in the high rounds this year, so all of the consternation won't change one thing anyway. Bruce Gradkowski: unrestricted free agent For the sake of Dalton's continued development, I would like to see the Bengals keep Gradkowski for another year or two. As Andy comes into his own over the next couple years, having a familiar, experienced support structure behind him will still be important as he gains confidence. Rather than making Dalton the veteran at the position in his third year, let Grad be the old man of the group a little longer. He is serviceable if needed for a short run, and he allows the team to carry just two QBs and carry an extra man elsewhere if they choose. He won't exactly be in high demand, so he price should stay under $2M/yr, which is certainly affordable. Zac Robinson: signed through 2014 The Bengals like Zac well enough to keep him on the practice squad for two years. With his eligibility for the PS expired, they have to either put him on the team or release him. To stay on, his job this off-season is to prove to the coaches that he can perform at least equal to Gradkowski, saving them money if they choose him and let Grad go. Free Agent Wish List Talk about a thin crop! You might get an upgrade in backups by bringing in Tarvaris Jackson, but I feel sorry for any team sorting through this list in search of a starter. The best option on the list is Matt Moore, a completely unknown quantity. After that, they're left picking through names like Rex Grossman, Derek Anderson, Brady Quinn, Jordan Palmer… Ugh. Draft Options I'll fall out of my chair if the war room goes for a QB before the fifth round. By that point, he's pretty much just a guy to keep Robinson honest with a little competition. For a late pick, as a Big10 guy, I'd take Matt McGloin of Penn State late in the sixth to serve in that role. To lead Penn State to a good year after the catastrophic off-season they had, the kid has to have a little something as a leader.
Original Story:
http://whodeyfans.com/2013/01/17/focu...
THE BACKYARD
BEST OF MAXIM
RELATED ARTICLES
Déjà vu? It was Andy Dalton's second chance to shine in his hometown of Houston and in the end, it turned out much like the first one. The Cincinnati Bengals quarterback had one of his worst games as a rookie when he threw three interceptions when the Houston Texans knocked the Bengals out of the playoffs in 2012. Now, one year later, Andy Dalton did it again. Finishing the...
The 2012 season is over for the Cincinnati Bengals, and now we look onto the potential 2013 Cincinnati Bengals roster changes. The Bengals will potentially have 27 players saying goodbye this offseason, and that's a tall order to fix in the offseason. The number one player the Bengals need to re-sign is Andre Smith. Smith had another strong year after his breakout season in 2011...
POLICE BLOTTER
Bengals right tackle Andre Smith was arrested on Thursday night at the Atlanta airport after police allegedly found a loaded .380 pistol in his carry-on bag.

Andre Smith was arrested in Atlanta, GA. The Bengals offensive lineman was taken into custody while attempting to board a plane with a .380 caliber handgun  at Hartsfield Jackson Atlanta Airport on Thursday.   Please Click Here To Read This Story. The post Bengals OL Andre Smith arrested appeared first at Players View Dot Net
Team needs and impending free agents for the Cincinnati Bengals.
Cincinnati Bengals tackle Andre Smith was free on bond Friday after his arrest on a charge of carrying a loaded gun at Atlanta's airport. Smith, 25, of Birmingham, Ala., was arrested around 4:50 p.m. Thursday at a security checkpoint at Hartsfield Jackson International Airport. A .38-caliber handgun was found in his carry-on bag, said Atlanta police Sgt. Greg Lyon. Smith was...
On Thursday, Cincinnati Bengals offensive lineman Andre Smith was arrested after being caught trying to board a plane with a gun in his carry-on bag. At around 5:00 p.m., Atlanta police said they found a loaded .380 pistol in Smith's possession while going through security checkpoints at Hartsfield-Jackson Atlanta Airport."We continue to remind passengers of the importance...
According to WCPO Cincinnati, Bengals OT Andre Smith was arrested on Thursday for allegedly bringing a gun into an airport in Atlanta. The Atlanta police found a .380 caliber handgun on Smith while he was trying to board a flight.   The post Bengals OT Andre Smith Arrested On Gun Charge appeared first on NFL Trade Rumors -.
Cincinnati Bengals tight end Jermaine Gresham and teammate Andrew Whitworth (LT) have been added to the 2013 Pro Bowl roster.Both were originally voted as first alternates.Gresham, who is making his second trip in as many years, will be replacing the injured Pittsburgh Steelers tight end, Heath Miller, who tore an ACL in Pittsburgh's Week 16 loss to Cincinnati.Whitworth...
Cincinnati Bengals right tackle Andre Smith was arrested Thursday at the Atlanta airport on a gun charge. Smith allegedly attempted to board a plane with a .38-caliber handgun, according to several reports, He appeared in court Friday morning and was released on a $3,000 bond. A preliminary hearting was set for Feb 4, NFL.com reported. Smith, the No. 6 overall pick in the...
Cincinnati Bengals offensive tackle Andre Smith has been arrested after trying to board a plane Thursday evening with a .380 caliber handgun at Hartsfield Jackson Atlanta Airport. Smith, 25, of Birmingham, AL, appealed in court Friday morning and was issued a $3,o00 bond, PJ O'Keefe of WCPO Digital reports. The former 2009 first-round pick (sixth overall out of Alabama) appeared...
Ok, so the Bengals are out. However, NFL football is still going on and like us, most of you will be watching. Who do you root for? Personally I am torn. Part of me wants to root for the Ravens. My reasoning is that they are a division opponent and whats good for the division is good for the Bengals. The Bengals will get to play them twice next season and it would be nice to beat...
NFL News

Delivered to your inbox

You'll also receive Yardbarker's daily Top 10, featuring the best sports stories from around the web. Customize your newsletter to get articles on your favorite sports and teams. And the best part? It's free!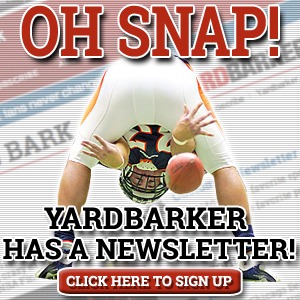 Latest Rumors
Best of Yardbarker

Today's Best Stuff

For Bloggers

Join the Yardbarker Network for more promotion, traffic, and money.

Company Info

Help

What is Yardbarker?

Yardbarker is the largest network of sports blogs and pro athlete blogs on the web. This site is the hub of the Yardbarker Network, where our editors and algorithms curate the best sports content from our network and beyond.