Found October 19, 2012 on Philly Sports World:
After 14 years, it's time for the Philadelphia Eagles and Andy Reid and Co. to part ways. It's time now. I've long supported Andy Reid as a coach. I've had my issues with him, but in the end it always came down to who else was out there to take his place. But there are candidates and there also comes a point when change is necessary no matter what. The Eagles are there now. I know there are a lot of people who want Bill Cowher in Philly to coach the Eagles, but he's already been out of football for 6 seasons. That's a long time, and makes you wonder if Cowher would even be relevant in today's NFL. There are also a bunch of people who want Jon Gruden to be the next coach of the Eagles. While Gruden has also won a Super Bowl, it was with a team that Tony Dungy had assembled and before you knew it, Gruden was run out of town. So I'm not sold on Gruden either. The person I would love to see coach the Philadelphia Eagles is Brian Billick. Billick is another Super Bowl winning coach who's been out of the game for a while, last coaching the Ravens in 2007. Billick, like Cowher was known as a disciplinarian who ran a tight ship during his tenure. The Eagles have talent, they need a coach who can focus them and get them to play disciplined football again. That used to be a hallmark of an Andy Reid coached team. Outside of finding a replacement for Andy Reid, owner Jeffrey Lurie may also want to find a new GM. I can't recall a worse drafting record in Eagles history than the one Howie Roseman has. Prior to this year's draft, which is only so-so outside of Fletcher Cox so far, Roseman presided over two of the absolute worst drafts in Eagles history, where the team didn't even wind up with a bona fide player. Brandon Graham has stepped up some but is still not what was expected and Danny Watkins has been a turnstile on the offensive line, throwing out one of his worst performances last week against the Lions. The Eagles team is rife with talent. It's coaches are supposed to be some of the best in football, but Howard Mudd's offensive line has been exactly that — offensive. Bad. The wide 9 under defensive line coach Jim Washburn looked like it had some potential last year, but has failed to get consistent pressure on the QB. Some of that can be blamed on the players, some on the play calling of now defunct defensive coordinator Juan Castillo, but I would not say it's been a rousing success. Let's see what Todd Bowles can do with it now. The moral of the story here is that after 14 years of doing the same things, Andy Reid and his regime's success has faded. The Eagles didn't make the playoffs last season and that appears to be in jeopardy thus far too. The Eagles haven't won a playoff game since 2008, when the went to their fifth NFC Championship game under Reid. They, of course lost to an inferior Arizona Cardinals team and haven't won a postseason game since. At 3-3, it's hard to say the season is over, but it's harder still to see any bright spots and hope for better. The Eagles are mediocre. They are a middle of the pack team with a lot of talent and no apparent drive or plan to succeed. The time has come to make some changes. And more than just firing Juan Castillo, who should never have been in the job to begin with. My vote is for Michael Vick and Marty Mornhinweg to head out next. Enough is enough. Similar Posts: Andy Reid, change is desperately needed Bowles in, Castillo out as Eagles shake things up Is Todd Bowles with the Eagles to 'Insure' Juan Castillo's Success? Eagles Owner Lurie Implies Andy Reid is Coaching for His Job Can Andy Reid find right buttons to push to save Eagles season?
Original Story:
http://phillysportsworld.com/for-eagl...
THE BACKYARD
BEST OF MAXIM
RELATED ARTICLES
RIP
The Northampton county coroner announced on Thursday that Andy Reid's son Garrett died from an accidental heroin overdose in August.
Those that expected fired Eagles defensive coordinator Juan Castillo to step to the microphone and call the team and it's coach Andy Reid out, are going to be deeply disappointed. Please Click Here To Read This Story
On Thursday came a reminder of the personal crisis facing Philadelphia Eagles head coach Andy Reid alongside his professional battle.Northampton County Coroner Zachary Lysek released his report on the death of Garrett Reid, 29, the coach's eldest son. It was what the family expected and alluded to in their initial statement about the tragedy: an accidental heroin overdose. The...
Photo: Clem MurrayPhiladelphia Eagles defensive coordinator Juan Castillo ultimately became a victim of his own ambition.  Because of his desire to advance up the coaching ladder, he desperately wanted a shot at being Andy Reid's defensive coordinator.Once Reid fired Sean McDermott after the 2010 season, Castillo started putting a bug in Andy's ear about taking over the defensive...
((HT:MyFoxPhilly)) The coroner's report has come out in the death of the son of Philadelphia Eagles head coach Andy Reid, Garrett Reid... And the end result is not a surprise... Sadly... Stephanie Salvatore is standing indoors... Philadelphia News, Weather and Sports from WTXF FOX 29 This was not a surprise in the end of Garrett Reid's life... Battles like...
Philadelphia, PA (Sports Network) - Garrett Reid, the son of Philadelphia Eagles head coach Andy Reid, died in August of an accidental heroin...
The Eagles the last season and a half have not been the team that their high priced payroll and flashy names would suggest. The defense was being helmed by Juan Castillo who was previously the teams offensive line coach. After losing 8 games in 2011, many of which they led in the 4th quarter, and starting off 3-3 in 2012, with the defense struggling Andy Reid and the Eagles decided...
Your hometown team is going through some heavy shyte right now, and then the New York media piles on... Fuel for a big comeback, bulletin board style, I says... Although it rarely works out this way, the New York Giants must be punished for the sins of its media... I have never seen such a display of rude arrogance piled upon a Philadelphia football team by the New York...
Finality As always with FTT O-T, not entirely about sports and if that offends, move along. Today, we learned that Andy Reid's son, Garrett, died of an accidental heroin overdose when he passed a couple of months ago. Now, I'm not sure what an on-purpose heroin overdose would look like, but there's no reason to really spend more time on this life. The younger Reid made...
cbssports: Eagles: 31st ranked scoring offense. 13th ranked scoring defense. So they fired defensive coordinator Juan Castillo (a former offensive line coach).  It sounds like former Eagles CB Asante Samuel blames Andy Reid for the team's failures. Read More Here!
Podcaster Adam Dobrowolski pours an intoxicating six-pack of CHFFs: Dallas proved it's America's dumbest team; Matt Ryan has plenty to prove; time for Andy Reid to go; Patriots need to reassess offensive strategy; Chargers epic choke job and much more.
NFL News

Delivered to your inbox

You'll also receive Yardbarker's daily Top 10, featuring the best sports stories from around the web. Customize your newsletter to get articles on your favorite sports and teams. And the best part? It's free!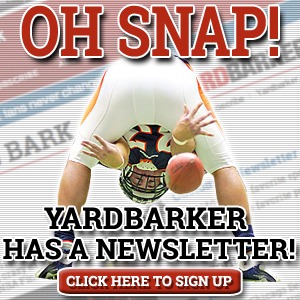 Latest Rumors
Best of Yardbarker

Today's Best Stuff

For Bloggers

Join the Yardbarker Network for more promotion, traffic, and money.

Company Info

Help

What is Yardbarker?

Yardbarker is the largest network of sports blogs and pro athlete blogs on the web. This site is the hub of the Yardbarker Network, where our editors and algorithms curate the best sports content from our network and beyond.