Found April 16, 2012 on Fox Sports Detroit:
ALLEN PARK, Mich. A year ago at this time, besides wondering if there would even be a 2011 season because of a work stoppage, the biggest question facing the Detroit Lions was whether Matthew Stafford was durable enough to be a NFL quarterback. Not anymore. Now the question is whether Stafford can lead the Lions somewhere theyve never been - to their first Super Bowl. Stafford and his teammates flew in from all over the country to begin their offseason training program Monday at the Lions practice facility. Stafford played in only 13 games his first two years in the league because of injuries, but he went the distance last season, starting every game while leading the Lions to their first playoff appearance in 12 years. How does it feel not to have to answer questions about injury rehabs and durability? Its great except for you just asked me, Stafford said, laughing at the questions irony. Im just happy to be feeling good, ready to hit the ground running. Its nice not to have to put myself back together. Stafford, 24, is coming off a season in which he passed for 5,038 yards and 41 touchdowns with 16 interceptions. He and the entire franchise took significant steps forward, but the bigger test will be in trying to sustain that success. Its one thing to get there, but can you stay there? Weve moving in the right direction, got to keep it that way, Stafford said. Thats the main thing. Weve built momentum over the last couple years. "Weve just got to keep running with it and keep doing the right things, and understand what got us here. Thats guys putting their nose to the grind and working hard. I dont see there being too much of a change in that at all. Its something I think well be happy to embrace. Any time you get a taste of the playoffs, you understand how close you are and how bad you want to win the whole deal. These first two weeks of the offseason workouts will focus on conditioning. Theyll mostly run and lift weights. Its all part of the toned-down, offseason program that came out of the new collective bargaining agreement between the players and the NFL clubs. With the shortened amount of time, every day is that much more important, Stafford said. Fortunately for the Lions, they will have 21 of 22 starters returning, along with the same coach (Jim Schwartz), offensive coordinator (Scott Linehan) and defensive coordinator (Gunther Cunningham). The front office wanted to keep the continuity and that has been accomplished, somewhat of a rarity in pro sports these days. Whats nice for us is were building, were not starting from scratch, Stafford said. Guys are mentally not straining to try to figure out the playbook or where theyre supposed to be on certain plays. This is fine-tuning and adding to what weve already done. That part of it is fun. Its relaxing as well. Stafford said that Schwartz, who was not available to the media Monday, briefly addressed the team concerning some recent off-the-field issues. Defensive tackle Nick Fairley, running back Mikel Leshoure offensive tackle Johnny Culbreath were arrested for marijuana possession during a three-month period. Asked to reiterate Schwartzs message, Stafford said, Weve come so far, we dont want anything to hold us back." I think everybody knows that," Stafford replied. "Were a mature team. Some of the guys having trouble off the field were younger guys. Theyll figure it out. Well be there to help them along. Defensive end Cliff Avril did not attend Mondays session. He has not signed the one-year, 10.6-million tender since having the club place the franchise tag on him to keep Avril from becoming a free agent. That locks him in as a Lion for the 2012 season, but there is still the possibility of the two sides agreeing to a long-term contract in the next couple months. Avril chose not to sign a waiver that would have allowed him to participate in these workouts until he signs. I know Cliff, Stafford said. Hes going to be in tip-top shape, ready to go. One of the offenses top priorities in preparing for the season is to try to establish more balance, Stafford said. The Lions were No. 4 in the NFL in passing but No. 29 in rushing. Detroit passed for 300.9 yards per game and 41 touchdowns while rushing for 95.2 a game and nine touchdowns. The running game was hampered by the loss of the teams top two running backs. Jahvid Best missed final 11 games because of concussion. Leshoure missed entire season because of torn Achilles tendon. Stafford said the offseason will give the high-powered offense the opportunity to create some new wrinkles, try to give our division opponents something else to think about. I think everybody on our team would like to be a little bit more balanced than we were last year, Stafford added. If we stay healthy, I know we can be. Last year the easiest way for us to win games, when we had so many guys injured, was to throw the football a lot. We led the league in attempts passing (666). We were doing anything we could to win the games. I dont really care if I throw for 5,000 yards. Id throw for 4,000 and win a couple more games. EXTRA POINTS ... Stafford, on whether he sensed that the New Orleans Saints, recently penalized for a bounty program, had targeted him during two games last season: No. I didnt get any of that. They were playing tough, hard football when I was playing them. ... The Lions confirmed Monday afternoon that linebacker DeAndre Levy and offensive tackle Corey Hilliard will return after signing their restricted free-agent tenders.
Original Story:
http://www.foxsportsdetroit.com/04/16...
THE BACKYARD
BEST OF MAXIM
RELATED ARTICLES
ALLEN PARK, Mich. Former NFL players are piling on when it comes to lawsuits against the league for the head injuries they sustained during the course of their careers. Detroit Lions center Dominic Raiola doesnt plan to be part of that litigation one day. When Im at home in my rocking chair at 40, I dont think Im going to be thinking about suing the NFL, Raiola, 33, said Tuesday...
The 2012 NFL schedule was released Tuesday at 7:00PM. The news surrounding the release was a bit absurd (ESPN had a three-hour special on it), but as expected everyone wants to see how many wins they can foreshadow their favorite team getting. Here is the Lions preseason and regular season. They will have one primetime preseason games and four regular season primetime tilts.  But...
Players are coming into town. Tender offers are being signed. The Lions are, once again, preparing for another long season of football. While preparations are going on, it has been reported that there has been no comment from the former rookies in way of explanation for their actions. The Lions as a team are being rather hushed about it as well.   Really, we shouldn't be happier...
If Calvin Johnson winds up winning the Madden cover vote and suffers an injury next season, Lions fans may blame more than just the Madden jinx. Those who are particularly superstitious could take aim at Nate Burleson. Burleson, who claims to be a big Madden fan, admitted to Mlive.com that he believes in the Madden cover curse. Despite that, he says he is still going to vote for...
Detroit Lions center Dominic Raiola says he knew the risk of playing in the NFL. With that in mind, Raiola told the Detroit Free Press that he would never sue the league for any injury incurred because it is "common knowledge" that it's just part of the game. "It's worth it. It's totally worth it," Raiola told the newspaper on Tuesday. "This...
The Detroit Lions are still waiting for RB Jahvid Best to return to the field. According to the Detroit Free Press, the speedy running back has still not been medically cleared to return to the field. Best has been struggling with concussion-like symptoms after a mid-season game against the San Francisco 49ers. Best has a history of concussions in his career. The Lions are scheduled...
The Detroit Lions are still waiting for RB Jahvid Best to return to the field. According to the Detroit Free Press, the speedy running back has still not been medically cleared to return to the field. Best has been struggling with concussion-like symptoms after a mid-season game against the San Francisco 49ers. Best has a history of concussions in his career. The Lions...
Here is a way-too-early, week-by-week prediction breakdown of the Detroit Lions' schedule, released Tuesday night, with the opponents' 2011 records in parenthesis: WEEK 1 SEPTEMBER 9 VS. ST. LOUIS (2-14) The Rams, who ended the season on a seven-game losing streak, hired a new coach, Jeff Fisher, and signed 10 free agents. Not going to matter here. WIN WEEK 2 SEPTEMBER...
According to CBS Sports writer Jeff Reynolds, the Lions will not defy logic and will address the position that fills their greatest need; defensive back. With some of the difficulties the Detroit defense had at keeping points off the board at times last season, this has seemed like a foregone conclusion to many draft experts. But does Schwartz and the draft team have a particular...
Detroit Lions center Dominic Raiola says he expects to suffer from short-term memory loss when his career is over.
Former Detroit Lions wide receiver Charles Rogers was in court last week over multiple warrants in his native Saginaw. Rogers pleaded not guilty in to five misdemeanor charges levied against him. One of the charges included making a malicious phone call to his mother Cathy Rogers. According to a police report, Rogers threatened to kill his mother over a $100,000 debt. Cathy Rogers...
NFL News

Delivered to your inbox

You'll also receive Yardbarker's daily Top 10, featuring the best sports stories from around the web. Customize your newsletter to get articles on your favorite sports and teams. And the best part? It's free!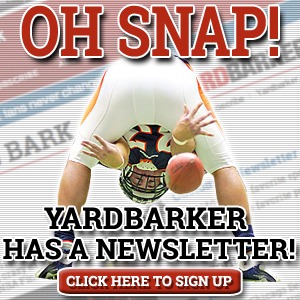 Latest Rumors
The Backyard

Today's Best Stuff

For Bloggers

Join the Yardbarker Network for more promotion, traffic, and money.

Company Info

Help

What is Yardbarker?

Yardbarker is the largest network of sports blogs and pro athlete blogs on the web. This site is the hub of the Yardbarker Network, where our editors and algorithms curate the best sports content from our network and beyond.