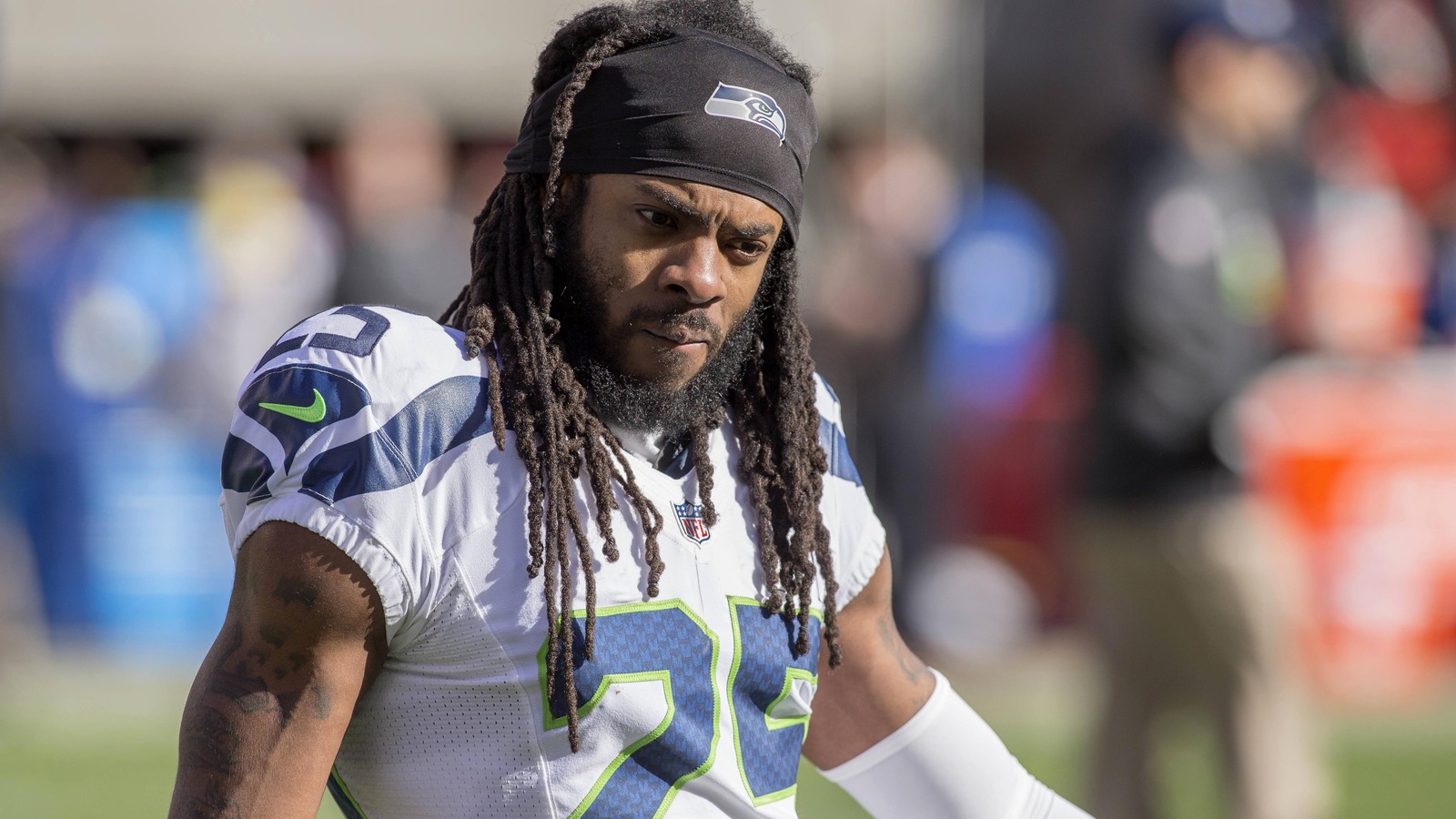 Would it be a good decision for the Seahawks to move Richard Sherman?
Neville E. Guard-USA TODAY Sports
The idea of the Seattle Seahawks moving on from five-time Pro Bowl cornerback Richard Sherman seems a bit absurd on the surface. Why would a Super Bowl contender trade its best defensive player?
When one report broke on Thursday that Seattle would listen to offers for Sherman should teams show serious interest, it was met with a ton of skepticism.
Sherman is the best player at his position in the NFL. He's still on the right side of 30. And Sherman himself might be coming off the best performance of his career.
We're here to tell you that Seattle trading Sherman actually makes sense for the team. Here are four reasons why we came to that conclusion.
1. Compensation would be absolutely huge
A future Hall of Fame cornerback in the prime of his career doesn't hit the open market too often. Add in the fact that today's NFL is of the pass-happy variety, and interest in Sherman's services would be absolutely ridiculous. At least half of the league's teams would be lining up to give a first-round pick (and more) to acquire this five-time Pro Bowl performer.
There's an old saying around the professional sports world. Absolutely no player is off limits in a trade for the right price. That makes perfect sense. Shutting down trade discussions simply because a player is deemed untouchable limits the ability of teams to improve their standing over the long term. In no way does this mean players of Sherman's ilk are traded at a high clip. It rarely happens.
We can definitely project what it might take to acquire Sherman. We can also use a certain amount of conjecture to conclude what teams might be interested.
Look at the Oakland Raiders as an example. One of their biggest downfalls during a surprising 12-win 2016 campaign was pass coverage. Why not offer up two first-round picks to bring in this elite 28-year-old corner? The same can potentially be said for the defending NFC champion Atlanta Falcons. Despite their success last season, the Falcons still yielded the fifth-most passing yards in the NFL. Imagine Sherman teaming up with the recently extended Desmond Trufant? Atlanta could offer up a first-round pick and running back Devonta Freeman as a starting-off point here.
What about the Dallas Cowboys? Here's a team that lost its two starting corners in free agency. Could Jerry Jones and Co. potentially offer up Pro Bowl wide receiver Dez Bryant and picks? The money lines up, and this trade would surely fill holes for both teams.
Any team looking to acquire Sherman would have to be in contention for a Super Bowl. You simply don't exhaust huge capital on a non-quarterback if you're not competing for the Lombardi. That limits potential suitors, but there surely are teams out there that might make a strong run at Sherman.
2. Team must rebuild its depth
We saw this come up in a big way last season. While Seattle did win 10 games and earn the NFC West title, it was not a legitimate Super Bowl contender. That was magnified during the team's blowout loss to Atlanta in the divisional playoffs. Simply put, there's not a ton of depth on this roster.
The interesting dynamic here is that some of this lack of depth comes at cornerback opposite Sherman himself. Following the departures of Brandon Browner and Byron Maxwell over the past few seasons, Seattle has failed to add anyone of real substance opposite Sherman. That's played a role in the minor regression we saw from the Seahawks' defense last season.
Also important to note, Seattle's offensive line remains one of the worst in the NFL. As of now, George Fant and Garry Gilliam would likely be the team's two starting tackles. Meanwhile, former Jacksonville Jaguars first-round bust Luke Joeckel could challenge for one of those spots. Either way we put it, Seattle's pass protection in front of Russell Wilson has been an absolute dumpster fire.
If Seattle could nab a couple high-round picks and a starter-caliber player for Sherman, it's a trade the team really might have to consider. No matter how good Sherman might be, his excellence last season only led the Seahawks to fledgling contention in the NFC. It's something to think about before throwing this idea out the window completely.
3. Could acquire a cornerback in return
There's a scenario in play here where the Seahawks could acquire a seemingly lesser corner and picks in exchange for Sherman. After all, if the team were to trade the corner for draft pick compensation, it would then have to hit that position hard in April. Why not look for a veteran to start immediately while potentially adding another to team up with him over the long term in the draft?
Pure conjecture here, but the Detroit Lions might be willing to part with Darius Slay as well as two first-round picks for Sherman. Just imagine how much better the Lions' defense might be with a true shutdown guy on one side of the field. Couple that with Ziggy Ansah and A'Shawn Robinson rushing the passer, and that could become a truly dominant defense.
The same could be said for a New England Patriots squad that might very well be on the verge of acquiring multiple first-round picks for Malcolm Butler and Jimmy Garoppolo. The idea of Seattle helping out the defending champs might be absurd. But if we're looking at the Pats offering up Butler and a first they would hypothetically nab in a Garoppolo trade, it could also make sense.
When looking at a player of Sherman's ilk, there's seemingly endless opportunities when it comes to a trade. The market would be huge, and pretty much any non-quarterback would be on the table.
4. Cut some cap room
Based on what we have seen in today's market, Sherman's price tag is relatively cheap. He's set to count $13.6 million against the cap in 2017 with a hit of $13.2 million in 2018.
Even then, taking this off their books would enable the Seahawks to potentially target other positions in free agency next year. With only two years remaining on his deal, it would also squash the idea of Seattle having to dole out a good $16-plus million annually to a then 31-year-old cornerback. Think about that for a second.
As we noted above, there's a ton of holes up and down this roster. The combination of draft picks, veteran acquisitions and freeing up cap room might just be a bit too enticing for Seattle. If so, trading Sherman makes some sense.
MORE FROM YARDBARKER
Seahawks News

Delivered to your inbox

You'll also receive Yardbarker's daily Top 10, featuring the best sports stories from around the web. Customize your newsletter to get articles on your favorite sports and teams. And the best part? It's free!