Found September 28, 2012 on SteelerAddicts:
It might be a bit of a rush job to judge a team after just three weeks of action, but in a 16 game season, it's somewhat justifiable. The Steelers stand 1-2 on the season, losing a tough one on the road to the Broncos, handling the Jets rather easily at home and then dropping a disappointing game on the road against the Raiders. Here are four things we know about the Steelers so far this season as they attempt to make yet another playoff push. Mike Wallace Didn't Need Training Camp Sure, fans would have felt much better if Wallace was practicing with the team, but since he was returning to the same quarterback, it really didn't matter. The pair connected on a beautiful 37-yard TD pass in the third quarter against the Jets as well as a 37 yd scoring play against the Raiders.. Paired with Antonio Brown, the Steelers are going to be just fine at the wide receiver position in 2012.  The Team Remains Torn On No-Huddle In Week 1, the Steelers ran a ton of no-huddle offense with three wide...
Original Story:
http://feedproxy.google.com/~r/steele...
THE BACKYARD
BEST OF MAXIM
RELATED ARTICLES
I think we all realize that the Pittsburgh Steelers' defense is better with James Harrison on the field than off. You could certainly argue even at 75% Harrison would be a better option than either Chris Carter or Jason Worilds. The problem really doesn't revolve around that though because what it deals with is simply getting Harrison on the field period. I found myself at one...
When Weslye Saunders was handed his fine it was stated as a four week suspension for a positive drug test. Following the positive test the general consensus was that Saunders would be available following week 4 and would only miss 3 games due to the bye week for the Steelers in week 4. The NFL has n ContinueThe post Steelers' Saunders to Return after Week 5 appeared first on SteelBlitz.
A report on ESPN broke the news Wednesday that the NFL has fined Pittsburgh Steelers safety Ryan Mundy $21,000 for his hit on Oakland Raiders wide receiver Darrius Heyward-Bey.This fine is monetarily on par with fines levied this season on players for player safety related hits, and should not have come as a surprise to either the fans or Mundy. While not penalized on the play...
Through three weeks of the NFL season, the Pittsburgh Steelers have seen lofty expectations shattered, but even loftier expectations start to come to fruition. Steelers quarterback Ben Roethlisberger is playing at a level that puts him atop the NFL's list of passers. Now, I'm of the school of thought that says that it's never too early to make predictions and end up eating...
Wednesday was the season premier of South Park and the long-running cartoon started the season off by mocking the NFL and their stance on concussions, as well as the recent replacement referee debacle. The episode centers around Randy Marsh, who's frustrated about the excessive safety measures in football. Marsh offers up sarcastic solutions to the problem such as players playing...
Our friends over at CBS Local contacted us this week and asked us to help promote their site, www.TailgateFans.com. A site dedicated to all the ins and outs of NFL Tailgating from all the great stadiums across the country. Their site features everything from great recipes and ideas for your next tailgate as well as contests, handy tailgate gadgets, photos and more! They recently...
Troy Polamalu and James Harrison returned to practice Tuesday and participated fully. Optimism was high Tuesday night and Wednesday morning that both players would be back soon. That idea was destroyed Wednesday afternoon when Harrison left the Steelers facility before practice had even started due ContinueThe post James Harrison Return Still Unknown appeared first on SteelBlitz.
Man I'm not sure who has it rougher right now? Jay Cuter, Mitt Romney, or the replacement referees. I'm not a ref but I have played enough organized basketball and tons of football games to know refs have it rough. You enter that kitchen though and you must deal with the heat. These replacement refs are catching hell whether deserved or not. Deadspin is reporting that Steelers...
Pittsburgh Steelers tight end Weslye Saunders will not be available for the week 5 game against the Philadelphia Eagles. The former undrafted free agent posted Thursday on Twitter that he still has to sit out one more game to satisfy his four game suspension for testing positive for the banned drug Adderall. https://twitter.com/Wes_Saunders88/status/251112222099640321 ...
Below are the defensive player play counts and participation chart for the Pittsburgh Steelers week 3 game against the Oakland Raiders. Player Notes: Nose tackle Casey Hampton played 27 snaps as opposed to just 3 for Steve McLendon. I am still finding this a little confusing. Cameron Heyward also saw just 5 defensive snaps Sunday. Both Al Woods and Will Allen saw 1 snap each...
The play of Oakland Raiders quarterback Carson Palmer this past weekend can not be understated, but the defense of the Pittsburgh Steelers certainly helped the veteran quarterback out by declaring what they were going to do several times during the game pre snap. You are likely reading quite a bit today about how "predictable" the defense was on Sunday, but most of the...
Steelers News

Delivered to your inbox

You'll also receive Yardbarker's daily Top 10, featuring the best sports stories from around the web. Customize your newsletter to get articles on your favorite sports and teams. And the best part? It's free!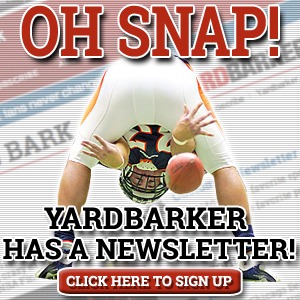 Latest Rumors
The Backyard

Today's Best Stuff

For Bloggers

Join the Yardbarker Network for more promotion, traffic, and money.

Company Info

Help

What is Yardbarker?

Yardbarker is the largest network of sports blogs and pro athlete blogs on the web. This site is the hub of the Yardbarker Network, where our editors and algorithms curate the best sports content from our network and beyond.