Found March 16, 2012 on Thoughts from the Dark Side:
PLAYERS:
Kamerion Wimbley
,
Mike Brisiel
,
Ronald Bartell
,
Cooper Carlisle
,
Alex Parsons
,
Michael Huff
,
Michael Bush
,
Chris Myers
,
Scott Wells
,
Samson Satele
,
Jason Brown
TEAMS:
Oakland Raiders
,
St. Louis Rams
,
Green Bay Packers
The Raiders went the morning without doing anything of note but there was a flurry of Raider related activity in the afternoon.  At about 12:30 PM Pacific, it was reported by numerous sources that the Raiders would, in fact, cut LB Kamerion Wimbley.

If the Raiders had not cut Wimbley by 1:00pm Pacific, his contract called for a large amount of the contract to be guaranteed and that forced the team's hand to cut him since he was not willing to come to a restructure deal that satisfied Raiders GM Reggie McKenzie.


Wimbley had an $11 million salary due this season, although not all of that counted against the salary cap.  Despite being cut, the Raides will still pay Wimbley $6.5 million this season because it was guaranteed money.  They get the remaining $4.5 million in savings but the salary cap savings is much smaller - reportedly only $1.5 million.

While that savings seems rather small and many ask why the Raiders would cut Wimbley over a mere $4.5 million, this year's contract was, while high, likely not the reason he was cut.  If the Raiders had allowed him to remain on the roster, his entire $11 million salary for 2012 would have become guaranteed, his $11 million salary for 2013 would have become fully guaranteed and $2 million of his 2014 salary would have become guaranteed as well.

Therefore, by cutting Wimbley today, the Raiders saved $17.5 million guaranteed over the next three seasons - $4.5 million in 2012, $11 million in 2013 and $2 million in 2014.


The Raiders also made their first free agency signings this afternoon, signing RG Mike Brisiel and CB Ronald Bartell.  Both were covered in yesterday's post in more detail but I'll briefly recap, here.

Brisiel is a good fit for the Raiders zone blocking scheme - he played the same scheme in Houston.  The Raider OC Gregg Knapp was Houston's QB coach last season and the team's new OL coach Frank Pollack was an assistant OL coach in Houston before coming to Oakland.

According to Houston beat writer John McClain, the deal is for 5 years and $20 million.  It's not known at this time how much is guaranteed and how much will count against the cap this season.

 Brisiel is expected to immediately move into the starting lineup at RG to replace the hole created when the team cut Cooper Carlisle.  Brisiel wore number 65 in Houston which is currently worn by OL Alex Parsons.


The Raiders also came to terms with former Rams CB Ronald Bartell.  Bartell is a solid press coverage corner.  He's a big guy at 6'1" and 205 lbs.  He showed the coverage skills to be able to play opposite a number one receiver in St Louis.  He was a cap casualty after being on IR last season for a fractured cervical vertebrae.

If healthy, he looks like a great risk.  PFT's Evan Silva, who generated that site's top 100 free agents, had Bartell at his number 32 overall and the 6th cornerback on the list.  He wore number 24 with the Rams, which is worn by Michael Huff on the Raiders.
As a side note, Wimbley is now at 5th place in the PFT top 100 and Michael Bush is at 22.

One of the players that many Raiders fans had been hoping for, Brisiel's former teamate and Houston's starting center Chris Myers re-signed with the Texans today.  There are still options at center on the market but two of the top - Myers and former GB center Scott Wells are no longer options - Wells signed with the Rams, also today.

Center, Linebacker, backup QB and Cornerback (still) are the Raiders biggest areas of need.  Defensive line is also an area the team will need to address.

Centers still available include last year's starter Samson Satele and former Rams center Jason Brown.

There are many good linebackers remaining on the market as there has not yet been much action at that position.

I interact a lot on Twitter.  Ask me questions or tell me what you think @AsherMathews
Original Story:
http://www.tfdssports.com/2012-articl...
THE BACKYARD
BEST OF MAXIM
RELATED ARTICLES
The Oakland Raiders have told linebacker Kamerion Wimbley they will release him one year into a $48 million, five-year deal. Agent Joe Linta said in an email Friday that he was unable to work out a new contract with general manager Reggie McKenzie so the Raiders decided to cut Wimbley instead. Oakland gave Wimbley the big contract last summer. He got paid $5 million in 2011 and...
GREEN BAY, Wis. -- Perhaps the pass rusher the Green Bay Packers have been looking for is about to hit the free-agent market. If the Oakland Raiders cut Kamerion Wimbley as is expected to happen Friday, the Packers seem like a good fit but only at the right price. Wimbley -- the 13th overall pick by Cleveland in 2006 -- played defensive end in a 4-3 scheme in college at Florida...
The Bears have made it clear they're in the market for a pass rusher, and it's been made clear that they like Raiders DE Kamerion Wimbley.  Wimbley has already collected on a $6.5-million bonus from the Raiders and is due to collect a lot more by the end of the weekend or he's likely to be cut to save some cap room. By 3:00pm Chicago time today we'll know if one...
There's a new pass rusher on the market, and he'd be a logical fit for the Patriots. The Raiders will reportedly release Kamerion Wimbley on Friday after a few tumultuous weeks between the two sides. The 28-year-old would be set to earn a $4.5 million roster bonus Saturday, and if the Raiders unload him prior to that deadline, they'd save $17.5 million, according to Pro...
The Oakland Raiders released linebacker Kamerion Wimbley on Friday.Wimbley was one year into a $48 million, five-year deal and was cut because he was unable to work out a restructured contract with the Raiders."We tried feverishly to work it out, but we couldn't," Wimbley's agent Joe Linta said. "The Raiders' salary-cap and cash constraints were too great...
It is finally done.  As reported by Adam Caplan via Twitter, the Oakland Raiders have informed Kamerion Wimbley's agent that Mr. Wimbley is being released.  This marks the end to a very interesting ride for Kam as a Raider.  Al Davis made him a very rich man.  Not that Wimbley didn't play his tail off [...]
According to Michael Lombardi of the NFL Network, the Oakland Raiders will likely release linebacker Kamerion Wimbley today. The Raiders have been trying to get Wimbley to restructure his current contract or take a pay cut, but both sides haven't been talking lately, so this was bound to happen in the end. Wimbley will be a very hot commodity as a free agent on the open market...
Hot News for OLB Kamerion Wimbley
Former Raider linebacker has 42.5 sacks in six NFL seasons According to a published report, Green Bay is one of at least six teams to have "reached out" to the agent for free agent outside linebacker Kamerion Wimbley. There's both good news and bad news in that sentence. The good news is that Ted Thompson is showing some degree of interest in the best pass rusher still available...
According to Adam Caplan of TheSidelineView.com, the Oakland Raiders have informed linebacker Kamerion Wimbley that he'll be released. By releasing Wimbley, the Raiders will save roughly $5 million in cap room which will give them a total of $15 million in cap space this offseason.
The news has been growing louder and louder over the past few weeks that linebacker stud Kamerion Wimbley and the Oakland Raiders would be parting ways if a restructure couldn't be worked out. Rumor has it today that the news is about to hit a deafening loud point, as the team is expected to issue him a pink slip today. Just a year after coming to a long-term deal...
As expected the Oakland Raiders cut pass rush specialist Kamerion Wimbley on Friday. Kamerion was one year into his five year $48 million dollar deal. The new regime is cleaning up all the over spending the Raiders did before the passing of Al Davis with this move. Wimbley played well against the run last year [...]
NFL News

Delivered to your inbox

You'll also receive Yardbarker's daily Top 10, featuring the best sports stories from around the web. Customize your newsletter to get articles on your favorite sports and teams. And the best part? It's free!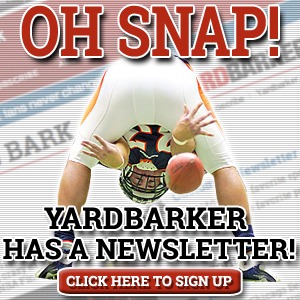 Latest Rumors
Best of Yardbarker

Today's Best Stuff

For Bloggers

Join the Yardbarker Network for more promotion, traffic, and money.

Company Info

Help

What is Yardbarker?

Yardbarker is the largest network of sports blogs and pro athlete blogs on the web. This site is the hub of the Yardbarker Network, where our editors and algorithms curate the best sports content from our network and beyond.