Found October 25, 2012 on Ballertainment:
Ballertainment Michael Vick and The Humane Society of the United States attacked in national media outlet. The more things change, the more they stay the same. While Michael Vick is struggling on the field, an organization named HumaneWatch has gone to great lengths to criticize the NFL QB for now owning a dog, and the Humane Society for supporting Vick's decision to do so. They have taken out a full page advertisement in USA Today entitled HUMANE OUTRAGE (enlarged ad HERE). According to HumaneWatch.org, their purpose is – Keeping a watchful eye on the Humane Society of the United States. But, they are also counting people's money which is no surprise because that is what 'watchdogs" do. They imply that $50,000 was given to the Humane Society by Vick's "employer." I assume they are referring to the Philadelphia Eagles, but because the ad is vague in this respect so they could also mean the NFL. At any rate, from a freedom of speech p.o.v., they are free to express these views, but from a "get a life" perspective, this is old hat. From a legal standpoint, Michael Vick served his federal time and continues to pay his debt to society, including maintaining a relationship with the Humane Society, and if any organization wants to donate its money to the Humane Society on behalf of Vick, so be it. Michael Vick spoke to this on his Facebook page where he says, "I am proud to support the HSUS's work to protect dogs…" It is very likely that Michael will deal with this type of disdain for the rest of his days. Ballertainment - Sports Entertainment, Gossip, Lifestyle, and News
Original Story:
http://feedproxy.google.com/~r/Baller...
THE BACKYARD
BEST OF MAXIM
RELATED ARTICLES
FLOWERY BRANCH, Ga. Its been six years since Michael Vick last suited up for the Atlanta Falcons and so now, as a member of the Philadelphia Eagles, the main plot of the teams meeting on Sunday is the plight of the 3-3 Eagles and the imperiled future of their turnover-prone quarterback. With the NFC foes meeting on what seems an almost annual basis, Vick has played twice in Atlanta...
Players have been disappointing their teammates and fans since long before you or I were born.  The difference in todays game is the amount of money some of these disappointments are making.  Players like Mario Williams and Michael Vick are making tens of millions of dollars and trapping their team under the weight of their contract.  So, if these players don't perform they...
IRONIC ending to Vick's career? Eagles/Falcons Coming out of the bye-week the Eagles under Andy Reid have yet to lose a game. This week, the task of keeping that record in tact might be the most difficult of the Andy Reid era. The 6-0 Atlanta Falcons possibly the best team in football are in town, led by Matt Ryan and BIG receivers. Roddy White, Julio Jones, Tony Gonzalez, containing...
Without a doubt the Philadelphia Eagles are the most desperate 3-3 team the NFL has seen in recent memory.  From QB turnovers to coaching turmoil, this Eagles team seems to be one bad outing away from a serious shakeup that could include the firing of head coach Andy Reid and or benching of quarterback Michael Vick.  It's a volatile situation that has clearly fallen on the...
After a week off to get ready and fix some shortcomings from the past few weeks, the undefeated Atlanta Falcons continue on their quest to the play-offs with a game against the Philadelphia Eagles and our old QB, Michael Vick. Let's take a look at some Eagles blogs and what they are saying about their team.... Will Vick be able to curb his appetite for turning the ball over...
Like a lot of NFL fans, I am a big fan of the Madden NFL video game franchise. I recently let go of my copy of Madden 2004 that I had stubbornly held onto for eight years. Falcons fans everywhere remember the significance of that edition of Madden: Michael Vick was on the cover and he was wearing a Falcons jersey. Remember how good that felt? Everyone had to give the Falcons respect...
This week the Atlanta Falcons take their 6-0 record to Philadelphia to take on Michael Vick and his Eagles. The importance of this game cannot be understated… Atlanta is undefeated and coming off a well-deserved bye week. Michael Vick is on the hot-seat… He is turning into a turnover machine, and Philly head coach Andy Reid is putting the pressure on his starting quarterback...
Photo: Scott Cunningham Michael Vick and the Philadelphia Eagles face another tough test in Week 8 when they take on the unbeaten Atlanta Falcons in Battle of the Birds Part II.  If the defense can take away the middle of the field, they'll not only win the game, but they'll cover the one-point spread on the game as provided by SportsBetting.ag. The Falcons have a dynamic, well...
The first half of the season is coming to an end, and a few key points have become abundantly clear: NFC East Mike Vick is done. Tom Caughlin hates fumblers. Jerry Jones is the next Al Davis (in the bad way). RG3 will have the shortest, most exciting NFL career. NFC South Atlanta is finally good. For real. Cam Newton isn't the next RG3. Having a coach is kind of important. Tampa...
  Philly Sports World Fantasy Week 8   Game of the week, our Eagles against the undefeated Falcons. The Eagles and Mike Vick are in desperate need for a win and history is on their side. Andy Reid is 13-0 coming out of bye weeks so sticking with history, I am taking the Eagles in a close game, 23-17. Must starts> Brent Celek has been quiet the past few games and the Eagles will...
Since the firing of former Philadelphia Eagles defensive coordinator Juan Castillo last week, we've been waiting for the corresponding shoe to drop on offense. After head coach Andy Reid's pronouncement that Mike Vick would remain his starting quarterback and that Marty Morhinweg would continue to call plays on offense, we knew that no sizable change were coming on that side...
Eagles News

Delivered to your inbox

You'll also receive Yardbarker's daily Top 10, featuring the best sports stories from around the web. Customize your newsletter to get articles on your favorite sports and teams. And the best part? It's free!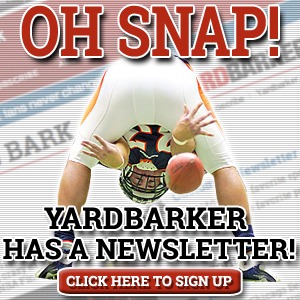 Latest Rumors
Best of Yardbarker

Today's Best Stuff

For Bloggers

Join the Yardbarker Network for more promotion, traffic, and money.

Company Info

Help

What is Yardbarker?

Yardbarker is the largest network of sports blogs and pro athlete blogs on the web. This site is the hub of the Yardbarker Network, where our editors and algorithms curate the best sports content from our network and beyond.