The New York Jets and New England Patriots get set to kick off Week 2 in tonight's Thursday Night Football match-up in Foxborough, Mass. Both teams are coming off surprising week 1 finishes, one that saw the Patriots just outlast the Buffalo Bills 23-21 and the Jets get the lucky18-17 win over the Tampa Bay Buccaneers.  AccuScore simulations have the Patriots as strong 70.5 percent favorites tonight. They got a big win (10 pts or more) in nearly 49 percent of those simulated wins. Jets rookie Geno Smith finished his first NFL game by completing 24-of-38 passes (63.2% completion rate) for 256 yards, one TD and one INT. He had a passer rating of 80.6. He also rushed six times for 47 yards. My favorite stat about Smith's game last week was that his 24 completions were spread out amongst 8 different receivers; it shows patience and makes it so defense can't simply focus in on one or two guys. Given that the Jets have very little offensive power, Smith actually performed better than expected. Let's just put it this way – in the five years that Sanchez has been in the league, he has had a passer rating greater than 80.6 just five times. He's also never been close to rushing for 47 yards in a game. This isn't meant to compare the two, just point out that over-criticizing Smith at this point is unreasonable. Smith is projected to throw for 168 yards; he has the exact same probability of throwing an INT as he does a TD. He's only projected to attempt a run 1-2 times tonight. On the other side, we'll see QB Tom Brady. No need to go into how he plays, because, well, we already know how good he is. In tonight's game, the only chance the Jets have at keeping this close is to hold Brady under 300 throwing yards. In the past three seasons, the Patriots have only been able to win in regulation vs the Jets when Brady reaches the 300-yard mark.Brady is projected to throw for 239 yards with nearly the same probability of throwing a TD as an INT. Really? I'm a bit surprised at that AccuScore projection – I'd expect Brady to throw for 250+ yards with 0 INTs. AccuScore projected score: 25-16 My prediction: 24-10 Game Projection PTS TO NY Jets Jets 16.0 1.4 New England Patriots 24.5 1.8 Projected Leaders Passing: Tom Brady (NWE) 239.1 yds Rushing: Stevan Ridley (NWE) 97.5 yds Receiving: Kenbrell Thompkins (NWE) 70.5 yds Live Betting Predictions Point Spread AccuScore Probability 101 New York Jets +11 54.4% 102 New England Patriots -11 43.3% Over / Under AccuScore Probability OVR 42.5 43.8% UND 42.5 56.2% Money Line AccuScore Probability 101 New York Jets +461 29.4% 102 New England Patriots -550 70.5% TEAM WIN % AVG SCORE BIG WIN CLOSE WIN NYJ 29.4% 16.0 13.8% 8.0% NWE 70.5% 24.5 48.9% 10.3% * Big Win: 10 or more pts; Close Win: 4 or less pts NY Jets Jets  PASSING RAT YDS TD INT  Geno Smith 56.3 168.2 0.7 0.7  RUSHING ATT YDS AVG TD  Bilal Powell 18.0 66.2 3.6 0.4  Christopher Ivory 7.7 35.2 4.4 0.2  Geno Smith 1.1 3.4 3.1    RECEIVING REC YDS AVG TD  Santonio Holmes 4.3 53.4 12.4 0.2  Stephen Hill 4.1 50.9 12.4 0.3  Jeff Cumberland 2.9 34.0 11.7 0.0  Jeremy Kerley 1.2 16.4 13.7 0.1  DEFENSE SACK INT FUM TO  NYJ 1.7 0.9 0.9 1.8 New England Patriots  PASSING RAT YDS TD INT  Tom Brady 75.8 239.1 1.0 0.9  RUSHING ATT YDS AVG TD  Stevan Ridley 17.7 97.5 5.5 0.7  LeGarrette Blount 7.1 36.9 5.2 0.3  Brandon Bolden 3.6 22.1 6.0 0.2  RECEIVING REC YDS AVG TD  Kenbrell Thompkins 5.9 70.5 11.9 0.3  Zach Sudfeld 6.2 61.5 9.9 0.3  Julian Edelman 4.1 48.6 11.9 0.2  Michael 1.9 21.8 11.5 0.1  DEFENSE SACK INT FUM TO  NWE 1.5 0.7 0.7 1.4
Original Story:
http://mettachronicles.com/game-previ...
MORE FROM YARDBARKER
NFL News

Delivered to your inbox

You'll also receive Yardbarker's daily Top 10, featuring the best sports stories from around the web. Customize your newsletter to get articles on your favorite sports and teams. And the best part? It's free!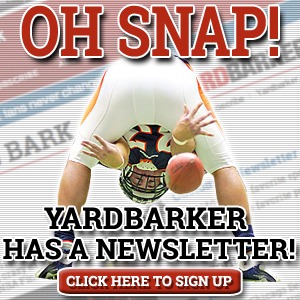 Latest Rumors
Best of Yardbarker

Today's Best Stuff

For Bloggers

Join the Yardbarker Network for more promotion, traffic, and money.

Company Info

Help

What is Yardbarker?

Yardbarker is the largest network of sports blogs and pro athlete blogs on the web. This site is the hub of the Yardbarker Network, where our editors and algorithms curate the best sports content from our network and beyond.