Posted March 02, 2013 on AP on Fox
NASCAR will look at the placement of gates at its tracks after a Nationwide Series car crashed through the fence at Daytona and injured more than two dozen fans. The fans were injured during the 12-car crash last Saturday when pieces of rookie Kyle Larson's car ripped through the fence, including a section where a gate connects the grandstand and the track. ''I think because of where it came through and having pieces that did get through and it being a gate area, that's really going to be the focus for us to look at,'' Steve O'Donnell, NASCAR's Senior Vice President, Racing Operations said Saturday from Phoenix International Raceway. ''We're certainly going to look at fencing in general, but I think that particular area, that it was a gate, did impact it. We know the gate was locked, but does that provide as much stability as the rest of the fencing we believed it did? We've now got to look at that impact.'' The crash occurred on the final lap of the Nationwide race the day before the Daytona 500, when leader Regan Smith tried to block Brad Keselowski and triggered a chain reaction. Larson's car went airborne during the wreck and slammed into the fence, sending debris into the stands. O'Donnell said two injured fans remain at the hospital, but everyone else has been released. The crash has forced NASCAR to take a closer look at its safety measures, particularly fencing around its tracks. O'Donnell said NASCAR mostly leaves fencing up to the individual tracks, but may look at being more involved, similar to what it did requiring impact-absorbing SAFER barriers along concrete walls. ''It's important to note that most of the safety elements in that car did their job,'' O'Donnell said. ''The driver, as you saw, walked away. However, the car then got up into the fence. Our focus is going to be if the elements in the car did their job, now what do we need to do in looking at the impact of the fence, what happened when that car impacted the fence with parts getting away.'' O'Donnell also said that the tethers that hold Larson's car together worked, but that the section the tethers were attached to sheared the car, sending pieces flying. ''We've tethered a number of different things as we've learned and added safety aspects to the car, but what do we need to do in addition to that when we look at this aspect specifically?'' O'Donnell said. '' Instead of bringing Larson's car immediately back to NASCAR's research and development center in Charlotte, NC, it was left in Daytona so track officials use it in their investigation into what happened with the fencing. The car is in the process of being brought back to the R&D center, where it will be put back together and, with the help of video, hopefully determine what parts of the car came off when. O'Donnell said NASCAR will bring in Larson's race team, which hasn't seen the car since it was impounded after the wreck, to talk about how the car was constructed and fabricated. NASCAR also will bring in outside experts, including Dr. Dean Sicking, director of the Midwest Roadside Safety Facility at the University of Nebraska, officials from Indianapolis Motor Speedway and outside engineers to look at the fencing. Daytona will have its experts work with an outside firm to analyze what was in place and analyze what may need to be done. ''When you talk about safety, I think Jeff Burton said it best: There's no end goal of safety, it's something we work on each and every day,'' O'Donnell said. ''Same with this process. If there's something we can learn today, we'll apply that. If it's two months from now, we'll apply it as well. O'Donnell said NASCAR will look at the issue of restrictor-plate racing at Daytona and Talladega, where the series stops in May, but he said he's comfortable with plate racing at the two superspeedways right now.
Original Story:
http://msn.foxsports.com/nascar/story...
THE BACKYARD
BEST OF MAXIM
RELATED ARTICLES
NASCAR will look at the placement of gates at its tracks after a Nationwide Series car crashed through the fence at the Daytona 500 and injured more than two dozen fans. Steve O'Donnell, NASCAR's Senior Vice President of Racing Operations, said on Saturday that the gate where rookie Kyle Larson's car hit the fence was locked, but that pieces of the car still went through...
While NASCAR's investigation of last Saturday's Nationwide Series crash at Daytona International Speedway that injured at least 28 is still in the early stages, the sanctioning body is exploring various avenues to safeguard against similar mishaps in the future. On Saturday at Phoenix International Speedway, vice president of operations Steve O'Donnell said safety remains...
Daytona International Speedway President Joie Chitwood, left, holds a news conference with NASCAR Nationwide Series President Steve O'Donnell after an incident on the last lap of the NASCAR Nationwide Series DRIVE4COPD 300 at Daytona International Speedway. (Photo by Mike Ehrmann/Getty Images) Several fans injured during the final-lap crash of Saturday's DRIVE4COPD 300 are already...
Bengals News

Delivered to your inbox

You'll also receive Yardbarker's daily Top 10, featuring the best sports stories from around the web. Customize your newsletter to get articles on your favorite sports and teams. And the best part? It's free!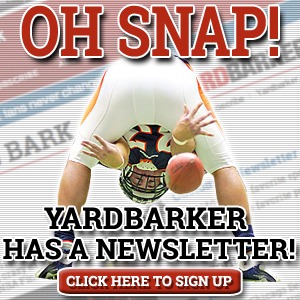 Latest Rumors
The Backyard

Today's Best Stuff

For Bloggers

Join the Yardbarker Network for more promotion, traffic, and money.

Company Info

Help

What is Yardbarker?

Yardbarker is the largest network of sports blogs and pro athlete blogs on the web. This site is the hub of the Yardbarker Network, where our editors and algorithms curate the best sports content from our network and beyond.