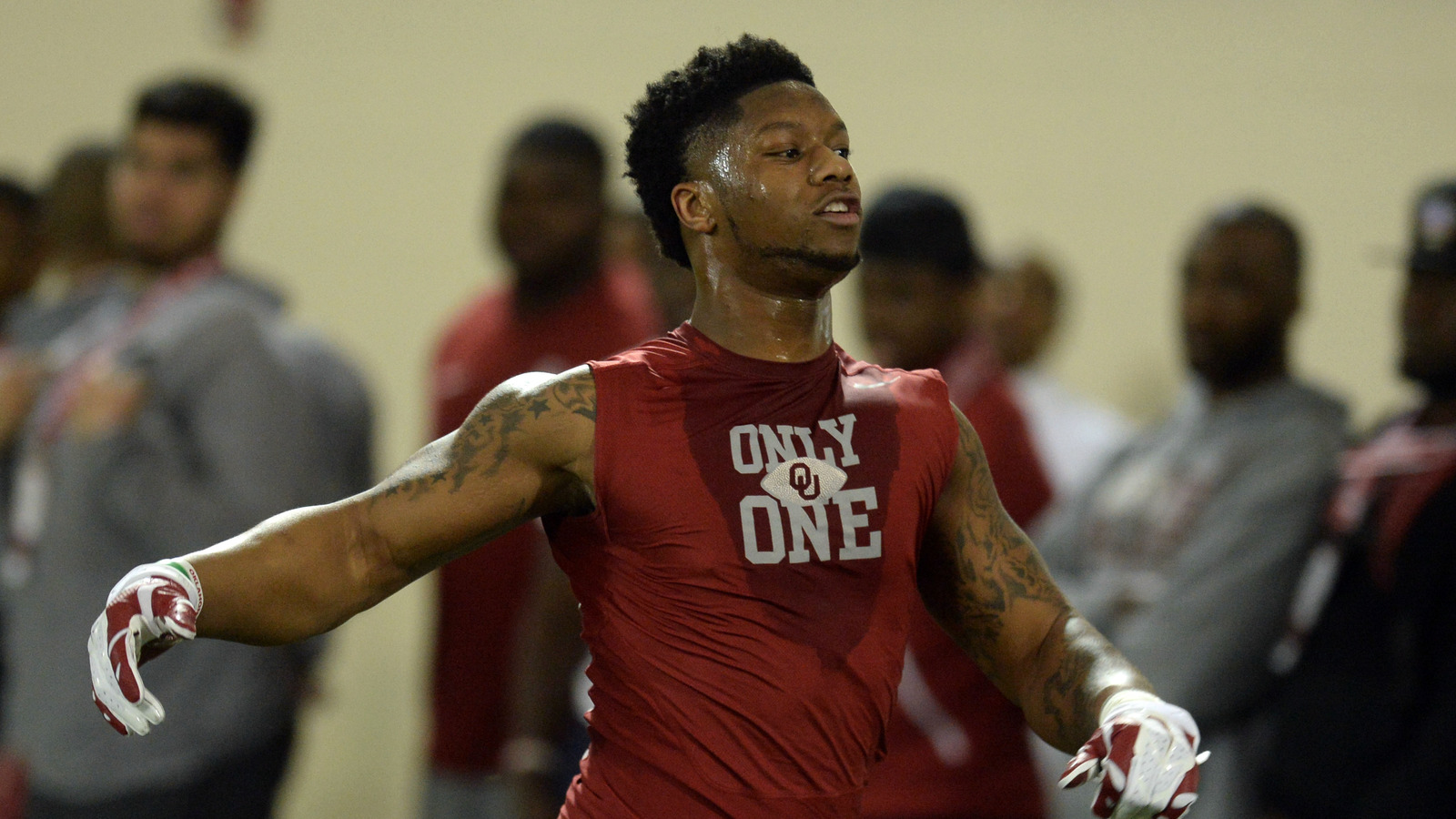 Joe Mixon has been called the best running back in the draft by more than one person.
Mark D. Smith-USA TODAY Sports
The closer we get to the 2017 NFL Draft, the more we're seeing people around the NFL speak in favorable terms about former Oklahoma running back Joe Mixon. On Monday morning, Tampa Bay Buccaneers defensive tackle Gerald McCoy lauded Mixon as the top running back in the draft.
On Joe Mixon: Gerald McCoy says "Turn the tape on." … Says he's the best RB in the draft.

— JoeBucsFan (@JoeBucsFan) April 17, 2017
We recently took a detailed look at why we're buying reports that Mixon, who's being viewed as a first-round talent, won't fall out of the second round (more on that here).
This perception is in stark contrast to the view that the talented running back would be undraftable after condemning video emerged that showed the ill-fated punch he threw at a female college student in 2014. Speaking on that point, fellow Oklahoma alum Gerald McCoy believes Mixon deserves a second chance, three years removed from Mixon's terrible mistake.
"Everybody deserves second chances," McCoy says of Joe Mixon. Said he's apologized, done the right things since. Wishes him the best.

— Greg Auman (@gregauman) April 17, 2017
Despite the public fallout that occurred after that video was released, the NFL is clearly warming up to Mixon as a viable future star, even if some fans still struggle with the notion.
In the two seasons following his suspension in 2014, Mixon put up big-time numbers in Oklahoma's offense, combining for 2,921 yards from scrimmage and 26 total touchdowns while averaging eight yards per touch.
Also, his pro day after the combine was a revelation. Mixon put up measurable numbers comparable to some of the top backs in the draft while showing off hands and agility on the field that match his exceptional game tape.
The tape doesn't lie. And based on everything we're hearing heading up to the draft, folks around the NFL love what they see.
MORE FROM YARDBARKER
Buccaneers News

Delivered to your inbox

You'll also receive Yardbarker's daily Top 10, featuring the best sports stories from around the web. Customize your newsletter to get articles on your favorite sports and teams. And the best part? It's free!