Found May 04, 2012 on Thoughts from the Dark Side:
Almost immediately after the draft, the Raiders signed a CB prospect Conroy Black, a 6'0" 182 prospect out of Utah.  Black played at Fullerton College in 2008 where he was a team captain and had 17 solo tackles, one INT returned for a TD and 3 pass breakups.
In 2009 he moved to Utah and had a redshirted year.  He played for the Utes in both 2010 and 2011 starting 13 of the 26 games in which he played.  He ended his time in Utah ammasing 58 total tackles, 1 sack and 5 interceptions in those two years.
He is on Twitter @MrPrimtime9
Interview
Q: What is your home town/state?
Black: My hometown is Broward County, Florida. This is where I grew up and have lived most of my life.
Q: Did you root for a particular NFL team growing up? Who?  Why?
Black: My NFL team growing up was between two teams, the Dallas Cowboys because of Deion Sanders which was my favorite player and the Tampa Bay Bucs because I just loved their defense.
Q: Did you have an idol growing up?  Who?
Black: My Idol growing up was Deion Sanders because he too was from florida and that was just my favorite player and idol growing up until now.
Q: What are your strengths as a player?  What do you bring to the team?
Black: My strengths as a player is my overall passion for the game as I love what I do and just my athletic ability as a player and my man cover skills as a corner. I think I bring a lot to the team because of my ability to play special teams and cornerback and because I was someone that went under the radar, so in the end I can become a great value as a player for the Raiders organization.
Q: Why did you choose the Raiders as a free agent?
Black: I chose the Raiders as a free agent because the Raiders showed me a lot of interest during the whole process and I felt like this was the perfect team and system for me to grow in and become the player that I know that I can become.
Q: Do you know anyone currently on the squad or coaching staff?  What did
they tell you about the team?
Black: I only know a couple players on the team now, who will be rookies just like me, as Tony Bergstrom was my teammate at Utah and Brandon Carswell trained at the same place as I did before pro day at Evo Sports in Long Beach, CA.
Q: Did you have any visits with the Raiders – in Alameda, at a pro day,
at the Combine or Senior Bowl? What was it like?
Black: Yes, the Raiders flew me out for a visit to Alameda right before the draft so that was a great experience and now at least I'm familiar with the facility.
Q: What hobbies do you have away from football?
Black: Honestly I don't have many hobbies outside of football, all I do is watch and play football all day everyday. I do like to play basketball from time to time though.
Q: Which NFL player do you compare your skill set with?
Black: I've often felt like my NFL skill set is like the ones of Antonio Cromartie but I still feel there are differences in our game.
Q: Is there anything you'd like Raider Nation to know about you?  Is there anything you'd like to say to Raider Nation?
Black: I just want Raider Nation to know that I will always be ready to play and compete and that I look forward to being a part of a great organization and fan base. I can't wait to play in the "Black Hole"!
Original Story:
http://www.tfdssports.com/2012-articl...
THE BACKYARD
BEST OF MAXIM
RELATED ARTICLES
Marcel Reece, fullback for the Oakland Raiders may be the first in a new movement of multi-use fullbacks. The 6'3", 250 lbs. Marcel Reece played wide receiver at the University of Washington and tallied 761 yards and eight touchdowns his senior season. He also holds the Huskies' record for longest play from scrimmage with a 98-yard
In a Q&A with Tim Tawakami of the Mercury News, Oakland Raiders head coach Dennis Allen confirmed that running back Darren McFadden is healthy after his season was cut short in 2011 with a Lisfranc injury. Allen was asked if McFadden will be going at full speed during the next mini-camp. "There's no crystal ball to see exactly where he's going to be at during that point...
Pop in the grainy videotape from Beloit College's football games last fall, and a conundrum quickly arises as to what is being seen on the screen. A combination of wonder and guarded apprehension takes hold, particularly for those in the business of judging professional talent. The very same plays that cause NFL scouts' jaws to drop also leave them questioning whether it...
Three days ago the Raiders signed free agent Ed Wang to a contract, the team announced. Wang was a 5th round draft pick out of Virginia Tech in 2010, by the Buffalo Bills. He played in 6 games in 2010 and was waived-injured in 2011 by the team. He is listed as 6'5", 321 pounds.  He played LT at Virginia Tech. You can follow him on Twitter @EWang77 Interview: Q...
The Oakland Raiders have hired Shaun Herock to replace outgoing scout Jon Kingdon, who had been with the Raiders for 33 years.  Herock, who has worked within the Green Bay Packers organization for the past 19 years, has a special connection to the Raiders:  his father, Ken Herock, is a former Raiders personnel executive.    
The legal stakes have been raised in the ongoing divorce between Deion Sanders and his estranged wife with a new criminal charge against the Pro Football Hall of Famer. Police in Sanders' hometown of Prosper, north of Dallas, have filed a new complaint with the Collin County District Attorney's Office accusing Sanders of criminal mischief. The complaint only says that the...
Deion Sanders took some heat last week for making his personal drama with estranged wife Pilar Sanders public on Twitter. Last week, Deion tweeted about being physically attacked by Pilar and her friend in his Texas home. But Sanders defended his actions Wednesday on "Good Morning America," saying that he went on Twitter to protect his public image. "I can't be alleged the...
Just happened to be surfing around some of our real estate friend's sites today and noticed a very interesting tidbit from a tour Deion Sanders granted to a Dallas TV station of his 29,000 sq. ft. mansion. It seems that Deion actually has a kitchen in his master bedroom bathroom. That stainless steel thing you see? Yeah, it's a fridge. Can you blame a guy? This is why rich people...
The War of the Roses battle between Deion Sanders and his estranged wife, Pilar's divorce have made their way to the TV screen. Deion recently gave an interview to Good Morning America. In the interview Deion offers an explanation as to why he tweeted the photo of his sons allegedly filling out police paper work [...]
A divorce attorney for the estranged wife of Deion Sanders has called her recent arrest following accusations that she attacked the Hall of Fame cornerback ''a complete setup.''
It is that time of the year again--the time to hand out grades for the NFL Draft. Football Outsiders has compiled a list of grades from nine NFL writers and draft analysts to see how the grades would average out. Guess who has the top Grade Point Average (GPA) out of all 32 teams? You are correct if you guessed the Cincinnati Bengals. The Bengals highest grade was of course an A...
When the NFL released the 2012 season schedule for each team a couple of weeks ago, nearly every Bengals fan had their eyes on one particular game. Call it the "Carson Bowl", the "PBS Battle", or whatever you like; but on November 25th (Week 12), quarterback Carson Palmer will be making his return to Cincinnati. This date marks the first time that Palmer will...
NFL News

Delivered to your inbox

You'll also receive Yardbarker's daily Top 10, featuring the best sports stories from around the web. Customize your newsletter to get articles on your favorite sports and teams. And the best part? It's free!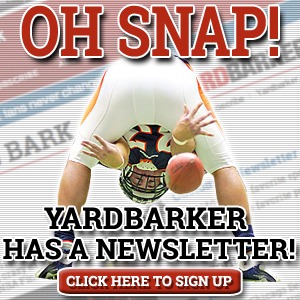 Latest Rumors
Best of Yardbarker

Today's Best Stuff

For Bloggers

Join the Yardbarker Network for more promotion, traffic, and money.

Company Info

Help

What is Yardbarker?

Yardbarker is the largest network of sports blogs and pro athlete blogs on the web. This site is the hub of the Yardbarker Network, where our editors and algorithms curate the best sports content from our network and beyond.