Found August 20, 2012 on Juan Elway:
The Giants players are in hot water with Tom Coughlin because of this video that was poster on the internet by Giants P Steve Weatherford. It shows Jason Pierre Paul carrying Prince Amukamura through the locker and has him getting tossed in a cold tub. Like rookie hazing, but Prince is a 2nd year pro.
Prince: "Yeah, um, well, I mean, I just don't get it. I don't understand the rules," he told The Star-Ledger. "I mean, I'm not a rookie anymore, so I don't know why I'm getting thrown in the tub. I know it's all love.
"Yeah, no one ever likes it, especially when it's you vs. eight and no one's helping you. But it doesn't mess up our team morale or anything."
"Um, I just don't think that's the right way to go," Amukamara said. "Now, if it's on the field and something like that happens, someone does a cheap play, for sure I'm going to protect myself. But if it's out here (in the locker room) and it's just for fun, then no."
Coughlin sounded just as pissed if not more at Weatherford for posting the video: "Anything that occurs within this family or within our group should not be a part of any social media aspect," Coughlin said. "I'm going to address that strongly, and I've spent a little time on that this preseason, but I'll look into it further."
Weatherford has since apologized for posting the video, using Twitter of course.
JPP Makes It Look Easy
Fantasy Football Rankings
Original Story:
http://www.juanelway.com/giants-cold-...
THE BACKYARD
BEST OF MAXIM
RELATED ARTICLES
COOL OFF
Giants coach Tom Coughlin is not happy with his players for a video posted online of one player being thrown into a cold tub.
New York Giants coach Tom Coughlin is investigating an Internet video that shows a prank in which Giants defensive end Jason Pierre-Paul dumps teammate Prince Amukamara into a tub of ice. The video was tweeted by punter Steve Weatherford and contains some unsavory language. It shows Pierre-Paul carrying Amukamara, a cornerback, on his shoulder and tossing him head-first into...
It's grainy because it's so scandalous.When I saw a bunch of people Tweeting about New York Giants punter Steve Weatherford this morning, my first thought was, "Sloooooooooooow news day." Or maybe he was abducted by intergalactic talking raccoons, in which case, awesome! And now that I know why people are buzzing about him, I think he'd probably prefer that some spaceships...
TAKE A BATH
New York Giants punter Steve Weatherford took a video of defensive end Jason Pierre-Paul carrying cornerback Prince Amukamara to the cold tub and tossing him in. I wonder what caused JPP to toss the Prince in the cold tub. And I wonder what Giants head coach Tom Coughlin thinks of this.
We re-tweeted a link to this video, which was posted to Twitter by Giants punter Steve Weatherford yesterday … but after re-watching it a few more times, we decided it deserved its own post. The clip shows Giants DE Jason Pierre-Paul carrying teammate CB Prince Amukamara over his shoulder down a hallway, and tossing him into a cold tub. At the beginning of the video, JPP is surrounded...
It's strange that this would happen when Amukamara is no longer a rookie, so it couldn't be hazing, right?  JPP and Prince could have just been messing around, but it makes you wonder if there is an underlying disagreement between the players.  Prince obviously was not happy being thrown in the tub, and luckily for the Giants he wasn't hurt.Nonetheless, these are the types...
Over the weekend, Giants punter Steve Weatherford tweeted a video of Jason Pierre-Paul depositing second year corner Prince Amukamara in a cold tub. Amukamara certainly doesn't appreciate being soaked, but, all in all, it's a pretty benign prank in the context of football locker room antics. Nevertheless, the video resulted in ample pearl-clutching from the likes of Mike Florio...
While they understand the public's concern over what might be perceived as an apparent hazing incident involving Prince Amukamara, several New York Giants insist that throwing the second-year cornerback into a tub of ice water was a football tradition and not bullying. Amukamara and Jason Pierre-Paul, the Pro Bowl defensive end who threw him into the metal ice tub, said Monday...
Giants News

Delivered to your inbox

You'll also receive Yardbarker's daily Top 10, featuring the best sports stories from around the web. Customize your newsletter to get articles on your favorite sports and teams. And the best part? It's free!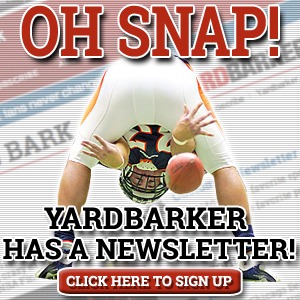 Latest Rumors
The Backyard

Today's Best Stuff

For Bloggers

Join the Yardbarker Network for more promotion, traffic, and money.

Company Info

Help

What is Yardbarker?

Yardbarker is the largest network of sports blogs and pro athlete blogs on the web. This site is the hub of the Yardbarker Network, where our editors and algorithms curate the best sports content from our network and beyond.