Found January 19, 2012 on The Other Paper:
New York Giants defensive star Jason Pierre-Paul now has his own tribute video and one has to wonder why it took so long.
The video— sung by a Giants fan and dozens of background lip-synchers— combines Naughty by Nature's 1991 hit single "O.P.P." with the defensive end's nickname— "J.P.P."
The singer, Josh Hyman, titled his fun, home-made video song, "You Down with J.P.P." and the end result of the two songs go together like chocolate and peanut butter.
He even got an email from the Giants sack artist himself who said, "Hey, I dig it," according to Hyman.
Hyman remixed the original into an homage to the Giants and his favorite player before the team meets the San Francisco 49ers in Sunday's NFC Championship game.
The new version of the song opens with the lyrics "Blue army with harmony" and contains such lines as "Are you down with Big Blue D" to go with the chorus, "You Down with J.P.P.."
The Jackson Five sample is still in there too.
Mixed in with the homemade shots of Giants fans and cheerleaders are clips of J.P.P. sacking opponents and doing a celebration flip.
There is still a lot of debate surrounding what the original O.P.P. even stands for. Other People's Property or Other People's Privates are the consensus but, in this version, it stands for one thing— Jason Pierre-Paul.
SEE COMPLETE VIDEO
Original Story:
http://ihatelupica.blogspot.com/2012/...
THE BACKYARD
BEST OF MAXIM
RELATED ARTICLES
New York Giants quarterback Eli Manning missed part of Wednesday's practice session with a stomach illness. Coach Tom Coughlin calls it ''a stomach bug, hopefully a 24-hour deal.'' The team is preparing to play the San Francisco 49ers on Sunday for the NFC championship. Manning is on the Giants' injury report for the first time this season as a limited...
Shale BriskinBGB ContributorNow that the New York Giants have upset the Super Bowl favorite Green Bay Packers, many comparisons are being drawn between this team and the team that won Super Bowl XLII over the Patriots, which was also in upset fashion. The coaching staff and most of the player personnel between the two teams are very similar and this current group of Giants looks...
Paul Schwartz on weather slowing New York Giants against San Francisco 49ersAPHOLD ON:Mario Manningham let a pass slip through his fingers when the Giants met the 49ers in Week 10. If he and his fellow receivers can't hold onto the ball in what is expected to be sloppy conditions Sunday, Eli Manning and Big Blue could be walking off the field at Candlestick Park losers again.By...
Eli Manning started practice on Wednesday with the New York Giants but had to leave the field before he was able to complete the entire practice. Manning departed as head coach Tom Coughlin told the media that Manning was suffering from a stomach virus. Coughlin told reporters, "Hopefully it's just a 24-hour deal and he'll feel better." Only two practice remain...
Jerry Rice can call Brandon Jacobs "soft" as often as he wants. But the Giants tailback is sure of one thing: The future Hall-of-Fame receiver wouldn't come close to touching Jacobs on a football field. "If he feels that way, he feels that way," Jacobs said of Rice on Thursday. "I bet ...
Giants reserve quarterback David Carr has spent the past four years backing up both starters in Sunday's NFC Championship Game, San Francisco's surprising Alex Smith last season and Eli Manning for the other three, even taking snaps at yesterday's practice when Manning became ill.Carr was needed...
The Giants' Eli Manning has been forced to escape the shadow of superstar big brother, Peyton. San Francisco's Alex Smith? He only has a pair of Hall of Famers in Joe Montana and Steve Young hanging over him in 49ers lore. Two No. 1 pick quarterbacks a draft apart, Manning and Smith meet Sunday with a shot at the Super Bowl after each has faced immense scrutiny over the...
From Rich Thomaselli of AdAge.com…. When it comes Super Bowl participants, the best matchup for marketers doesn't necessarily involve X's and O's, but rather dollars and cents. And that means rooting for the New York Giants to beat the San Francisco 49ers on Sunday in one of two conference championship games — the New England Patriots play the Baltimore Ravens in the other...
EAST RUTHERFORD, N.J. - New York Giants tight end Jake Ballard is questionable after having "a little procedure"...
Giants News

Delivered to your inbox

You'll also receive Yardbarker's daily Top 10, featuring the best sports stories from around the web. Customize your newsletter to get articles on your favorite sports and teams. And the best part? It's free!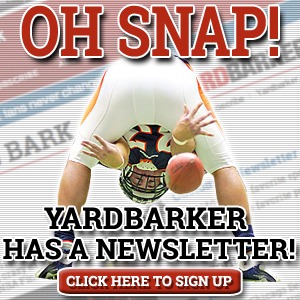 Latest Rumors
Best of Yardbarker

Today's Best Stuff

For Bloggers

Join the Yardbarker Network for more promotion, traffic, and money.

Company Info

Help

What is Yardbarker?

Yardbarker is the largest network of sports blogs and pro athlete blogs on the web. This site is the hub of the Yardbarker Network, where our editors and algorithms curate the best sports content from our network and beyond.