Found February 06, 2012 on The Daily Rival:
After ending his season with a loss in the Super Bowl, New England Patriots quarterback Tom Brady was there to be consoled by his Brazilian supermodel wife, Gisele Bundchen. Last week a private e-mail by Gisele, asking friends and family in advance of the Super Bowl to pray for Brady, was leaked to the media. In the message she wrote, "I kindly ask all of you to join me on this positive chain and pray for him, so he can feel confident, healthy and strong. Envision him happy and fulfilled experiencing with his team a victory this sunday." You can't say she doesn't care about her man. Flash-forward to Sunday night after the game. While Brady emerged from the contest unscathed, he and his team finished without victory. No doubt, Brady was sad. No doubt, Gisele was sad. And it all culminated with this embrace in their first time seeing each other post-loss. Off-base people are going to say something like, "Oh, well at least he still gets to go home to Gisele," like they're speaking from experience. Why are you trying to act like you know how Brady feels, like you've been there before? Brady just lost the Super Bowl. That's an experience few have ever felt. It's perhaps the greatest low anyone who does what Brady does feels. Guaranteed, he's not thinking about any consolation prizes right now. Yeah, Brady is probably happy he gets to go home to Gisele after this loss, but most likely because he'll have her company there to comfort him in his time of despair, not because he'll get awesome cheer-up sex from a supermodel (though that's not saying that won't happen). What you see in that video is a genuine life moment. A moment shared between a crestfallen individual and his life partner. All that was missing was this. But that's what life is about, man — having that special someone there for you through good times and bad. Either that or I just had "All My Life" by K-Ci & JoJo on my mind for the past 20 minutes. This has been "Life Lessons" with The Daily Rival. If you have a version of this video with higher quality, hit up the comments with the link.
Original Story:
http://thedailyrival.com/2012/02/06/g...
THE BACKYARD
BEST OF MAXIM
RELATED ARTICLES
The firestorm continues after Tom Brady's wife, supermodel Gisele Bundchen, blasted the New England Patriots receivers following the Pats' loss in the Super Bowl. But this time, the New York Giants' Brandon Jacobs is weighing in. "She just needs to continue to stay cute and shut up," he told reporters. Here's the video that sparked the outrage:
Tom Brady committed one of the costliest penalties in Super Bowl history - at least as far as the MGM Grand in Las Vegas is concerned. The quarterback of the New England Patriots drew a penalty for intentional grounding on the team's very first offensive play of the game. Because Brady was in the end zone and Justin Tuck of the New York Giants was bearing down on him, his heave...
BETTOR MAN THAN ME
The lucky fan who won $50,000 because of the Giants' safety in Super Bowl XLVI has told TMZ that he plans to give all his winnings to charity.
INDIANAPOLIS -- Patriots quarterback Tom Brady hunched over at his locker, still wearing his full uniform and covering his head with a towel, completely despondent after losing his second Super Bowl in the last five seasons. He eventually stood up and walked to the shower with no discernible emotion on his face. Brady was in complete disbelief as his Patriots fell to the Giants,...
Gisele Bundchen wasn't happy with the way husband Tom Brady's receivers let him down at crunch time during the New England Patriots' 21-17 loss to the New York Giants in last night's Super Bowl XLVI.
Tom Brady doesn't think back to his time at Michigan much. This week, especially, he's too consumed with preparing for a Giants defense determined to make his life miserable to focus on anything else.
INDIANAPOLIS (AP) -- Eli Manning and the Giants one-upped Tom Brady and the Patriots again, coming back with a last-minute touchdown to beat New England 21-17 Sunday night for New York's fourth Super Bowl title. It was a rematch of the 2008 NFL championship, when Manning led New York past New England to ruin the Patriots' bid for a perfect season. This was the first Super...
• Oh God! Oh God! M.I.A. gives 'USA' the finger! • Kate Upton took a sheet during halftime of XLVI • James Harrison LOLing at cheating Pats losing • Eagles reaction to Giants winning? Butthurt • Boston columnist compares Brady to Jim Kelly • Handbra Model Camille Washington A Sports Reporter? • Post-SB XLVI Chick To Calm Pats Fan: Natalia Velez • Gulp: Georgia...
INDIANAPOLIS (AP) - Back in August, back before the season began, Eli Manning was asked whether he considered himself an "elite" quarterback a la Tom Brady.Manning replied simply that he belonged "in that class." He was questioned and criticized for that, and _ shocking, right? _ it all became quite ...
Patriots News

Delivered to your inbox

You'll also receive Yardbarker's daily Top 10, featuring the best sports stories from around the web. Customize your newsletter to get articles on your favorite sports and teams. And the best part? It's free!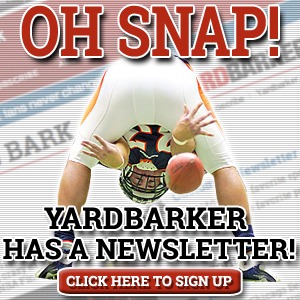 Latest Rumors
Best of Yardbarker

Today's Best Stuff

For Bloggers

Join the Yardbarker Network for more promotion, traffic, and money.

Company Info

Help

What is Yardbarker?

Yardbarker is the largest network of sports blogs and pro athlete blogs on the web. This site is the hub of the Yardbarker Network, where our editors and algorithms curate the best sports content from our network and beyond.