Found May 03, 2013 on Fox Sports:
Rex Ryan looked out the window at the Manhattan skyline and a little bit of the brash and bold New York Jets coach from a few years ago slipped out. The declarations and guarantees don't come nearly as often as they used to because Ryan says he has learned a few things over the years. Deep down, though, he insists he's still the same guy he has always been. No matter what people say. ''Don't kid yourself,'' Ryan said in an interview Friday at The Associated Press' headquarters in Manhattan. ''I know what I want to accomplish here. I came here not because it was the easy choice, but because it was the right choice. I want to be here and I want to be a world champion as the New York Jets head coach. That's never going to change. ''That drives me.'' Ryan made the rounds Friday, mostly to television outlets, to celebrate his one-year anniversary of losing 100 pounds after Lap-Band surgery in March 2010, discussing how the procedure, finding the right doctor and changing his eating habits have helped him. Gone is the guy who used to stalk the Jets' sideline at a scale-tipping 348 pounds just a few years ago. ''Yeah, I've got the gray hair, but I feel fantastic,'' he said with a smile. ''I was always a pretty positive person. Now I know I can have everything.'' He wants that to include on the field - and with the Jets. The thing is, those two straight trips to the AFC championship game are a distant memory. The Jets fell apart last season, finishing 6-10 and labeled a ''circus'' by many, sending Ryan's future into uncertainty. General manager Mike Tannenbaum was fired the day after the season, and many assumed Ryan would be, too - a complete housecleaning. But then owner Woody Johnson came to Ryan's office and told him he was sticking around. ''I wasn't surprised that I came back,'' Ryan said. ''The way I look at it, Mr. Johnson knows what he has in me. He's got a guy who's all in and would do anything for this franchise, and is committed that way. I was a New York Jets fan and when I say this is the only team I want to coach, that's a true statement. I don't want to coach another team. I look at it as, `Hey, this is my team.' I'm a New York Jet. ''Mr. Johnson knows how bad I want this, and I know our fans want this, too.'' Still, Ryan is no longer the overwhelming fan favorite he was a few years ago, with many placing blame on him for the Jets not taking the next step the past few years. Some say he stubbornly put too much faith in Mark Sanchez as the starting quarterback. Some say he and his staff mishandled Tim Tebow during the backup quarterback's miserable year in New York. ''The one thing that's fair to say is that it's my responsibility that we never had the success that we envisioned with Tim, and he didn't either,'' Ryan said. ''I wish him the best, he's an outstanding person and an outstanding competitor. But that's now all in the past.'' And some say he's a better defensive coordinator than he is an NFL head coach. ''I should be a better coach now than I was four or five years ago,'' Ryan said, ''and I think I am.'' As the losses started stacking up the last two years, some fans started tuning out Ryan. And the danger, some speculated, is that the players could, too. But Johnson is confident Ryan is the man to bring the Jets back to prominence on the field, hiring general manager John Idzik with the provision that his coach was already in place. That's a shaky proposition because most incoming GMs prefer to surround themselves with their own people - including the coach. Some have labeled Ryan a ''lame duck,'' a placeholder for whomever Idzik decides to hire next offseason. ''I'm not going to worry about outside perceptions or anything else,'' Ryan said. ''My focus is on the job at hand. It's not about being a `lame duck' or being whatever.'' Ryan has also not been offered or discussed a contract extension by the Jets. ''Look, I have this season and I have one more season left on my contract,'' he said. ''If Mr. Johnson says, `Hey, you know what? Let's do something,' then that will be addressed at that time. Right now, the time is for this: Let's get this thing going and put all of our energy into this season.'' While he may look different, down 115 pounds since his weight-loss surgery, the 50-year-old Ryan insists he has never been asked by Johnson or Idzik to tone down his ways. ''Not once,'' Ryan said. ''No, because you know what? You can't change. I'm going to be who I am, but I can learn from things. I'm always going to be true to my personality and true to myself, but you also learn. You can't buy experience.'' The Jets parted with their best player a few weeks ago, trading Darrelle Revis to Tampa Bay, and they cut Tebow on Monday. They have also lost several other key players to free agency during the last few months, giving Ryan a new-look roster to work with in a season that could affect his long-term future with the franchise. ''It's the same exact way I felt when I was hired, that here's an opportunity that I have in front of me that I've been blessed with,'' Ryan said. ''It's Year 1 again, and I'm ready to go and I don't look at it any other way.''
Original Story:
http://msn.foxsports.com/nfl/story/Go...
THE BACKYARD
BEST OF MAXIM
RELATED ARTICLES
NOT GOOD ENOUGH, EH?
Warren Moon, who spent six seasons in the Canadian Football League, believes that Tim Tebow has no greater chance of success in that league than he does in the NFL.
Even though free agent quarterback Tim Tebow may not play in the NFL this season, he could still make history. According to the Elias Sports Bureau via USA Today Sports, Tebow would become the second quarterback ever to never start another NFL game right after winning in the playoffs. According to the Elias Sports Bureau (via Mike Klis), Tebow would join Bob Lee, a 32-year-old quarterback...
Quinton Coples is moving to outside linebacker for the New York Jets after a solid rookie season at defensive end. The team's first-round draft pick last year out of North Carolina confirmed the position switch Thursday during the Jets' first open locker room media session since last season. Coples led New York with 5 1/2 sacks while playing defensive end and defensive tackle...
Top 5 Reasons to sign Tim Tebow to your NFL Team: 5. The running quarterback just became a whole lot more popular with RG3 and Cam Newton. The Redskins led the NFL in rushing last year with their pistol offense.It was so impressive that the 49ers adopted it midway through the season with Colin Kaepernick.So if this is the hot new trend in the NFL, why not pick up a cheap, durable...
The New York Jets are not only in the business of football but also it seems of producing awe and criticism. It is part of the Jets' DNA to do things that make others shake their heads. The 2013 NFL Draft was no different. The Jets are a mess. Coming off a 6-10 season improvement is mandatory. They began the re-haul by removing their star corner Darrelle Revis. They cap off...
Mark Sanchez spoke for more than 20 minutes about the New York Jets' crowded quarterback situation, saying all the right things throughout. Yes, he believes he'll be the starter, and, yes, he looks forward to the competition. Then came the question everyone really wanted to know: Hey, Mark, what's up with that headband? ''It's my inner-soccer player,'...
Geno Smith's pre-draft behavior played a part in his fall out of the first round. (AP Photo/Ben Liebenberg) Geno Smith hasn't had the best time in New York going back to last Thursday. After falling out of the first round, Smith considered not returning to Radio City Music Hall to go on stage when he would inevitably be drafted. Following the draft, Smith fired his agents this...
Freshly liberated from the soul-crushing environment that was the three-ring circus sideshow that the Tim Tebow Experiment became for the New York Jets last season, quarterback Mark Sanchez finally can relax, but apparently not to the extent where he feels able to let his hair down entirely. Which might explain why Sanchez rocked a nifty little green headband during his interaction...
With the additions of David Garrard and Geno Smith this offseason, Mark Sanchez no longer has a stronghold on the Jets' starting quarterback job. But that isn't deterring the confidence of the man behind the Butt-Fumble. Per the New York Daily News, Sanchez said Thursday that he expects to top the depth chart and enter Week 1 under center for Gang Green. "No doubt," Sanchez...
Already piling on Emotional posting. No rational writing here. My feeling. Cut the crap on Geno Smith, media. Kill it, fans. Enough already. Like other Jets fans, I've been reading the bad ink on Geno Smith. It's unavoidable. And it's getting ridiculous. While I'm not like many other members of Gang Green Nation, passionately obstinate in their  disdain of one Rich Cimini...
This week, I thought I would move away from the past and look towards the future of our New York Jets. Last week's NFL Draft was full of surprises and always seems to leave us with more questions than answers. The Jets drafted two defensive players in the first round, but all anyone wants to talk about is their second round pick of quarterback, Geno Smith. Let me first say...
Jets News

Delivered to your inbox

You'll also receive Yardbarker's daily Top 10, featuring the best sports stories from around the web. Customize your newsletter to get articles on your favorite sports and teams. And the best part? It's free!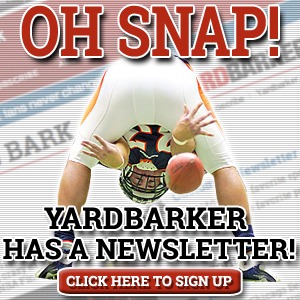 Latest Rumors
The Backyard

Today's Best Stuff

For Bloggers

Join the Yardbarker Network for more promotion, traffic, and money.

Company Info

Help

What is Yardbarker?

Yardbarker is the largest network of sports blogs and pro athlete blogs on the web. This site is the hub of the Yardbarker Network, where our editors and algorithms curate the best sports content from our network and beyond.