Found September 06, 2012 on Fox Sports South:
FLOWERY BRANCH, Ga. Tony Gonzalez says he'll probably take a break from his usual pregame routine on Sunday when the Falcons open their season at Kansas City -- the city where he built his reputation for 12 seasons as perhaps the greatest player to suit up at tight end. For someone with the unrivaled professionalism of Gonzalez, the act of changing his routine is no small matter. But it's also because of that professionalism that Gonzalez will take extraordinary steps to ensure that he has enough time before game time so that once kickoff arrives the game can proceed as normally as possible. He expects to see former teammates on the field, as well as Chiefs employees with whom he has long-standing relationships. He knows they'll want to come up and shake hands and give hugs and he'll want to reciprocate. On the whole, he says he doesn't know how he'll react in such an emotional situation. "I still have a lot of ties to the city so it's going to be special," Gonzalez said. "It's going to be a little weird going in there. It's going to be like going back to the house you grew up in. A lot of heartbreak on that field, a lot of triumphs. It'll be a special feeling to go back to." At 36, Gonzalez has said this, his 16th season, will be his last though he continues to keep the door open, ever so slightly, to a possible return. ("Tony says he's 95 or 99.9 percent that this is his last year; I'm holding out for that point-one percent," Falcons coach Mike Smith quipped.) It seems fitting, then, that for the first time since the Chiefs traded him in April 2009 during a rebuilding phase that he will return to play in Kansas City in what is expected to be his last season. Falcons quarterback Matt Ryan said he can "only imagine" what will be going through his teammate's head. "It's probably going to be a mixed bag for him a little bit," Ryan said. On Wednesday as he met with Atlanta media, Gonzalez waxed nostalgic about the many reasons why Kansas City is so special to him. When the Chiefs made him the 13th overall pick in the 1997 NFL Draft, an older brother came to live with him from his native California to keep him out of trouble, Gonzalez said, as he was only 21. That brother still lives there. So does a cousin, who moved there years later. In addition, Gonzalez, through his foundation, still has ties to a nonprofit group, Shadow Buddies, which is based in the Kansas City area. "They all have ties there," Gonzalez said of his family members who live there. "It's a good place for them, not for me, though. I'll be back in California by the beach." He said his fondest memories are of the fans and of the relationships he had. He contrasted Kansas City to Atlanta, which is larger and has more transplants but does not exactly enjoy a reputation for rabid pro sports fans. "The thing that I miss most about Kansas City is the fan support," he said. "It's really unlike anything else. First of all, it's Kansas City. There's not too much else going on and they support you through thick and thin. They're diehards, a lot of them. "That's the difference, I think, between Atlanta fans and Kansas City fans. There's just more of them out there because there's not as much to do. We certainly have our diehards here in Atlanta, but there's just a lot more in Kansas City." He recalled his rookie season when Marcus Allen and Derrick Thomas were gaining veterans and the Chiefs were ascendant. They went 13-3 his rookie season but lost in the first round of the playoffs a fate that has befallen Gonzalez every time one of his teams have qualified for the postseason and a run that he hopes finally to end in 2012. The memories of Gonzalez's rookie season also remain with him, however, for a more niggling reason. He caught 33 passes but had more than half as many drops 17. He said the following offseason proved a turning point in his career. "Yeah, after going through a season like that with such high expectations they expected a lot out of me and I didn't deliver" he said. "To tell you the truth -- I tell a lot of people this -- I don't think I'd be the player I am today if I didn't have a season like that because it's embarrassing. You feel like you let your teammates down, you let the city down, you let the organization down. "It can either motivate you or it can kill your career. Luckily for me, it motivated me, changed a lot of my routine, the way I do things. I started reading books a little bit more, expanding my mind. It kind of made me who I am, set me on that path." His receptions rose 59 the next season then to 76 and then up to 93 in his fourth season, along with 1,203 receiving yards and nine touchdowns. Today, his 1,149 receptions rank second in league history. In terms of expanding his mind, Gonzalez said that process began when an older brother sent him a book of quotations from legendary coach Vince Lombardi. He said his interest in Lombardi grew and he was inspired by reading Pulitzer-prize winner David Maraniss' biography of Lombardi, "When Pride Still Mattered." "I really got a kick out of his quotes," Gonzalez said of Lombardi. Then he cited one: "There's no greater feeling than when a man lies victorious and he's worked his hardest on the field' "And that's the feeling I get after every win," Gonzalez said. "I know I go out there, I lay it on the line. I try to put everything I have it in it. There is no better feeling than looking around the locker room after a game and you've had a tough-fought victory and you celebrate and you're like This is what we prepared for and we beat a really good football team.' "That's a great feeling."
Original Story:
http://www.foxsportssouth.com/09/06/1...
THE BACKYARD
BEST OF MAXIM
RELATED ARTICLES
KANSAS CITY, Mo. There may never be another tight end as good as No. 88 in Chiefs' red. And this Sunday, Tony Gonzalez will revisit the place Arrowhead Stadium where his illustrious career started, this time wearing No. 88 in the red and black of the Atlanta Falcons. It will be the first time Tony G has returned to Arrowhead since requesting a trade after the 2008 season...
The Atlanta Falcons have re-signed cornerback Dominique Franks, less than a week after he was cut by the team. To make room for Franks on the 53-man roster Thursday, the Falcons waived-injured receiver Tim Toone. Franks was a fifth-round pick by the Falcons in 2010 and started four games last season. He was beaten out during the preseason by Christopher Owens and Robert McClain...
The Atlanta Falcons signed cornerback Dominique Franks and waived-injured wide receiver Tim Toone Thursday.  Franks was selected as a fifth round draft choice (135th overall) by the Falcons in the 2010 NFL Draft. In two seasons, the 6-0, 197-pound defensive back recorded 22 tackles (14 solo) with three interceptions and six passes defensed. Last season, Franks posted 20 tackles...
It was just about a week ago when the Falcons parted ways with second year corner back Dominique Franks. It was a bit of a head-scratcher because many thought he would be our punt returner and thought that he had a lot of upside at corner. Franks is back with the Falcons In a strange twist of fortunes the Falcons cut Tim Toone. Toone was a surprise to make the team and according...
1. Don't Expect Jacquizz Rodgers to Imitate Darren Sproles One corollary of the Matt Ryan hype is a growing expectation that Jacquizz Rodgers will emerge as a flex option at running back, particularly in PPR leagues. Although Rodgers should be owned in most formats and does have some upside as a receiver, he's a fourth running back at most in 12-team leagues. The reasoning...
The Atlanta Falcons and Kansas City Chiefs begin their season at Arrowhead stadium on Sunday, September 9th.  Since 1990, the Chiefs have had a 25-9 record against NFC opponents at home. However this could be a game that goes Atlanta's way.Here's what to expect Sunday. Cornerbacks Brandon Flowers and Stanford Routt vs. wide receivers Julio Jones and Roddy White: The Chiefs...
(Eds: APNewsNow. Will be updated. With AP Photos.) By PAUL NEWBERRY AP Sports Writer Tony Gonzalez took note of the first game as soon as the NFL schedule came out. How could he not? One of the greatest tight ends in NFL history spent much of his career with the Kansas City Chiefs, who just happen to be the opener Sunday for his current squad, the Atlanta Falcons. This is certainly...
Alright Falcon fans, here we go! I know it has been a few weeks, but I am ready to hit the ground running. My thoughts on the preseason are irrelevant, because I do not put much stock in anything I saw. I witnessed our new coordinators showing off some new schemes, but overall I was not floored. I am extremely optimistic this season because I cannot foresee a scenario in-which...
Often when people look to see if a team has improved, they will measure it with wins and losses. And while that is not a bad way to do so, it is not a true measure of a team's ability. Because you're not playing the same schedule year to year, and even the teams that you do play annually aren't always the same quality as they were in previous years. Every NFL season brings...
Falcons News

Delivered to your inbox

You'll also receive Yardbarker's daily Top 10, featuring the best sports stories from around the web. Customize your newsletter to get articles on your favorite sports and teams. And the best part? It's free!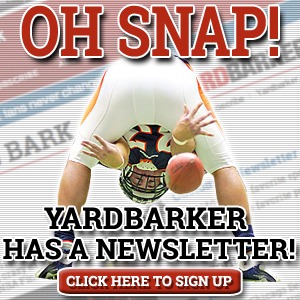 Latest Rumors
The Backyard

Today's Best Stuff

For Bloggers

Join the Yardbarker Network for more promotion, traffic, and money.

Company Info

Help

What is Yardbarker?

Yardbarker is the largest network of sports blogs and pro athlete blogs on the web. This site is the hub of the Yardbarker Network, where our editors and algorithms curate the best sports content from our network and beyond.