Found March 21, 2012 on Read And React:
The NFL finally handed down its punishment for the Saints bounty program today, and it's about as severe as you'd expect from a commissioner trying to clean up the league's violent image.  Head coach Sean Payton has been suspended for one year without pay, and former defensive coordinator Gregg Williams (now with the Rams) has been suspended indefinitely for their part in a system that gave out cash rewards to players for injuring opponents from 2009-2011.
Payton was reportedly "stunned" by the news (Photo: SBNation.com)
As if that weren't enough bad news for New Orleans fans, the Saints were also fined $500,000, and will forfeit their 2nd round picks in 2012 and 2013.  Furthermore, Saints general manager Mickey Loomis has been suspended for eight games, assistant head coach Joe Vitt has been suspended 6 games without pay, and individual player punishments are still forthcoming.  All of the suspensions begin on April 1st.
You can read the complete release from the NFL here, but we'll go ahead and highlight the most relevant sections:
"We are all accountable and responsible for player health and safety and the integrity of the game," Commissioner Goodell said. "We will not tolerate conduct or a culture that undermines those priorities. No one is above the game or the rules that govern it. Respect for the game and the people who participate in it will not be compromised."

"A combination of elements made this matter particularly unusual and egregious," Commissioner Goodell continued. "When there is targeting of players for injury and cash rewards over a three-year period, the involvement of the coaching staff, and three years of denials and willful disrespect of the rules, a strong and lasting message must be sent that such conduct is totally unacceptable and has no place in the game."
It's definitely a huge blow to a Saints program that has been at the top of the league in recent years, and one has to wonder if it was all worth it – all of this, just to give a little walking around money and bragging rights to a bunch of millionaires for doing what they're already paid handsomely to do. The Saints clearly crossed the line when they added the layers of "knock outs" and "cart-offs" to the mix, but most high school and college football programs have similar performance-based incentives … they just use stickers instead of money.  Stick to the stickers, guys, and everything will be just fine.
And if Gregg Williams ever coaches again in the NFL, we'll be shocked.
Original Story:
http://readandreact.net/2012/03/21/go...
THE BACKYARD
BEST OF MAXIM
RELATED ARTICLES
Photo from NFL.com It looks like Saints fans  and the city if New Orleans has found a way to deal with the smack down that the NFL laid on their beloved football team. One of the penalties that the NFL handed out to the Saints was that their head coach Sean Payton would be suspended  for an entire year, so he'll miss the 2012 season. To support the Saints and Payton, you can...
Commissioner Roger Goodell notified the New Orleans Saints today of the discipline that will be imposed on team management for violations of the NFL's long-standing "bounty" rule that endangered player safety over a three-year period. Discipline for individual players involved in the Saints' prohibited program continues to be under review with the NFL Players Association...
Huge huge day for NFL news. New Orleans Saints coach Sean Payton gets suspended for an entire season- costing him $7.5 million. Former defensive coordinator Gregg Williams is banned from football indefinitely. From Los Sports Blog: When news broke in early March 2012 that the New Orleans Saints had instituted a bounty system dated as far back as 2009, the immediate question was...
Saints defensive tackle Tom Johnson launched a passionate defense of Sean Payton, describing the head coach's league-imposed yearlong ban for his part in the bounty program scandal as "not right." "We knew there would be some type [of punishment], but not this," Johnson told the Sun Herald. The Super Bowl-winning coach was suspended by the NFL for the entire...
The NFL has suspended Sean Payton for one year stemming from the Bounty Program scandal in New Orleans. General Manager Mickey Loomis has also been dealt an eight-game suspension, and former defensive coordinator Gregg Williams has been suspended indefinitely - namely as he was said to be a ringleader in the scandal. And assistant head coach Joe Vitt has been fined his salary for...
The NFL announced that New Orleans Saints Head Coach, Sean Payton, will be suspended without pay, for the entire 2012 season for his involvement in the team's bounty program. Payton's suspension will begin on April 1. NFL Commissioner Roger Goodell also suspended the team's former Defensive Coodintator, Gregg Williams, indefinitely, and handed Saints General Manager...
ST. LOUIS The St. Louis Rams' offseason momentum came to an abrupt halt Wednesday. A reconstruction that began in January, with the firings of Steve Spagnuolo and Billy Devaney, met its first crisis with Gregg Williams' unchecked ego to blame. The Rams are collateral damage in the worst scandal to rock the NFL in recent memory. Yes, commissioner Roger Goodell's ruling...
If you want to use the punishment handed down from the NFL against the Saints as an opportunity to make a troll faces and cruelly heap derision on Who Dat Nation, by all means. I'm indulging quite a bit myself. I greatly anticipate Sean Payton being forced to spend a year wandering the Earth in an effort to come to grips with his disgrace. Make no mistake, however, that this entire...
Coach Payton and Saints have been disciplined by the NFL for their role in bounty schemes. The players are next. In an unprecedented move, NFL commissioner ROGER GOODELL has suspended New Orleans Saints head coach SEAN PAYTON for the entire 2012 season without pay for his involvement in the team's bounty program. Saints GM MICKEY LOOMIS has been suspended for eight games and former...
SCOTT JACOBS The wait is over! And for the Saints, the punishment fits the crime. After a bounty scandal investigation uncovered lying and cheating over a 3 year period in New Orleans, Roger Goodell hit the Saints hard today for going against everything he wants the league to be. Citing safety as his chief concern, with the simple goal of extinguishing bounty programs not just...
Saints Punishment, Raiders fallout Most of you will already be aware of the historic punishment that Commissioner Roger Goodell handed to the New Orleans Saints in response to the unfolding bounty scandal that has been the talk of the football world. If you're not aware of it, you can read more here. The point to take away for Raiders fans is that head coach Dennis Allen...
Saints News

Delivered to your inbox

You'll also receive Yardbarker's daily Top 10, featuring the best sports stories from around the web. Customize your newsletter to get articles on your favorite sports and teams. And the best part? It's free!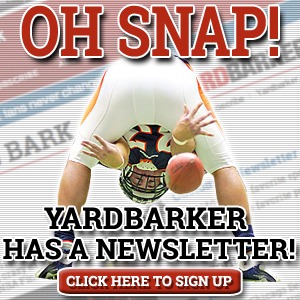 Latest Rumors
The Backyard

Today's Best Stuff

For Bloggers

Join the Yardbarker Network for more promotion, traffic, and money.

Company Info

Help

What is Yardbarker?

Yardbarker is the largest network of sports blogs and pro athlete blogs on the web. This site is the hub of the Yardbarker Network, where our editors and algorithms curate the best sports content from our network and beyond.