Found August 28, 2012 on Fox Sports Detroit:
ALLEN PARK, Mich. -- Other than in the secondary, theres really no more heated competition for a job with the Detroit Lions in the final week of the preseason than at punter. In one (coffin) corner is Ryan Donahue, an undrafted free agent out of Iowa who is in his second year with the Lions. He averaged 42.7 yards on 49 punts in eight games last season with Detroit. In other (coffin) corner is Ben Graham, a former Australian rules footballer turned NFL player. He's in his eighth year in the league, and averaged 44.1 yards on 28 punts last season with the Lions. May the best leg win. It appears the duel is coming down to their performances this week in practice and in Thursdays preseason finale against Buffalo at Ford Field. NFL teams must settle on their 53-man rosters for the opening game by Friday at 9 p.m. Its crunch time, Donahue said. This is a huge game. Donahue appeared to have a slight edge going into last week, but his poor performance against Oakland might have opened up the door for Graham. Donahue averaged 35.8 yards on four punts, having one downed on the Oakland 9-yard line. His worst effort was a 34-yarder that gave the Raiders the ball near midfield. He also failed to pin Oakland deep in its territory when he had another opportunity. Awful, Donahue said. It was awful. I hold myself to a higher standard than that. "I let a couple balls get away from me. Thats not me. What I did on Saturday wasnt characteristic of what I can do. Donahue and Graham couldnt be much more different. Donahue is 24 years old; Graham is 38. What's more, their punting styles are a complete contrast. Hes got the end-over-end ball where he can put it on the sideline, Donahue said. It doesnt have that much hang time. Thats his weapon. Thats what he goes to. Mine is hang time, give the guys a lot of time to get down the field. Its kind of ta-may-toe, ta-ma-toe sometimes. Graham averaged 37.5 yards on two punts last week, one of which forced the Raiders to start at their 14-yard line. Donahue is averaging 39.7 yards per punt, with two inside the opponents 20-yard line, in the three preseason games. Graham is averaging 41.6 yards with four inside the 20. The two longest returns of the preseason allowed by the Lions have come on Graham punts. In the opener, Cleveland returned one 45 yards on a coverage-teams breakdown to set up a touchdown. The next week, at Baltimore, Graham failed to put the ball out of bounds as designed. The Ravens returned it 85 yards for a touchdown, only to have the score negated by a holding penalty. Because of the returns, Graham's net-punting average is 8.7 yards worse than Donahue. Theres always a few balls youd like to have back, but overall I think Ive been pretty good, Graham said. Not perfect, but not bad. As for whether his experience could work in his favor in this competition or whether the age difference might hurt him, Graham replied, I think age, no, because my bodys in great shape. I havent lost any strength. My experience is there. Ive been in many situations before, played in the Super Bowl. Whatever situation I get faced with, Im ready for it. You cant buy experience. Asked what hes looking for from the duo this week, Lions coach Jim Schwartz said, Were going to need to see consistent punting. Thats something we havent gotten from either guy the first three games. "Its a very important game for both of those guys. If they dont produce, there might be one other option thats emerged: The Lions could bring back Nick Harris, a 12-year NFL veteran who was with Detroit from 2003-10. Harris, who averaged 42.7 yards last season with Jacksonville, was released Monday by Carolina. TRADE OFFICIAL Cornerback Kevin Barnes, acquired from the Washington Redskins for a conditional draft pick, practiced with the Lions Tuesday after passing his physical. Four years ago, Barnes was playing in college for Maryland when he made a vicious hit on then-California running back Jahvid Best (WATCH VIDEO OF HIT). Best was severely dazed, crawling around on the field before throwing up. Now, Barnes and Best are teammates in the NFL, although Best is still recovering from two concussions suffered last season. I heard about it all the time, Barnes said of his hit that became famous via You Tube. I just kind of want it to die down a little bit right now. "Hes my teammate. I dont really think its appropriate to talk about it. It was college. I dont want that to be the last memory of me.
Original Story:
http://www.foxsportsdetroit.com/08/28...
THE BACKYARD
BEST OF MAXIM
RELATED ARTICLES
CARRY THE LOAD
A report says the Lions are interested in adding a running back. Find out what the team has been doing and why.
The Lions' all-time scoring leader Jason Hanson will return for his 21st season with the team after winning the kicking role from undrafted rookie Derek Dimke. Heading into camp however it was expected that the 42 year old Hanson would win the job outright and continue an amazing run with the only NFL team he's ever known. The Lions were also comfortable with giving Hanson the...
A big strong point for the Detroit Lions over past three seasons has been a diverse and chiseled group of wide receivers and tight ends, each capable of hurting teams in their own unique way. From the imposing Calvin Johnson and Brandon Pettigrew to the shifty Nate Burleson and developing Titus Young, the Lions will be loaded here again heading into 2012. Throwing to each is the...
The Detroit Lions appear to be in the market to trade for a running back. Jason LaCanfora reports via Twitter that Lions general manager Martin Mayhew is "making calls looking for a running back." The running back situation has been a precarious one for the Lions this season. RB Jahvid Best, still dealing with lingering effects on a concussion suffered last year and will start...
Theres lots of speculation about what running back the Detroit Lions should acquire to give their depleted offensive backfield a boost. It makes for good conversation. The reality is, if the offensive line doesnt do a better job run-blocking than it did in Saturdays 31-20 preseason loss at Oakland, it wont matter who's carrying the ball. The Lions were a one-dimensional offense...
The heart and soul of the Detroit Lions is, of course, their defensive line. Also casually known as "Silver Rush," this unit is one of the most intimidating and tough groups in the NFL. Their physical, aggressive play has come under attack recently, and there's no doubt elements of discipline need to improve in 2012 for the team to be taken seriously. How good...
If there's ever a statue to be erected of Detroit Lions' general Manager Martin Mayhew, the slogan on the bottom should read very much like the Statue of Liberty. "Give me your tired, your poor and your huddled masses." Only, you can add "unwanted cornerbacks" to the end of that theme. Monday, the Lions addressed a need in the backfield by snagging another young defender...
Getty Detroit Lions running back Jahvid Best will begin the 2012 regular season on the PUP list, which means he'll have to wait until after week six to be activated and placed on to the 53-roster. Lions place Jahvid Best and Chris Greenwood on PUP. Place Nagy and Scott on IR. Release WR Dominique Curry and S Isaac Madison — Tim Twentyman (@ttwentyman) August 27, 2012 Best is...
ALLEN PARK, Mich. -- The countdown to the regular season is on. The Detroit Lions play the Buffalo Bills Thursday night at Ford Field in their final preseason game. The Lions' season opener is 10 days later against the St. Louis Rams. Here are five storylines to follow for Thursdays exhibition: 1. After last weeks scare when quarterback Matthew Staffords left hand got banged...
Detroit running back Jahvid Best has officially been placed on the physically unable to perform list. He'll miss at least the first six games of the season.Fantasy Spin:Best has been out since Week 6 of last season while dealing with concussion-like symptoms. With Best out, Kevin Smith will enter the season as the Lions' starter at halfback.
TGR regretfully announces that the St. Louis Rams have cut Alex Hoffman Ellis. The Detroit Lions have so far held onto Alex Gottlieb. We will keep an eye on his progress.
There's a question that's been being kicked around every water cooler from New York to Seattle where anyone playing in dynasty league stops to converse – who is Rod Streater? The simple answer is Streater is a receiver from Oakland who has taken his chance in training camp and run with it. Through three preseason games, he has an amazing 18 catches for 165 yards on a gaudy...
NFL News

Delivered to your inbox

You'll also receive Yardbarker's daily Top 10, featuring the best sports stories from around the web. Customize your newsletter to get articles on your favorite sports and teams. And the best part? It's free!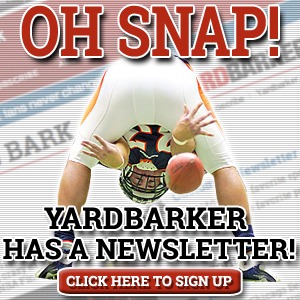 Latest Rumors
The Backyard

Today's Best Stuff

For Bloggers

Join the Yardbarker Network for more promotion, traffic, and money.

Company Info

Help

What is Yardbarker?

Yardbarker is the largest network of sports blogs and pro athlete blogs on the web. This site is the hub of the Yardbarker Network, where our editors and algorithms curate the best sports content from our network and beyond.