Found January 22, 2013 on PSAMP:
Well here's something we haven't poked our heads around in for quite some time. Great Moments in Unlicensed Pittsburgh Sports Merch, my love note to the crappy knockoff sports memorabilia we've all known and been gifted, sort of dried up as a regular feature as 2011 turned to 2012. We had only 1 or 2 posts on the subject in all of the last calendar year. Not for lack of submissions, mind you. You guys really love emailing me random generic local sports gear. My time away from the feature sort of reminds of another lengthy break, one in which a revered local favorite went away for an extended period only to return truimphantly. No, I'm not still talking about this exact moment but in another dimension. I'm talking about the Pens. They kicked the door down to open this shortened post-lockout season with a 2-0-0 start, so I'm going through all my unused submissions for anything Pens-related. Some of these have been sitting around for (at times) years, becaus...
Original Story:
http://www.psamp.com/2013-articles/ja...
THE BACKYARD
BEST OF MAXIM
RELATED ARTICLES
The Pittsburgh Steelers offseason is in full swing now and we will continue on with our breakdown of the free agents as we inch closer towards the start of free agency. Next up on the list of unrestricted free agents is quarterback Byron Leftwich. Player: Byron Leftwich Position: Quarterback Experience: 9 Years Free Agent Status: Unrestricted 2012 Salary Cap Hit: $605,000.00...
This is part one in a series from steelcityblitz.com arguing the reasons why the Pittsburgh Steelers should take a specific position with the 17th pick in the first round. Today is a look at wide receivers. This does of course assume at this time that free agent Mike Wallace signs elsewhere in the off-season… I like Antonio Brown and I like Emmanuel Sanders. I like their energy...
By Christopher DiMarino I was enjoying some playoff football when I read Jeremy Hritz's article relating to the importance of the Pittsburgh Steelers drafting some elite talent to replace Mike Wallace,  but it ended up breeding more and more thoughts so I decided to write a speculatory article instead. The initial thought was that the 1st pick should go to defense in the form...
We've covered two of our five prospects so far in Johnathan Hankins and Chance Warmack.Now we focus our efforts on a position that lacked depth over the year at a position where offensive coordinator, Todd Haley, loves to throw the ball to so often.The tight end postion, a versatile much-needed position.Your tight end can help with both the run game, as well as the pass game...
Editor's note: As part of NFL's Greatest Quarterback, fans will decide the best QB in each team's history. Terry Bradshaw: Bradshaw and Joe Montana are the only quarterbacks in NFL history with four Super Bowl rings. Bradshaw led his 1970s Steelers to Super Bowls IX, X, XIII and XIV, winning them all. He was the No. 1 overall pick out of Louisiana Tech in 1970, and he shared...
This is part two in a series from steelcityblitz.com arguing the reasons why the Pittsburgh Steelers should take a specific position with the 17th pick in the first round. Today is a look at outside linebackers. The Pittsburgh Steelers defense in 2012 ranked number one overall and number one against the pass, but the team missed the playoffs with an 8-8 record. While rankings are...
Pittsburgh Steelers safety Ryan Clark had to turn down an opportunity to replace Baltimore Ravens safety Ed Reed in the 2013 Pro Bowl on Monday due to the severe quad contusion that he suffered in the season finale against the Cleveland Browns. Clark posted the news on his Twitter account Monday evening: "Got the call for the Pro bowl today. I can't play but thank you...
If the quarterbacks had a bipolar year, the running backs were busy redefining the term "inconsistent." The Steelers finished the year 20th in rushing attempts (412), and 26th in rushing yards (1537). That hardly qualifies as "Steelers football." You know, the game we are all familiar with, when the Steelers run the ball down the opponent's throats? Jonathan Dwyer led...
Citizens of the One and Only Sports Nation, we are in a time of mourning. Not only are our beloved Steelers making vacation plans which do not include saying the words "I'm going to Disney World!", two teams that give us absolutely nothing to cheer for, are meeting in the Super Bowl. If you are not familiar with my work, or who I am (Where have you been?), I live just outside...
By now you have probably read the report by Jason La Canfora of CBSSports.com that states the New York Jets are looking to trade cornerback Darrelle Revis, who missed almost all of last season after suffering a torn ACL. If you are one of the people that think that the Pittsburgh Steelers will trade for Revis, you need to have your head checked. Revis is set to earn a $3 million...
Here we are again, answering questions about the offseason instead of the Super Bowl. I don't expect customers to be tossing me softballs about the Pittsburgh Steelers, but I'll try to hit some sharp singles anyway.
NFL News

Delivered to your inbox

You'll also receive Yardbarker's daily Top 10, featuring the best sports stories from around the web. Customize your newsletter to get articles on your favorite sports and teams. And the best part? It's free!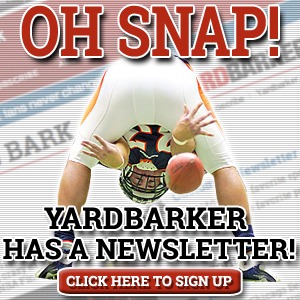 Latest Rumors
Best of Yardbarker

Today's Best Stuff

For Bloggers

Join the Yardbarker Network for more promotion, traffic, and money.

Company Info

Help

What is Yardbarker?

Yardbarker is the largest network of sports blogs and pro athlete blogs on the web. This site is the hub of the Yardbarker Network, where our editors and algorithms curate the best sports content from our network and beyond.