Found March 28, 2013 on Sports Blog Net:
PLAYERS:
Aaron Rodgers
,
Clay Matthews
,
Brad Jones
,
A.J. Hawk
,
Jermichael Finley
,
Ted Thompson
,
Chris Canty
,
Cullen Jenkins
,
Ahmad Bradshaw
,
Greg Jennings
,
B.J. Raji
,
Nnamdi Asomugha
TEAMS:
Green Bay Packers
,
Baltimore Ravens
,
New York Giants
,
Minnesota Vikings
,
Philadelphia Eagles
[caption id="" align="aligncenter" width="512"] As long as Green Bay has Aaron Rodgers and Clay Matthews, it will always have a chance.[/caption] If there is one thing Green Bay Packer fans should be rooting for this offseason it's getting long-term contract extensions completed with quarterback Aaron Rodgers and outside linebacker Clay Matthews, which according to a post by Tyler Dunne of the Milwaukee Journal-Sentinel, is something that's expected to be done sooner rather than later. Dunne reports that now that the Packers have finalized a deal for Brad Jones, re-structured the contract of A.J. Hawk and re-affirmed Jermichael Finley's status for the 2013 season, the stage is set for the long-awaited deals to finally be completed. Green Bay still has $18 million in cap space and after negotiating with both Rodgers and Matthews since the combine, Dunne speculates that all but a few details have been hammered out and both deals are very close to finally being done. The NFL Free Agency frenzy always generates buzz and gives fans hope, even if their teams are coming off lousy seasons. So, it can be difficult to watch as your favorite team stands by and seemingly does very little to improve their football team. This if often the case for Packers fans, as Green Bay general manager Ted Thompson rarely gets involved in free agency, preferring as always to invest his money into his own, home-grown talent. Well for Green Bay, nothing has changed. The Packers have kicked the tires on a few free agents this offseason (Steven Jackson, Chris Canty, Cullen Jenkins, Ahmad Bradshaw, Michael Huff) but have failed to so any significant interest in signing any free agents. The team did show interest in re-signing wide receiver Greg Jennings but in the end refused the pay as much for his services as the Minnesota Vikings did. Green Bay did re-sign Jones and fellow linebacker Rob Francois but has yet to make any moves that could be considered game-changing. Yet, this is for a reason. The Packers don't want to be in a position where they have to sign and overpay for free agents. Teams that do that, need to do so for one reason or another, usually covering up for a previous personnel mistake such as a bad draft pick. The Packers on the other hand, do things by the draft. They develop and cultivate their talent, then invest big money contracts into their own players like they will soon do with Rodgers, Matthews and down the line B.J. Raji. Teams should not go looking for difference makers on the free agent market because to be frank, they are not going to find them. Players reach free agency for a reason, whether it be age, decine in skill set, etc. At the end of the day though the truth is this: Elite players rarely if ever hit the free agent market, so teams paying elite money for aging, overrated players often find themselves disappointed (Just ask the Eagles how the Nnamdi Asomugha deal worked out). Fortunately the Packers are blessed with two of the NFL's most elite players at the games most important positions. Obviously quarterback is the most important position and the Packers have possibly the game's best player there in Rodgers, while Matthews, who dominantes as a pass-rusher off the edge, is as good as any defensive player in pro football. The combination of Rodgers and Matthews is the main reason why the Packers are in a position to contend for the Super Bowl year in and year out. Simply look at the 47-17 record since Matthews arrival in 2009 that also boasts four consecutive playoff berths, two division titles and a Super Bowl Championship following the 2010 season. Green Bay doesn't spend money in free agency because it doesn't need to --  and as long as they keep hitting home runs in the draft and taking care of their own, it won't need to anytime soon, which should be a comforting thought to Packer fans everywhere.            
Original Story:
http://winyourleague.sportsblognet.co...
THE BACKYARD
BEST OF MAXIM
RELATED ARTICLES
The second that Joe Flacco signed  his roster-busting new deal, you knew that Aaron Rodgers was somewhere taking notes. According to his current deal, Rodgers is not due to become a free agent until 2015. That is not stopping the Packers from extending to his contract in the now. Please click here to read this story. The post Green Bay Packers closing in on Aaron Rodgers contract...
According to the Milwaukee Journal-Sentinel, the Green Bay Packers are not only working on extension for Aaron Rodgers, but for linebacker Clay Matthews Jr. The Packers have $18 million in salary cap space that is there for a reason. They have been working on deals for Rodgers and Matthews since the season ended and there's a chance that more details were worked out between negotiator...
For those of you who didn't see the classic comedic flick, "Happy Gilmore", the main villain of the story was Shooter McGavin (who was played by actor Christopher McDonald) and thanks to Twitter these days, someone created a Shooter McGavin parody account. Recently, Green Bay Packers Aaron Rodgers (the actual one) got into an interesting conversation with Shooter...
No I am not talking about Joe Flacco. That guy plays an okay regular season, plays out of his mind in one postseason, wins the Super Bowl, and gets the richest contract in NFL History. Did the Ravens get a little too carried away? That's obvious, but the bigger question is if anyone else deserves a contract like that in the near future. No, I don't mean Tony Romo guys; I'm...
On the heels of the deal which made Baltimore Ravens QB Joe Flacco the highest paid quarterback in the league, the Green Bay Packers seem to be on the brink of handing that title to their quarterback, Aaron Rodgers. Flacco inked a deal worth $120.6 million for six years, and sources suggest that Rodgers' deal will eclipse that mark. ESPN's Adam Schefter reports that the Packers...
Multiple sources are reporting that the Packers are close to reaching a contract extension with quarterback Aaron Rodgers.Fantasy Spin:ESPN's Trey Wingo was floating around "four years, $100 million" as a possible contract figure on Thursday afternoon's edition of NFL Live. If that comes to fruition, Rodgers would be getting the largest annual salary in NFL history...
Sorry Internet, you won't be able to make any played out jokes about Manti Te'o sitting next to his invisible girlfriend in the Radio City Music Hall green room at the 2013 NFL Draft. Te'o turned down two invitations to watch the draft in New York, according to Ian Rapoport of NFL.com. Perhaps Te'o saw glimpses of Aaron Rodgers in 2005 and Brady Quinn in 2007 in his future...
Joe Flacco's big pay day contract that he received from the Baltimore Ravens might influence the deal that the Green Bay Packers will offer to Aaron Rodgers. Supposedly the team is working with their quarterback to possibly make him the highest paid player of all time. Rumors are saying that he could get about $25 million per year. Currently the Packers have a contract with Aaron...
We all remember seeing the clips of Brady Quinn and Aaron Rodgers sitting in the green room during the NFL Draft, just waiting for their names to be called. But they just sat there for hours as the picks came in, and others were selected ahead of them. It became so bad for Quinn, that Roger Goodell actually invited him and his family to a private suite so that he didn't have the...
Tony Romo is the latest to cash in, which bodes well for Aaron Rodgers ... plus Matt Flynn on the trade block and some pro day news.
NFL News

Delivered to your inbox

You'll also receive Yardbarker's daily Top 10, featuring the best sports stories from around the web. Customize your newsletter to get articles on your favorite sports and teams. And the best part? It's free!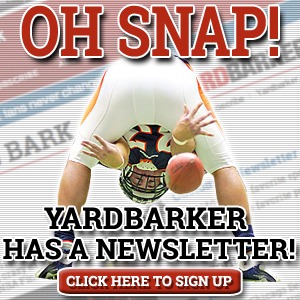 Latest Rumors
The Backyard

Today's Best Stuff

For Bloggers

Join the Yardbarker Network for more promotion, traffic, and money.

Company Info

Help

What is Yardbarker?

Yardbarker is the largest network of sports blogs and pro athlete blogs on the web. This site is the hub of the Yardbarker Network, where our editors and algorithms curate the best sports content from our network and beyond.