GLENDALE, AZ - JANUARY 10: Quarterback Aaron Rodgers #12 of the Green Bay Packers throws a pass during the 2010 NFC wild-card playoff game against the Arizona Cardinals at the Universtity of Phoenix Stadium on January 10, 2010 in Glendale, Arizona. The Cardinals defeated the Packers 51-45 in overtime. (Photo by Christian Petersen/Getty Images)
The Green Bay Packers look to bounce back from their Monday night loss when they play the New Orleans Saints this Sunday afternoon. While the Packers players feel they were robbed of a win after the replacement referee fiasco, it is time to move forward and focus on the game and really focus on righting the ship. So far this season the Packers offense has not been the same it was last season. The Packers are currently only averaging 19 points per game and Aaron Rodgers has only three passing touchdowns this season. While there is no direct answer for the answer to Green Bay's struggles, this weekend against the Saints could provide a cure. The Saints defense ranks 25th in pass defense and last in the league for rushing defense. They give up thirty-four points per game so the Packers should be able to find their offensive groove, if they don't there could be serious concern in Green Bay. The Packers defense will get another chance to shine, as the Saints offense isn't what it was in past years either. While they are averaging 28 points per game they have yet to face a defense that can play on Green Bay's level. The Packers defense has been the surprise of the year for this team and it has also been its MVP. If it wasn't for the defense stepping up these past two weeks who knows where the Packers would be. The Saints offense is struggling through the early parts of the season. Drew Brees has thrown for 904 yards and seven touchdowns, but has also only completed 55 percent of his passes and has thrown five interceptions through three games. This is one the Packers should be able to win and they need to take advantage of that. Last week Cedric Benson really got the Packers running game going in the second half, look for the Packers to get him going earlier this game. Also, last week the Packers seemed to have a majority of their success when Rodgers was completing short passes instead of dropping back and looking for guys downfield. This is something the Packers will probably stick with because it seems that opposing defenses are challenging the receivers at the line of scrimmage and that is making plays take longer to develop, which results in less time for Rodgers and can bring more pressure. On the defensive side of the ball, look for the Packers to really bring the pressure on Brees. The Saints are struggling to run the ball and are really relying on Brees to move the ball down the field, not much different than the Packers were last season. Getting pressure on Brees could force him to make rushed throws and lead to more interceptions and incomplete passes. To make this strategy super effective the Packers will have to score early to get a lead, which will force the Saints to throw more often. That's when the Packers will bring the pressure and force Brees to throw the ball. While it isn't a "must win" game it is one that the Packers could really use. The team is understandably upset after the game on Monday night and could use that anger and channel it into playing well this game. The team could also use this win because they spend the next three weeks on the road. A win here could give the team some momentum as they hit the road for an extended period of time. While the Packers haven't been playing their best football as of late, the Saints have been worse. The Packers' fans will be excited to support their team as they bounce back from the loss Monday night and the players will feed off that energy. Packers win this one by double digits and even up their record at 2-2. Three keys to victory
Score early– The Packers have yet to score a single point in the first quarter this season and that will have to change quickly. This week sounds like a great time to do just that.
Let Rodgers air it out– Last week the Packers really struggled with letting Rodgers throw the ball downfield. While the Packers went with a short yardage passing attack in the second half Monday night, it will greatly benefit the Packers offense if they can figure out a way to give Rodgers a chance to air the ball downfield like he was able to do last year.
Get pressure on Brees – It would benefit the Packers greatly if they were in Brees' face often and forced him to make bad throws. Brees isn't having a great season and has been interception prone so far, which is something that the Packers should be able to take advantage of.
Original Story:
http://feedproxy.google.com/~r/isport...
MORE FROM YARDBARKER
Packers News

Delivered to your inbox

You'll also receive Yardbarker's daily Top 10, featuring the best sports stories from around the web. Customize your newsletter to get articles on your favorite sports and teams. And the best part? It's free!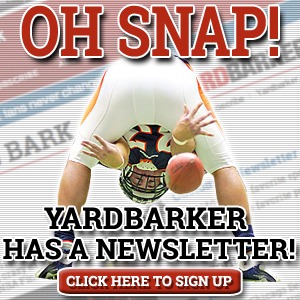 Latest Rumors
Best of Yardbarker

Today's Best Stuff

For Bloggers

Join the Yardbarker Network for more promotion, traffic, and money.

Company Info

Help

What is Yardbarker?

Yardbarker is the largest network of sports blogs and pro athlete blogs on the web. This site is the hub of the Yardbarker Network, where our editors and algorithms curate the best sports content from our network and beyond.