Found October 11, 2012 on isportsweb.com:
The Green Bay Packers look to get back to their winning ways this weekend in a tough matchup against the undefeated Houston Texans.
Both teams are coming off weeks in which they received bad news regarding key players and injuries.
Green Bay found out that Cedric Benson will be out a majority of the season and could possibly be out for the entire season.  The Houston Texans found out that star linebacker, Brian Cushing will be out for the season, following an injury in which he sustained a torn knee ligament on a hit he suffered Monday night.
The Packers injury hurts their developing running game, while the Texans injury is a big blow to their defensive unit.
Green Bay will try to fix their running back solution by trying all the different running backs on their roster.  Alex Green did well filling in for Benson on Sunday so look for him to get some more work.  Also look for Bradon Saine and James Starks to get work, and possibly even John Kuhn.  The Packers will most likely just go with whoever has the hot hand.
The injury to Benson means that more pressure will fall on Rodgers to perform.  Rodgers hasn't played at the same level he did last season but he has shown flashes of it.
Houston's defense is strong; they only allow 190 passing yards a game, so Rodgers has his work cut out for him.
The Packers best bet for their offensive is to do all they can to get a running game going with whoever and to let Rodgers take over when the team needs him to.
On defense, the Packers will have to do all they can to stop the Texans and all their weapons.  The Texans offense is also very well balanced, which makes it difficult to focus on just one aspect of it.
Arian Foster is having himself another solid year; he already has over 500 yards rushing and five touchdowns.  Matt Schaub has himself eight touchdowns and over 1,100 yards passing and the key-receiving duo of Owen Daniels and Andre Johnson have combined for over 500 yards and five touchdowns.
The Packers defense has to come up with some way to slow down this offense.  Much easier said than done.
The Packers will also have to find a way to slow down JJ Watt.  Watt has been unstoppable this season, 7.5 sacks, eight pass deflections and two fumble recoveries.  Keeping Watt off the box score will be impossible but the Packers just need to make sure he doesn't shut down the Packers offense all by himself.
This game looks like a long shot for the Packers but could be closer than some expect.  The loss of Cushing really hurts the Texans defense and that helps the Packers struggling offense.  But the Packers just don't look to have enough to stop the Texans.
Green Bay will bring it against the Texans but it won't be enough.  The Packers will lose this one and fall to 2-4.
The Keys to victory
Figure out the running back situation – The Packers haven't really made it clear who will be their featured back, so look for them to basically throw everyone at the Texans defense.  The majority of the offensive production will fall on Rodgers but there needs to be a running game.  It won't be easy but the Packers need to try.
Slow down the Texans anyway possible – The Texans balanced offensive attack makes it tough to stop them.  It makes it even more difficult when the Texans have very good players at each skill position.  The Packers will have to do whatever they can to slow down this offense.
Don't let JJ Watt dominate you – Watt has played like a man possessed so far this season and shows no real signs of slowing down.  Green Bay's offensive line will have to stop him and make sure he doesn't stop the entire Packers offense by himself.
Original Story:
http://feedproxy.google.com/~r/isport...
THE BACKYARD
BEST OF MAXIM
RELATED ARTICLES
According to Tyler Dunne of the Milwaukee Journal Sentinel, Alex Green will get the first crack at the Green Bay Packers' starting running back job while Cedric Benson is out.Packers head coach Mike McCarthy also confirmed that they'll ride the hot hand between both Green and James Starks.
Green Bay Packers running back Cedric Benson was placed on injured reserve Wednesday, but a "designated to return" tag was added, which means he might be back this season. Benson sprained his left foot in Sunday's loss to the Indianapolis Colts, and by being placed on injured reserve, he must sit out eight games. He's eligible to return in Week 14 against...
Im sure all football fans can agree that Aaron Rodgers and the Green Bay Packers hasnt been looking like themselves and if you dont think so, Rodgers agrees that he himself hasnt been playing his best football. Our friends over at ProfootballZone.com has a snippet of Rodgers interview with 540 AM in Milwaukee via NFL.com: "I set the bar high and I expect to play at a higher level...
Packers WR Greg Jennings Expected To Miss Week 6 - Although he's yet to completely rule himself out for Sunday's game versus the Texans, Packers' WR Greg Jennings (groin) is not expected to play in Week 6. "I've kept things the same, making sure I don't rush it back like I did before," Jennings said. Still in shutdown mode, Jennings has not even tried running at full...
The defense is giving up big chunks of yardage - again. Injuries are piling up. Even the offense, which has carried the Green Bay Packers the last two years, is suspect. A year after opening the season 13-0, the Packers are in danger of letting the season get away from them. At 2-3 (yes, that includes that loss in Seattle that wasn't really a loss), they face something of a...
Jermichael Finley has little doubt about his playing status this weekend. ''I'm feeling good about Sunday,'' the Green Bay Packers tight end said Friday. The outlook for some of Finley's teammates is not so rosy. Green Bay (2-3), which has been rocked by injuries early in the season, will be missing another starter when it faces the unbeaten Texans (5-0...
GREEN BAY, Wis. -- The relationship between Packers quarterback Aaron Rodgers and tight end Jermichael Finley frequently boils down to one word: chemistry. In Finley's mind, chemistry between the two is often directly related to his personal statistics and those of the offense as a whole. With Green Bay's 2-3 record and an offense ranked 21st in the NFL in total yards and...
Quarterback Aaron Rodgers talks about the state of his season; plus injury reports and much, much more from a newsworthy Wednesday at Lambeau Field.
Top receiver Greg Jennings said more than once Thursday that "time will tell" how soon he can get back on the field after coping with a nagging groin injury the last two weeks. Coach Mike McCarthy is hoping the timing of the Packers' next game, Sunday night at the unbeaten Houston Texans, will work to the benefit of his injury-plagued team. McCarthy stressed Thursday...
Greg Jennings spoke to reporters on Thursday about his latest comeback from a nagging groin injury. Plus, injury updates and much, much more — including a change at the top of the NFL's sacks race.
Packers News

Delivered to your inbox

You'll also receive Yardbarker's daily Top 10, featuring the best sports stories from around the web. Customize your newsletter to get articles on your favorite sports and teams. And the best part? It's free!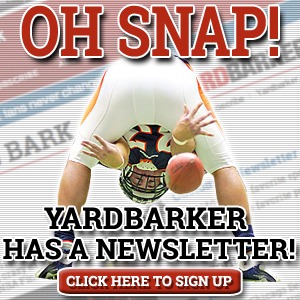 Latest Rumors
Best of Yardbarker

Today's Best Stuff

For Bloggers

Join the Yardbarker Network for more promotion, traffic, and money.

Company Info

Help

What is Yardbarker?

Yardbarker is the largest network of sports blogs and pro athlete blogs on the web. This site is the hub of the Yardbarker Network, where our editors and algorithms curate the best sports content from our network and beyond.