Found January 10, 2013 on isportsweb.com:
Rodgers throws a pass against the 49ers in the week one matchup. (Getty Images/Andy Lyons) The Green Bay Packers head out west to take on the San Francisco 49ers with a trip to the NFC Championship game on the line. These two teams faced off in week one with the 49er's winning 30-22 in Lambeau.  Both teams have changed since that game, which will make this game completely different from the week one matchup. In that first week the Packers were without star receiver Greg Jennings and the Packers were still trying to come up with a running attack.  The 49er's defense stuffed the Packers run and held off Rodgers just enough to escape with a victory, but now the Packers are healthy and have all their weapons, which means that the 49er's defense will have a harder time stopping them all. Aaron Rodgers threw for 303 yards and two touchdowns in the first game and should have no issue matching that this game.  He has been playing at a very high level these past several weeks and it doesn't seem that he will cool off anytime soon. The 49er's are a different team as well as they now have Colin Kaepernick at quarterback instead of Alex Smith, who is the quarterback the Packers faced in week one.  Kaepernick has played well and will provide a challenge for the Packers defense, as the defense will have to plan for both Kaepernick's passing ability but also his scrambling ability. Green Bay should be able to use the same tactics they used against Joe Webb last week.  While Kaepernick is a better quarterback than Webb, the Packers will need to keep Kaepernick from scrambling and while the Packers struggled at first containing Webb, they really shut him down in the later parts of the game. A great way for the Packers to limit Kaepernick is to shut down his offensive weapons.  This should start with Frank Gore.  Gore tore up the Packers in week one, averaging seven yards per carry and he had a touchdown.  The Packers need to make it a goal to limit Gore and Clay Matthews and Charles Woodson should be up to the task.  Green Bay did a great job against Adrian Peterson last week and will have to perform just as well against another great running back. Woodson and the Packers secondary should also focus on limiting Kaepernick's favorite weapon, receiver Michael Crabtree.  Crabtree has really become a key point of this offense since Kaepernick has taken over.  The exact opposite can be said for star tight end Vernon Davis.  His role has become practically non-existent since Kaepernick took over, but he is still a big time player and the Packers will have to keep an eye on him throughout the game. The Packers defense has a lot it needs to do but if it can limit Kaepernick's weapons the game will fall all on him.  Since he is a rookie making his first playoff start, that amount of pressure could get to him and force him into bad situations. Green Bay's running game hasn't improved greatly since week one but there have been improvements and the Packers will need that unit to pull through on Saturday.  In week one, the Packers got nothing from their running game.  Most of that came from the 49ers strong defense, but the Packers have improved their running game and they really only need their running game to keep the 49er's defense from just dropping back and defending the pass all game.  The 49ers will be hard pressed to stop Rodgers and all the Packers receivers, so a strong running performance could make it even more difficult on their defense. The Packers will also need to do their best to keep NFC sack leader, Aldon Smith, who had 19.5 sacks this season, away from Rodgers. The 49ers will also get tackle, Justin Smith back from injury.  The Packers only gave up three sacks in week one but the offensive line has changed so much due to injury and Rodgers led the league in getting sacked, so it is something to look out for. The Packers seem to be streaking at the perfect time.  They won at home last week, something they failed at in four of their previous six playoff games, and Rodgers has won his last three playoff starts.  The team is healthy on both offense and defense and looks good.  They have the ability to shut down Kaepernick and his weapons on offense and they have the ability to beat the 49er's defense. It will be a tough game and could go either way.  If the Packers can shut down the 49ers offense early and can get a lead, they could rattle young Kaepernick and force him into bad situations.  The Packers are a better team than the one that lost in week one and it will show Saturday night.  Packers win 30-27 and advance to the NFC Championship game. One final interesting side note that isn't really important to the game, Rodgers was born in California and rooted for the 49ers as a kid but now plays for the Packers.   Kaepernick was born in Milwaukee Wisconsin and rooted for the Packers as a kid but now plays for the 49ers. The Keys to Victory Stop Frank Gore – The Packers did a great job of slowing down Adrian Peterson last week and they will have to do it again this week against another good running back. Stopping Gore will put a lot of pressure on the young Kaepernick. Don't like Kaepernick's legs beat you – The Packers got a dose of a scrambling quarterback last week and will have to use their same tactics to try and limit Kaepernick this week from beating them by scrambling. Pedal to the metal – The name of the game is putting pressure on Kaepernick.  The Packers can do this right away by scoring early and often.  The more points the Packers put up, the more pressure falls on the young quarterback.  If the Packers can jump out to a quick 14-0 lead, they can really affect how the 49ers play their game.
Original Story:
http://feedproxy.google.com/~r/isport...
THE BACKYARD
BEST OF MAXIM
RELATED ARTICLES
The anxiety-filled green room and draft day seem so long ago now to Aaron Rodgers. Still, on this weekend, any lingering feelings of frustration about how far he dropped will be directed right at the team that passed him up with the No. 1 pick nearly eight years ago. Rodgers brings the high-scoring Green Bay Packers (12-5) to Candlestick Park on Saturday to face No. 2 seed San...
Laura Kaeppeler was named Miss America 2012, entering the pageant at Miss Wisconsin. Therefore, you can put aside your stereotypes about fat people in Wisconsin; at least for a year. Tonight she relinquishes her crown. And as you might expect, she's a Green Bay Packers fan. Kaeppler introduced herself on the evening of her 2012 crowning moment by mentioning the NFL's defending...
There is no shortage of hype surrounding Saturday Night's NFC Divisional playoff game at Candlestick between the Green Bay Packers and the San Francisco 49ers. The breakdowns and the analysis of this game seems never ending. Yet the only analysis you need is this – if the Packers are to escape with a win, it will be because Aaron Rodgers is special. Period. End of discussion...
Sorry about your homecoming Aaron Rodgers. I'm sure one of these days you'll be able to win in San Francisco. All the talk heading into this game was about Aaron Rodgers homecoming, how the 49ers were going to be upset they didn't draft him back in 2005. Yes, that is right, Rodgers is still crying 7 years later. Well Aaron that was before Harbaugh's time and he drafted Colin...
From Aaron Rodgers and Clay Matthews to Frank Gore and Aldon Smith, you know all the big names who will have key roles in the divisional playoff showdown. Here are six players who will be key performers on Saturday night that were not when these teams met in Week 1.
Here's a video from the tailgating scene at last week's Green Bay win over Minnesota courtesy of Coors Light, and now the Packers head to San Francisco where the weather should be a little warmer. You've got to love playoff football! Aaron Rodgers seems to be in top form, while the QB situation for the 49ers is much more muddled with a rookie taking over the reins. I like Green...
It all started so well for the Green Bay Packers, taking an early lead on an interception returned for a touchdown. Then, over the final 58 minutes of the game, the San Francisco 49ers dominated offensively and sent Green Bay into the offseason with its second divisional-round defeat in two years. Handing out grades following the Packers' 45-31 loss to the 49ers: Passing offense...
As we head into the weekend of Divisional round play in the NFL, most fans and pundits are focusing their attention, and rightly so, on the four matchups that will take place this Saturday and Sunday. At the same time, there is an awful lot of focus on the coaching merry-go-round; determining who is to blame for the knee injury suffered by Redskins' quarterback RGIII; and which...
I missed on the picks yesterday. Like I said, this week looks incredibly tough to predict. I was hoping to see a Peyton Manning vs. Aaron Rodgers Super Bowl. I think that's the dream matchup all of us wanted to see this year. After last night, that's out of the picture. I should have kept the Broncos (-2.5)/Patriots (-2.5) teaser alive, but the 70-yard bomb with 36 seconds left...
GREEN BAY, Wis. -- It seemed like it should have been a great day for the Packers' healthy group of wide receivers in the playoff win over the Minnesota Vikings. For the first time since Week 4, quarterback Aaron Rodgers had all of his playmakers on the field together for longer than one drive. But it wasn't Randall Cobb or Greg Jennings or Jordy Nelson or James Jones or...
Packers News

Delivered to your inbox

You'll also receive Yardbarker's daily Top 10, featuring the best sports stories from around the web. Customize your newsletter to get articles on your favorite sports and teams. And the best part? It's free!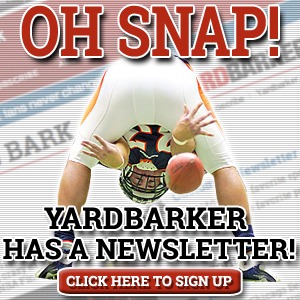 Latest Rumors
Best of Yardbarker

Today's Best Stuff

For Bloggers

Join the Yardbarker Network for more promotion, traffic, and money.

Company Info

Help

What is Yardbarker?

Yardbarker is the largest network of sports blogs and pro athlete blogs on the web. This site is the hub of the Yardbarker Network, where our editors and algorithms curate the best sports content from our network and beyond.