Found January 11, 2013 on Sports Blog Net:
There is no shortage of hype surrounding Saturday Night's NFC Divisional playoff game at Candlestick between the Green Bay Packers and the San Francisco 49ers. The breakdowns and the analysis of this game seems never ending. Yet the only analysis you need is this - if the Packers are to escape with a win, it will be because Aaron Rodgers is special. Period. End of discussion. If Rodgers is elite on Saturday, nothing else will matter. If he plays the way he did two years ago in the divisional round on a Saturday night on the road in Atlanta, then regardless of what the 49ers do, it will be the Packers heading to the 2013 NFC Championship game. The situation the Packers will walk into Saturday night is eerily similar to the one they walked into in Atlanta during their Super Bowl run following the 2010 season. Green Bay entered the game as the underdog and ended it as the Super Bowl favorite, thanks to a masterful performance by Rodgers, who completed 31-of-36 passes for 366 yards and three touchdowns, as well as a rushing touchdown in the 48-21 route of the Falcons. Now I'm not saying Rodgers will need a repeat of that performance to beat San Francisco but seeing as he is the best player in the National Football League, a legendary performance is required. We can talk about how important it is for Green Bay to stop the run or win the turnover battle. How it needs strong play from it's offensive line and secondary, or how Colin Kaepernick will play in his first ever playoff game as a starting quarterback or the health of 49ers defensive end Justin Smith, but none of those are as important as the play of Rodgers. In seven career playoff starts, generally speaking when Rodgers plays well the Packers win. In five victories, he has accounted for 12 total touchdowns and thrown just two interceptions (both in the 2011 NFC Championship Game against Chicago), while averaging 273 passing yards per game. In two career playoff losses, he has averaged 343 passing yards per game while accounting for seven total touchdowns and four turnovers. With Rodgers, the turnovers are key. In playoff games in which Rodgers did not turn the ball over, the Packers are 4-0. Yet in the three playoff games he has started and turned the ball over Packers are just 1-2. Thus, if the 2011 MVP is at his best and avoids turnovers, then expect Green Bay to walk away with a win. The 49ers may have more star power than the Packers, (with seven Pro Bowl selections this year compared to just three for Green Bay), a more physical defense, a better running game and home-field advantage, but the Packers still have the best player on the field in Rodgers and that still counts for something. So in the end, it will all come down to Rodgers, the former Cal quarterback, who so desperately dreamed of one day becoming a 49er and trust me he would not have it any other way.        
Original Story:
http://winyourleague.sportsblognet.co...
THE BACKYARD
BEST OF MAXIM
RELATED ARTICLES
Rodgers throws a pass against the 49ers in the week one matchup. (Getty Images/Andy Lyons) The Green Bay Packers head out west to take on the San Francisco 49ers with a trip to the NFC Championship game on the line. These two teams faced off in week one with the 49er's winning 30-22 in Lambeau.  Both teams have changed since that game, which will make this game completely different...
The anxiety-filled green room and draft day seem so long ago now to Aaron Rodgers. Still, on this weekend, any lingering feelings of frustration about how far he dropped will be directed right at the team that passed him up with the No. 1 pick nearly eight years ago. Rodgers brings the high-scoring Green Bay Packers (12-5) to Candlestick Park on Saturday to face No. 2 seed San...
Laura Kaeppeler was named Miss America 2012, entering the pageant at Miss Wisconsin. Therefore, you can put aside your stereotypes about fat people in Wisconsin; at least for a year. Tonight she relinquishes her crown. And as you might expect, she's a Green Bay Packers fan. Kaeppler introduced herself on the evening of her 2012 crowning moment by mentioning the NFL's defending...
GREEN BAY, Wis. -- Aaron Rodgers knows the Packers aren't going to advance to the NFC Championship Game without him performing at the elite level he's capable of. That's fine by him. In fact, the star quarterback and league's reigning Most Valuable Player embraces that role. "Guys are counting on me to play well," Rodgers said this week. "I take that...
Sorry about your homecoming Aaron Rodgers. I'm sure one of these days you'll be able to win in San Francisco. All the talk heading into this game was about Aaron Rodgers homecoming, how the 49ers were going to be upset they didn't draft him back in 2005. Yes, that is right, Rodgers is still crying 7 years later. Well Aaron that was before Harbaugh's time and he drafted Colin...
From Aaron Rodgers and Clay Matthews to Frank Gore and Aldon Smith, you know all the big names who will have key roles in the divisional playoff showdown. Here are six players who will be key performers on Saturday night that were not when these teams met in Week 1.
Here's a video from the tailgating scene at last week's Green Bay win over Minnesota courtesy of Coors Light, and now the Packers head to San Francisco where the weather should be a little warmer. You've got to love playoff football! Aaron Rodgers seems to be in top form, while the QB situation for the 49ers is much more muddled with a rookie taking over the reins. I like Green...
As we head into the weekend of Divisional round play in the NFL, most fans and pundits are focusing their attention, and rightly so, on the four matchups that will take place this Saturday and Sunday. At the same time, there is an awful lot of focus on the coaching merry-go-round; determining who is to blame for the knee injury suffered by Redskins' quarterback RGIII; and which...
I missed on the picks yesterday. Like I said, this week looks incredibly tough to predict. I was hoping to see a Peyton Manning vs. Aaron Rodgers Super Bowl. I think that's the dream matchup all of us wanted to see this year. After last night, that's out of the picture. I should have kept the Broncos (-2.5)/Patriots (-2.5) teaser alive, but the 70-yard bomb with 36 seconds left...
GREEN BAY, Wis. -- It seemed like it should have been a great day for the Packers' healthy group of wide receivers in the playoff win over the Minnesota Vikings. For the first time since Week 4, quarterback Aaron Rodgers had all of his playmakers on the field together for longer than one drive. But it wasn't Randall Cobb or Greg Jennings or Jordy Nelson or James Jones or...
NFL News

Delivered to your inbox

You'll also receive Yardbarker's daily Top 10, featuring the best sports stories from around the web. Customize your newsletter to get articles on your favorite sports and teams. And the best part? It's free!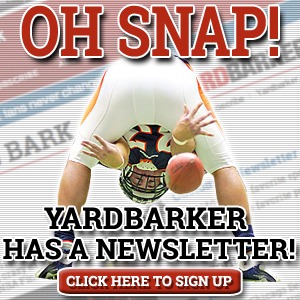 Latest Rumors
The Backyard

Today's Best Stuff

For Bloggers

Join the Yardbarker Network for more promotion, traffic, and money.

Company Info

Help

What is Yardbarker?

Yardbarker is the largest network of sports blogs and pro athlete blogs on the web. This site is the hub of the Yardbarker Network, where our editors and algorithms curate the best sports content from our network and beyond.