Found June 22, 2013 on Down and Distance:
Since Greg Jennings defected from Green Bay and moved to in-division rival Minnesota, Packers QB Aaron Rodgers and WR James Jones have taken some jabs at him. Jennings doesn't have any hard feelings, though. It seems as though it's all in good fun and there's no bad blood between the former teammates. Aaron Rodgers fired the first volley back in April at the annual Wisconsin Sports Awards. Rodgers accepted an award on behalf of his teammate, James Jones, for "Inspirational Player of the Year". When asked by reporters about his former target Jennings, Rodgers responded "…who?" The crowd reponded with an audible "ohhhhh!" and Rodgers responded to that with, "must be some Vikings fans in here," which the crowd booed loudly. Wide receiver James Jones also took a shot at his former teammate when he was asked what it's like not to have Jennings and Donald Driver around, causing people to believe that James Jones disliked Jennings. "Yeah, those are my dogs," Jones said to the Milwaukee Journal Sentinel. "But I don't like Greg no more. He left us. But 'D-Drive' is my dog." Do Greg Jennings and Aaron Rodgers have bad blood? Or is it all in good fun?(Photo Credit: Zimbio.com) Jennings responded at the beginning of this month. In a conversation with the Pioneer Press, Jennings was asked to compare the last two quarterbacks he caught passes from Aaron Rodgers and Brett Favre, and his current quarterback Christian Ponder, he might have subtly taken a shot at Rodgers. "I'll take Brett. He did it for so long. I got there in a period of time where Brett already was there (as an elite quarterback). Then the guy they have now, he sat behind Brett and he learned so much." With the jabs coming from both sides, it's understandable that some people might believe that there actually is bad blood between Jennings and his former team but he insists that's not true. "I have no ill feelings for anyone over there," Jennings wrote in Saturday's edition of the Pioneer Press. "We're just back and forth. (Rodgers) jokes. I joke." The feud seems to be non-existent and nothing but joking between friends, which is probably for the best. Instead of former players trashing their ex-teammates in the media, they need to realize that at the end of the day it's better to just move on and try to be the best player you can be. By the way, the first time that Jennings will have a chance to play his former team is in Minnesota on October 27th. Get ready for some fireworks in the Dome that day, folks.   Follow us on twitter! @realsportskings @downanddistance @tadjohnsonSK The post Greg Jennings: Feud With Packers is Just a Joke appeared first on DOWN & DISTANCE - Presented by Sports-Kings.
Original Story:
http://sports-kings.com/downanddistan...
THE BACKYARD
BEST OF MAXIM
RELATED ARTICLES
Day 2 of this 2-part NFC Playoff Prediction series, I will tell you why the Detroit Lions will be making the playoffs in just the second time in the last 14 years. In day one of this 2-part NFC Playoff Prediction series, I told you that the San Francisco 49ers, Atlanta Falcons, and the Washington Redskins will repeat as division champions and make it to the playoffs this upcoming...
Greg Jennings is loving life as a rich Minnesota Vikings wide receiver, and in doing so, has taken a few shots at his former team, and former quarterback Aaron Rodgers. Jennings raised some eyebrows when he told the St. Paul Pioneer Press that he would take Brett Favre over "the guy they have now" at quarterback. That led many to figure that Jennings and his former quarterback...
Vikings WR Greg Jennings recently sat down with Bob Sansevere of the Pioneer Press. Jennings let it be known that he has no hard feelings towards anybody in Green Bay. He also feels that the Vikings can be a very good team. The article gives you a look into Jennings' personal life. Jennings mentions that he doesn't play video games, and that one of his favorite actors is Jamie...
Green Bay Packers head coach Mike McCarthy says it's "nonsense" that his team's toughness has been questioned over the last several months. "I think it's a load of nonsense because I think the proof is in the pudding. If you watch the tape and the film and you win 12 games a year 
ANALYSIS
Aaron Rodgers weighed in on the job Magic Johnson does as an NBA analyst, and he compared him to Jon Gruden. It wasn't pretty.
J.J. Watt certainly has faced his share of tough interviews. But how would he hold up under the glare of the spotlight from our kid interviewer, Brayson? Watt responds to questiones about making fun of Aaron Rodgers and Clay Matthews, why he hasn't been asked about being traded to the Packers, And, of course, his feelings on vegetables.
After watching watching last night's NBA Finals, Packers quarterback Aaron Rodgers sounds like he's sick of hearing Magic Johnson analyze games. Magic is quickly becoming the John Gruden of ESPN NBA coverage. Everybody is the greatest everything. #bedtime — Aaron Rodgers (@AaronRodgers12) June 21, 2013 I really love Rodgers' honesty.  As much as I like Gruden, he does fave...
Listen. We all know Magic Johnson is the greatest point guard in NBA history (well next to my created Myplayer on NBA 2K but that's beside the point). No one questions his supremacy on the court and his astute business acumen off the court. But can I be honest with you again? Magic is a [...]
Aaron Rodger took to Twitter to rip Magic Johnson and Jon Gruden. Correctly. Magic is quickly becoming the John Gruden of ESPN NBA coverage. Everybody is the greatest everything. #bedtime—... Full story at Bob's Blitz ~ http://www.bobsblitz.com
Washington Redskins quarterback Kirk Cousins can only hope that the beginning of his career can rival Aaron Rodgers. Rodgers like Cousins had to sit and wait his turn.  The only problem for Cousins' is that when he finally gets his shot, it will probably be with another team. Cousins was drafted behind Robert Griffin III for insurance purposes, and possible trade value later....
NFL News

Delivered to your inbox

You'll also receive Yardbarker's daily Top 10, featuring the best sports stories from around the web. Customize your newsletter to get articles on your favorite sports and teams. And the best part? It's free!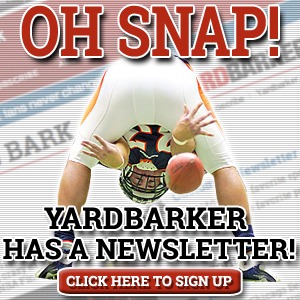 Latest Rumors
Best of Yardbarker

Today's Best Stuff

For Bloggers

Join the Yardbarker Network for more promotion, traffic, and money.

Company Info

Help

What is Yardbarker?

Yardbarker is the largest network of sports blogs and pro athlete blogs on the web. This site is the hub of the Yardbarker Network, where our editors and algorithms curate the best sports content from our network and beyond.