Found February 24, 2012 on Busted Coverage:
Seriously, there's a war going on between Laron Landry & haters. We picture the haters to be balding, old, fat, white guys who work at a newspaper or tweet incessantly. If there's one thing fat, white guys don't like, it's black dudes who play in the NFL and have Laron's pipes. But their beef this time seems to be incredibly ridiculous. Is Landry really 240 pounds? And we have a Twitter war!  Landry, a safety with the Redskins, went from posting a pic of the pipes, to being gushed over in the Washington Post to being questioned about his weight. Why 240 is some sort of 'magical' number to dorky white guys is beyond our comprehension. Ahh, but according to Google, this isn't the first time Landry has chatted about 240-pounds on his frame. He actually told media in 2010 that he was shooting to hit 240 in order to play "in the box a little bit more" in defensive coordinator Jim Haslett's defense that doesn't really use a strong safety. Blah, blah, blah. All this weight talk doesn't matter. The guy has been battling an Achilles injury. According to the Busted Coverage team doctor, it don't matter what you weigh or how large your pipes are. If you can't run, you can't play in the NFL. React accordingly, fat, white guys.
Filed under: Football
Original Story:
http://bustedcoverage.com/2012/02/24/...
THE BACKYARD
BEST OF MAXIM
RELATED ARTICLES
GAH!
You sit down at your normal curling station at your local gym, and you look to your right. Oh hey, why is that guy curling the entire stack? And oh hey, look two of his buddies are standing on the weights as well. What is that, like, 700 pounds? Hey, that's former LSU missile/defensive back [...]
Is LaRon Landry too big?  I couldn't believe it when I saw these pictures on Redskins Talk.  The guy looks more like a body builder than a football player.  He only played 8 games last year and I don't think that will change.  Guys this big just tend to be less flexible and get injured more.  Let's hope that is not the case though. Make sure you check out the
Good Lord. Did Washington Redskins safety LaRon Landry get exposed to ridiculous amounts of gamma rays during a scientific experiment gone horribly awry or something? Only thing that's out of place in these photos as documentation that Landry is indeed The Incredible Hulk is that his skin isn't green and that he's lacking the trademark [...]
Laron, put the dumbell down and the creatine in the cupboard and just walk away. Redskins safety Laron Landry looks freakishly huge in this pic, doesn't he?  Very unnatural looking, not only for an NFL safety, but for a human being in general. At least he's not all greasy and vascular and disgusting like those professional bodybuilders.  He's really asking a lot of that shirt...
Washington Redskins safety LaRon Landry is currently working his way back from a second straight season that unfortunately ended early due to an Achilles injury. While his Achilles is still weak, he's obviously doing something right to make sure his upper body strength is ridiculous. The photo to the right is from Dan Steinberg of the Washington Post.  He posted the picture on...
Free agent strong safety LaRon Landry caused a frenzy by sharing a few pictures of his hulking muscles Thursday. We wondered if one of the pictures was photoshopped, but Landry says it wasn't. Anyhow, Redskins defensive end Adam Carriker shared the above photo on his "Big Poppa Pump" Twitter account Friday to mock his teammate. Carriker added the message "Look, I can put...
Redskins safety LaRon Landry posted some pictures of his physique on twitter, and I'll just say that his muscular prowess is one of the insane sort. Either his forty time has taken a hit, or the second picture is fake.
LaRon Landry might be about to hit free agency with some lingering health concerns, but that hasn't stopped the hard-hitting Redskins safety from lifting weights ... constantly.
Redskins News

Delivered to your inbox

You'll also receive Yardbarker's daily Top 10, featuring the best sports stories from around the web. Customize your newsletter to get articles on your favorite sports and teams. And the best part? It's free!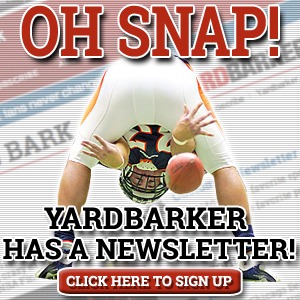 Latest Rumors
Best of Yardbarker

Today's Best Stuff

For Bloggers

Join the Yardbarker Network for more promotion, traffic, and money.

Company Info

Help

What is Yardbarker?

Yardbarker is the largest network of sports blogs and pro athlete blogs on the web. This site is the hub of the Yardbarker Network, where our editors and algorithms curate the best sports content from our network and beyond.