Guilt-free guide to NFL playoff bandwagon fun
By Jamie Neal | Last updated 1/17/17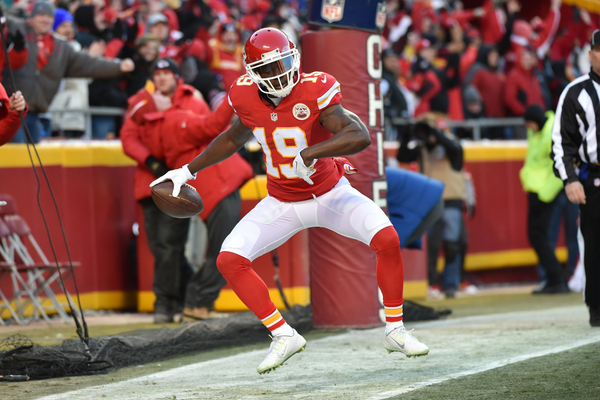 Despite a down year, Kansas City Chiefs wide receiver Jeremy Maclin could be key in the playoffs.
Peter Aiken/Getty Images
As the NFL playoffs continue to march on, more and more fans will see their teams bounced from the postseason, which puts a lot of fans in an awkward spot. "Who do I root for now? I can't root for the Packers! They made OBJ so mad he punched a hole in the wall and I love Big Blue!!"

Have no fear. We here at Yardbarker have the solution to all your NFL rooting problems. Just root for specific players you like. I mean, we already do this with fantasy football — and the NBA, MLB and NHL — so don't act like you're a football purist or something. If you were, there is no way you would draft Rob Gronkowski as your first-round pick in your fantasy league if you're a Jets fan. Let's be real.

So, who should you root for? Who is worthy of your adulation, love and praise? Just read the list below, figure out who you like the most and go from there.

Thomas Rawls - Rawls went into the season injured and looked like he might not get a chance to prove what a stud he could be this year. With Christine Michael and C.J. Prosise showing flashes of brilliance, Rawls' season was in doubt. Then he put on a show against the Lions last week and gave the Seahawks the running game they've been missing all season. With 161 yards rushing and a touchdown, Rawls may be poised for a solid playoff run and may be setting himself up as the No. 1 back in Seattle for next year.

Michael Bennett - If you need any reason to root for the Seattle Seahawks and Michael Bennett, just read this piece by Mina Kimes. Both he and his brother, Patriots tight end Martellus, are outspoken, intelligent and not afraid to give a solid sound bite. Bennett is an outstanding piece to a decent defense this year, and his passion and fire are contagious. As Bruno Mars says, "Don't believe me? Just watch."

Aaron Rodgers - If you missed his game against the Giants, you missed out on something special. Rodgers' ability to navigate a pocket, keep a play alive and create something from nothing is unparalleled. He finds targets that other quarterbacks easily overlook, and he mesmerizes defensive backs to the point where they forget to play and allow the luckiest and most improbable Hail Mary's to become touchdowns. It's insanity, and you're missing out.

Damarious Randall - Randall has quietly had a decent season, picking off Russell Wilson twice in the Packers' Week 14 game against the Seahawks and intercepting Eli Manning in last week's playoff game. Bouncing back from a knee injury, Randall can impact the game a number of ways and looks to bring that ability to Dallas when the Pack take on the Cowboys.

Tom Brady - The Golden Boy from the Golden State is seeking his fifth ring in his 16th year. He has a chance to supplant Joe Montana as the best quarterback in the history of the NFL. And as Nelly taught us, two is not a winner and three nobody remembers. Cheating scandals aside, TB12 has had a long and illustrious career filled with the highest of highs and lowest of lows. As Tito Ortiz said, "If you ain't cheatin', you ain't trying."

Shea McClellin - A versatile player on the defensive side of the ball, McClellin has lined up on the line at defensive end and as a linebacker. Bill Belichick loves players who can fill different roles and got just that when the Patriots signed McClellin in the offseason. A former first-round pick from the Chicago Bears, he has found a good amount of success in Foxborough. McClellin chose New England for a very specific reason — he liked the way the players are used in New England. A kid from quiet, little Idaho has a chance to make some big noise in the playoffs this year.

D.J. Tialavea - From an undrafted free agent to the Buffalo Bills' practice squad to the Falcons' practice squad to recovering from a knee injury in Utah back to the Falcons. Whew! That's the travel path Tialavea has followed to find some time on the Atlanta active roster. He caught a touchdown in the Week 17 contest against New Orleans, and you won't find a better reaction to catching a touchdown than his. Tialavea is just one of those players you want to see succeed when you hear his story. The Falcons have a good chance to go deep into these playoffs, so jump on the D.J. bandwagon early!

Ricardo Allen - The fifth-round draft pick made the switch from cornerback to free safety to fit better with what the Falcons needed from a defensive perspective and what fit his skill set better. Allen spent some time on the practice squad and then made the jump to the active roster. He has played in 31 of the teams' 32 games over the past two seasons but is a part of the Falcons defense that is looking to make it back to the NFC Championship Game for the first time since 2012.

Jesse James - Longtime Steelers tight end Heath Miller retired, but the fans shouting "Heath!!!" when the Steelers tight ends make a good play hasn't stopped. Jesse James noticed it happening a few times at the beginning of the season and was thrilled to be a part of the tradition. He said he loves that he gets a chance to honor Miller like that every week.
Miller played the game with honor and respect, and clearly that had an impact on James and the way he wants to play the game as well. Pittsburgh locks up with Kansas City this weekend, and James would love nothing more than to hear "Heath!!!!" chants fill Arrowhead Stadium.

James Harrison - His interception in the Super Bowl against Kurt Warner and the Arizona Cardinals is probably his most iconic moment and one that happened the better part of a decade ago. He's now 38 years old, wrapping up a career that includes time spent with the Steelers, Ravens and Bengals in the NFL and a short stint with the Reign Fire in the now defunct NFL Europe. He is a beast of a player, a true marvel to watch, and if his past is any indicator, he will have an impact on every game he plays in.

Dallas Cowboys Offensive Line - The Dallas offensive line has done an incredible job opening running lanes that a VW bus could fit through. Ezekiel Elliott isn't as large as a Volkswagen, but he is thankful for all the gaps just the same. With a tick under 2,000 all-purpose yards and 16 touchdowns, Zeke owes his O-line a ton of thanks.
Dak Prescott has also benefited a great deal from such a cohesive O-line. He has 29 total touchdowns and just five interceptions, and has only been sacked 25 times all year. The Dallas O-line deserves a lot of praise, and while offensive linemen are boring to watch at times, they allow the rest of the offense to be as exciting as possible — just ask David Carr if he would have liked to have played behind this line when he was in Houston.

Sean Lee - Lee is well-known, but his talent and potential have been largely overshadowed by his inability to stay on the field for long periods of time. While the Cowboys have a losing record in the 75 games Lee has played during his NFL career, that isn't for lack of effort, desire or drive from No. 50. Lee is one of those players you want to root for and want to see do well when they are on the field, especially given all the injuries he has had and the thought of what his career might have been if he weren't so unlucky when it comes to the injury bug.

Jeremy Maclin - The oft-forgotten wide receiver who played under Andy Reid in Philadelphia has had a fairly quiet year in Kansas City, but he still possesses the ability that helped him become a household name in Philly opposite DeSean Jackson. Held to under 50 catches for the first time in his career in 2016, you can bet the competitor in him wants to make an impact on the game this weekend and help drive K.C. to the AFC Championship Game.
If Alex Smith can find a way to get it to the seventh-year wideout, the Chiefs may find another offensive weapon to lean on to help the host of guys who have already contributed significantly this season. Talk about a secret weapon!

Eric Berry - Everybody knows about Eric Berry. He beat cancer, he has been a stud at every level he has played at and he is only 28 years old. While there are plenty of stories about Berry out there, it's still hard not to root for a player who beat cancer, came back to the NFL and made the All-Pro Team. There are plenty of big names on the Kansas City defense, but if the Chiefs are going to beat Pittsburgh, New England and ultimately win the Super Bowl, they are going to need some big-time leadership from Eric Berry.

Nobody from the Texans - If you're a fan of the Texans, just stop. Go spend a nice, quiet day with your boyfriend or girlfriend. If you're not a fan of the Texans, don't start being one now. The Texans are a rough team and don't really deserve any love or adulation right now. They are 16-point underdogs to the New England Patriots and have a quarterback controversy (oh, not anymore? Because they beat the Raiders and their third-string QB? OK, got it).
Save the money you would spend on beer, food and gambling to make this game interesting, and pull the weeds in your yard, reorganize the garage, sort through your closet, or maybe just sit quietly with the TV off poking yourself in the eye with your unwashed hands. Any of those choices will be better than watching Bill Belichick, Tom Brady and the rest of the 2017 Super Bowl Cham... I mean, the rest of the Patriots beat up on the hapless Houston Texans.
MORE FROM YARDBARKER:
Best athlete by state all time
QUIZ: Name the top 25 receivers in Green Bay Packers history
The Green Bay Packers have had three Hall of Fame quarterbacks, including current gunslinger Aaron Rodgers. This is a recipe for having some impressive receivers in the history of the franchise - including one Hall of Famer. How many of the Top 25 receivers in Green Bay Packers history can you name?
Clue: Number of receiving yards/years active with the team
MORE FROM YARDBARKER
NFL News

Delivered to your inbox

You'll also receive Yardbarker's daily Top 10, featuring the best sports stories from around the web. Customize your newsletter to get articles on your favorite sports and teams. And the best part? It's free!