Found February 14, 2013 on Purple Jesus Diaries:
PLAYERS:
Percy Harvin
,
Adrian Peterson
,
Toby Gerhart
,
Christian Ponder
,
Chris Cook
,
Harrison Smith
,
Leslie Frazier
,
Jared Allen
,
Everson Griffen
,
Chad Greenway
,
Mistral Raymond
,
Blair Walsh
,
Chris Kluwe
,
Brett Favre
TEAMS:
Minnesota Vikings
Hey there, randy readers. Thanks for stopping by to get your shaft wet this Valentine's Day. If you purposefully choose to visit Purple Jesus Diaries today because you knew you had to perform later tonight and needed your mojo in high order for the midnight hour, well ... You're in luck. We're bringing out the anal beads for this special occasion, and are glad you stopped by. Today's theme is simple: Hop on to a recent Twitter hashtag meme (#CandyHeartRejects) and turn it around to some Minnesota Vikings player fun. While 4 year old Percy Harvin and I certainly wish you a happy Valentine's Day today, we also want to remind you that it's not all romance and roses. Don't forget to pull some hair, bite a nipple, lick a butthole, all the usual stuff. Show someone you REALLY love them, you know? By zip tying her wrists together. Anyway, let's have some fun today and talk about dirty stuff. Join us in the comments with your ideas about rejected candy hearts from Vikings players, and we'll get you started with some of our own here, after the jump: For the purpose of this exercise, we present to you TOTALLY REAL (*fake) submissions to the Candy Heart Company (is that an LLC?) that were made by Vikings players who were hoping to do something unique for their Valentine. As you can see, all of these were rejected, but that doesn't mean some of them weren't smart as hell. If we missed any, let us know in the comments: Adrian Peterson: IMMACULATE CONCEPTION? Percy Harvin: UR SMOKIN' Toby Gerhart: DO SEX NOW? Christian Ponder: TAKE IT OFF Chris Cook: DON'T MAKE ME Harrison Smith: BUMPIN UGLIES Leslie Frazier: MISSIONARY AUDIBLE Jared Allen: INTO BONDAGE Everson Griffen: LETS GET MAGICAL Chad Greenway: WHITE SEX Mistral Raymond: FOAM PARTY? Bill Musgrave: FOURTH & LONG Blair Walsh: LITTLE BIG 3RD LEG Chris Kluwe: CROTCH PUNTS VIKTOR the VIKING: Ragnar: HOBO NUZZLES Zygi: A SINGLE ROSE Brett Favre: DICK PICS? John David Booty: U GET ME HIGH Let us know if we missed any in the comments. Have a great day, folks. Pleasure yourself, or pleasure someone else, or do both at the same time. Let's win this day. Now I leave you with a reminder that I'm going to hell: Happy Valentine's Day! [follow]
Original Story:
http://www.purplejesusdiaries.com/201...
THE BACKYARD
BEST OF MAXIM
RELATED ARTICLES
The Percy Harvin saga continues with a new report suggesting that the wide receiver might be seeking a deal worth $12 million per year. Now Harvin is a talented player, but character and injury issues will likely prevent the receiver from landing a contract that he might desire. The number he reportedly is looking at is what Larry Fitzgerald and Calvin Johnson currently earn and...
Ian Rapoport of the NFL Network says he spoke with two NFL executives and one told  him that he would be shocked if the Minnesota Vikings received more than a third round pick in return for Percy Harvin. Heard from 2 NFL execs on possible Harvin trade: 1 spoke of how complex finding value is. Another said he'd be shocked at better than a 3rd — Ian Rapoport (@RapSheet) February...
In speaking with a small group of reporters, Minnesota Vikings general manager Rick Spielman said the team has "no intent" of trading wide receiver Percy Harvin, according to The Pioneer Press. Spielman added that he expects Harvin to be in camp like the rest of the other Vikings' players. This of course could simply be posturing. There are now two documented blowups...
A Minnesota Vikings team source told Josina Anderson of ESPN that they shouldn't get rid of wide receiver Percy Harvin. "He is a star athlete who is a great player. Is he a volatile guy? Yes. Can he be managed? Yes. For me he is not an issue. You just have to be able to deal and manage star players. I don't think we should be at the point of being done with him." With Harvin...
EDEN PRAIRIE, Minn. With rumors continuing to circulate about the unhappiness and future of receiver Percy Harvin, Minnesota Vikings general manager Rick Spielman said Friday that the team is not looking to trade Harvin. "We have no intent of trading Percy Harvin," Spielman said. "Percy Harvin is under contract, we and expect him, just like all our players, to be...
According to the St. Paul Pioneer Press, Minnesota Vikings general manager Rick Spielman says they "have no intent" of trading wide receiver Percy Harvin.  They expect him to report to training camp like every other player. There was a report last week that the Vikings will look to trade Harvin.  Now that doesn't seem to be the case. CBS Sports reported that Harvin is unhappy...
According to Jason La Canfora of CBS Sports, Minnesota Vikings wide receiver Percy Harvin is unhappy with their passing game and not his contract. The issues between receiver Percy Harvin and the Vikings have been widely mischaracterized, according to a source close to the team. Harvin's frustration is based around the scope of the passing game and not his contract. Harvin's...
According to ESPN's Josina Anderson, a high-ranking Vikings source informed her that WR Percy Harvin is targeting a deal similar to that of Calvin Johnson and Larry Fitzgerald. Johnson received an eight year deal worth $132 million and includes $60 million guaranteed while Fitzgerald signed an eight-year deal that totaled $128.5 million and included $50 million guarantees...
Filed under "Topics I Can't Believe I Still Have to Slow-Talk to your Morons About," people are apparently still discussing whether or not the Minnesota Vikings should trade wide receiver Percy Harvin. I know. It's god damn ludicrous. You know what someone asked me the other day in regards to this? They asked, "But if we sign Percy long term, how are we going...
Jason La Canfora of CBS Sports writes that Percy Harvin's frustrations aren't related the status of his contract and instead are related to the team's offensive approach. La Canfora mentions that the issues between the Vikings and Harvin have been "widely mischaracterized." Harvin has reportedly not complained about his current contract situation and hasn't threatened...
The Minnesota Vikings are reportedly going to pursue a trade of wide receiver Percy Harvin this offseason, but this wouldn't happen if running back Adrian Peterson was in charge. Peterson told Paul Allen of KFAN yesterday that, if it were up to him, he wouldn't trade Harvin. "To be honest with you, I don't know if we will or not," Peterson said.  "But me, individually...
Vikings News

Delivered to your inbox

You'll also receive Yardbarker's daily Top 10, featuring the best sports stories from around the web. Customize your newsletter to get articles on your favorite sports and teams. And the best part? It's free!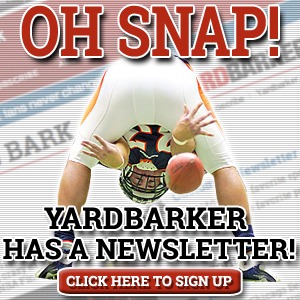 Latest Rumors
Best of Yardbarker

Today's Best Stuff

For Bloggers

Join the Yardbarker Network for more promotion, traffic, and money.

Company Info

Help

What is Yardbarker?

Yardbarker is the largest network of sports blogs and pro athlete blogs on the web. This site is the hub of the Yardbarker Network, where our editors and algorithms curate the best sports content from our network and beyond.