Found May 28, 2012 on Turn On The Jets:
PLAYERS:
Karlos Dansby
,
Rex Ryan
,
Tim Tebow
,
Peter King
,
Hakeem Nicks
,
Woody Johnson
,
Wayne Hunter
,
Brian Schottenheimer
,
Jim Leonhard
,
Josh Bush
TEAMS:
New York Jets
,
Miami Dolphins
,
New York Giants
As you all enjoy the end of your Memorial Day Weekend, we at Turn On The Jets would not only like to wish everyone well on this holiday, but more importantly would like to thank all the devoted men and women who have served, and are currently serving our great nation over seas. On days of reflection like Memorial Day, we realize how lucky we are to be able to enjoy the luxuries of sports, entertainment, and all other everyday freedoms we too often take for granted. Never forget, the United States of America is the land of the free, because of the brave. So, to all the proud veterans out there, Thank You for everything you have given us in order to enjoy all that we have.
As the long weekend finally winds down, I have just a few quick New York Jets thoughts to share before another full week of content at TOJ.
1.) On Karlos Dansby expecting the Dolphins to win the AFC East. I actually have absolutely no issue with Dansby's comments. As a competitor and a professional football player, he should always expect his team to succeed and win, otherwise what would be the point of playing the game? Rex Ryan has not been shy about what he expects from the Jets, so Dansby's attitude should be viewed no differently. There is a certain degree of respect you must have for someone to show that much confidence, not only in themselves, but in the men they compete alongside.
The issue I do have, though, is the Dolphins faithful that have been emerging arguing that they would rather have their 53 than the Jets'. Again, I respect the confidence, but as a fan, you need to be realistic. Other than OLB and Offensive Tackle, every position on Miami's roster is inferior to New York's. Miami fans should be excited about the idea of a new coaching regime and quarterback, but there comes a point when you must look in the mirror and realize you are still very far away from being a competitive team in this league.
2.) On the Jets stealing the headlines once again. Many believe that the Jets acquired Tim Tebow strictly for the publicity factor he would bring to the team. While I strongly disagree with this notion, if this was, in fact, their motivation for bringing in Tebow, it certainly worked. As pointed out by Manish Mehta of the New York Daily News, SI's Peter King reported that 77 percent of the coverage in the five New York newspapers last Friday focused on Tebow, while only 23 percent focused on the foot injury of the Giants' Hakeem Nicks.
The injury to the reigning Super Bowl MVP's top target is certainly more significant than Tebow throwing two interceptions in a May session of 7 on 7, but the Tebow headline sells more. So, if Woody Johnson and Mike Tannenbuam's sole motivation to bring in Tebow was to steal the headlines from the defending Super Bowl Champs, kudos to them.
3.) On Wayne Hunter declaring that Jets fans will see "a new Right Tackle" this season. One thing anyone can tell from listening to Wayne Hunter talk is that he is brutally honest. Hunter does not hide the fact that he was the weak link to an offensive line that struggled horribly at times last season. While he acknowledges the fact that he owes a lot to Brian Schottenheimer and Bill Callahan for the opportunity, he also makes it clear that new offensive coordinator Tony Sparano and staff are certainly a breath of fresh air. Hunter points out that, in order to succeed, he needs to get out of the "reserve" mentality and be consistent on every single play. Why he is just coming to this revelation now is beyond me, but it is certainly a step in the right direction.
4.) On Rex Ryan not ruling out a possible Jim Leonhard return. We will look at this possible scenario deeper during the week, but at the right cost, this would be a good thing for the Jets. Although New York suddenly has an abundance of Safeties, other than rookie Josh Bush, there is not a true cover safety in the bunch. No one knows the defense better than Leonhard, and he is the perfect personality to mentor the young talent on the roster. Of course, his health and cost will be the biggest issues for a possible reunion. If he can be had at a discount, it may be worth bringing him back.
Original Story:
http://turnonthejets.com/2012/05/happ...
THE BACKYARD
BEST OF MAXIM
RELATED ARTICLES
HIGH HOPES
Despite their questions at quarterback and a roster that some consider to be a rebuilding project, Miami linebacker Karlos Dansby says he fully expects the Dolphins to win the AFC.
NEW YORK – If last week's OTAs are any indication, Tim Tebow may be the best thing that has ever happened to Jets quarterback Mark Sanchez. To read this story and watch a OTAs wrap-up video on the Jets, please click the link below.
Quarterback Tim Tebow #15 of the Denver Broncos celebrates a touchdown pass to Eric Decker during the third quarter against the San Diego Chargers at INVESCO Field at Mile High on January 2, 2011 in Denver, Colorado. (Justin Edmonds/Getty Images) The Denver Broncos signed one of the greatest quarterbacks of all time as a free agent this offseason. For most teams, this would mean...
Believe it or not, it's not just ESPN that is obsessed about Tim Tebow.  The (in)famous New York media is already stepping up to the plate with TebowMania and we're still over 3 months away from the beginning of the 2012 NFL season.  Deep within Peter King's Memorial Day edition of Monday Morning Quarterback was this interesting tidbit about Tim Tebow being covered...
After taking his job as Denver Broncos quarterback, Peyton Manning now has beaten Tim Tebow to the top spot for the best-selling jersey in the NFL. The league said Tuesday that Manning's Broncos jersey and Tebow's New York Jets jersey have sold more than any other over the past two months on NFLShop.com, followed by those of rookies Robert Griffin III of the Redskins and...
Maybe we have our answer to why Tim Tebow has apparently turned down so many women eager to be with him. Olympian Lolo Jones, who has joked about the possibility of dating her fellow virgin, told Jets center Nick Mangold that she heard the quarterback has a secret girlfriend. Things started when Mangold tried playing matchmaker between the two athletes. He tweeted the following...
In the third episode of "Football Nation Today," Alex discusses the news from last week's NFL OTA camps, the NFLPA's collusion case against the NFL, and the decision to make knee-pads and thigh-pads mandatory. 1st Down: Stories from NFL OTA camps, including the seemingly indefinite quarterback controversy with the Jets between Mark Sanchez and Tim Tebow, the effect...
Photo Courtesy of John Leyba, The Denver Post As I sorted out my top Denver Broncos defensive plays it was rather easy at first, until I got to the fifth and final spot. My efforts were severely hampered by a lack of video of some of the plays I had on my short list.  I figured, heck with it, I'll just pick my favorite defensive play from last season.  The play itself was significant...
The offseason is the time of the year where 32 separate fanbases all believe the same thing. Their team can rise to the top of the NFL, and win the Lombardi Trophy. Of course, 31 of those fanbases turn out to be wrong in the end, and about 15 of them aren't living in the real world, but that's not their concern is it? The Miami Dolphins have become the poster-team for this...
Be sure to follow me on Twitter for more Broncos updates throughout the day. Denver Broncos News Broncos: How about defense? | Colorado Springs Independent His name is Joe (he doesn't ever want me to use his last name), and he's been a devoted Denver Broncos fan since the 1970s, back to the days of Randy Gradishar, Lyle Alzado and Tom Jackson, Joe's favorites from that era...
NFL News

Delivered to your inbox

You'll also receive Yardbarker's daily Top 10, featuring the best sports stories from around the web. Customize your newsletter to get articles on your favorite sports and teams. And the best part? It's free!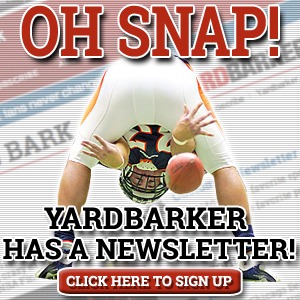 Latest Rumors
Best of Yardbarker

Today's Best Stuff

For Bloggers

Join the Yardbarker Network for more promotion, traffic, and money.

Company Info

Help

What is Yardbarker?

Yardbarker is the largest network of sports blogs and pro athlete blogs on the web. This site is the hub of the Yardbarker Network, where our editors and algorithms curate the best sports content from our network and beyond.