Found January 20, 2013 on Fox Sports:
PLAYERS:
Navorro Bowman
,
Jim Harbaugh
,
Jed York
,
John Fox
,
Peyton Manning
,
Colin Kaepernick
,
LaMichael James
,
Frank Gore
,
Vernon Davis
,
Alex Smith
TEAMS:
San Francisco 49ers
,
Denver Broncos
49ers linebacker NaVorro Bowman looked somewhat bemused as he started to watch a GIF of his coach, Jim Harbaugh, reacting to a failed fourth-quarter challenge on a reporter's phone. Until we reached the high point. Then Bowman got geeked up. It was a huge moment, the outcome very much in doubt. But the reaction was overwrought even by Harbaughian standards, the dramatic bend forward to slap the ground, his fist balled as he let out a primal scream and finally the theatric turn to unleash a torrent of words so vile I cannot even begin to imagine. "That's Harbaugh," Bowman said excitedly. "He's the head coach and, however the head coach is, that is the kind of team attitude-wise that you are going to have. That is definitely the coach we want to have." That was the coach they had to have Sunday, trailing by 17 points in the NFC Championship Game and looking awful doing so. This kind of moment requires a big set of lower guts, a lack of panic, an ability to harness fear and turn it into intensity and a group of players who have absorbed this attitude by being preached it daily. This describes Harbaugh perfectly, and he is the biggest reason San Francisco came from behind and beat Atlanta, 28-24, to advance to the Super Bowl. And as an emotional San Francisco CEO and President Jed York talked about how the 49ers are all about family, I realized Harbaugh is the crazy intense uncle who you never quite appreciate until you need that ranting, raving guy on your side in a moment of crisis. "He might not put the media first. He might not put the rest of the league first," York said. "I understand that is who he is. And I respect it. He is who he is." Is he ever not intense? Laid back? Or chill? "No, no, no," York said. "It doesn't matter what it is. He competes at everything, what water bottles are in the locker room. He's competitive at everything. He has to win everything." This type of personality is intensely difficult to deal with and wickedly dangerous to coach against, especially in a league where increasingly too many coach not to lose, coach not to be fired, coach what is safe, coach what is easily defensible. Broncos coach John Fox immediately comes to mind. I think of taking a knee with Peyton Manning and 30 seconds left against Baltimore. And then I think of Harbaugh deciding to go with rookie quarterback Colin Kaepernick. Both decisions had a risky option and a safe one. Fox went safe. Harbaugh went risky. The genius of Harbaugh was not simply that his gamble paid off. It is in his willingness to go all in, to be wrong. I said this after San Francisco beat Green Bay and it bears repeating: One of the greatest skills a coach, and really a human, can have is the willingness to really step into the arena, to dare greatly, to be willing to fail. And this, for better or for worse, is Harbaugh. From his risky decision to go with rookie quarterback Colin Kaepernick as his starter in Week 11, to unleashing a totally different game plan than what we saw work so well a week ago against Green Bay, to not abandoning the run after getting down 17-0, Harbaugh coaches very much like a guy who'd rather die on his feet than live on his knees. "The 49ers have no fear and it comes from the top to the bottom," 49ers running back LaMichael James said. "That's the way it is. That's the way we play. That is what he teaches. And that's how we feel." I say all this not to take away from the San Francisco players. Harbaugh could have all the lower guts in the world and it would not matter if the 49ers lacked talent. They have talent. They also have swagger. Kaepernick, while not as spectacular as against Green Bay, played extremely smart, mistake-free football. James and Frank Gore blew through an Atlanta defense at a loss for how to stop them. And this 49ers defense, so thoroughly dismantled in the first quarter, pulled up their big-boy pants at halftime and started making plays right until the very end when Bowman broke up the Falcons' fourth-down pass in the shadow of the end zone in the final minute. And then there was tight end Vernon Davis, mostly forgotten lately. He had been Alex Smith's guy and his touches had not been there in the Kaepernick era. It was not that they were not targeting him, he said. The plays were just not there but he was all in with Harbaugh and he believed. "Harbaugh is the guy that we'll play for, we'll ride or die with him just because of that energy he brings," Davis said. "It has an effect on the team because, if you look at this team, we are a high energy team. That is just what it is." Afterward, in his typically droll remarks, Harbaugh did say something I thought was interesting. He thanked "the players and the coaches on their resolve, on their fight," which struck me as strange because that is the one thing that would unleash GIF Harbaugh on his players if he believed his team had stopped fighting. The guy does not know how to quit. And Sunday that trickled down into a Super Bowl berth.
Original Story:
http://msn.foxsports.com/nfl/story/ji...
THE BACKYARD
BEST OF MAXIM
RELATED ARTICLES
FLIPPING HIS LID
On a third down play late in the fourth quarter, the Atlanta Falcons seemingly completed a pass to move the chains. The ball seemed to touch the ground, and it was challenged by Jim Harbaugh. The call was upheld, and Harbaugh treated us to one of the best reactions to a call in recent memory. The 49ers eventually forced the Falcons to turn the ball over on downs, and the 49ers...
The Super Bowl is upon us and regardless of the relationships at hand, this is a business and people want to win.  Siblings are no siblings professionals are competitive, and John and Jim Harbaugh are putting that competitive nature on display. According to ESPN the two brothers may not speak much at all until after the Super Bowl.  If they do speak, it will only be via text message...
Greatest NFL coincidence of all time? Ray Lewis will be playing his last game pitted against the man who he got his first career sack off–49ers coach Jim Harbaugh. 17 years ago, back when Reverend Ray was still just  in proverbial Sunday school, he got his first career sack off 33-year-old Colts Quarterback Jim Harbaugh. NFL.com dug up the almost too awesome to believe stat...
John Harbaugh, Mr. Baltimore Ravens, is getting ready to face off in Super Bowl XXVII against his brother Jim Harbaugh.  The tag of the game is Harbaugh vs. Harbaugh, but who are they kidding?  John Harbaugh can only dream of being the better man on Super Bowl Sunday.  He has never played the game at a professional level, and that type of experience goes a long way when it comes...
Just in case you were unaware, John Harbaugh and Jim Harbaugh are brothers. They are also the head coaches for the Baltimore Ravens and San Francisco 49ers, respectively. They are going to play one another on February 3, 2013 in Super Bowl 47. Until then, we are going to provide you with some stupid fact about them to keep you up-to-date.
"Football is a game of inches," is one of the oldest sayings in Football. This embodies what the NFL is about. Little to no separation. A team, player or coach may be at the top of their game but the difference between themselves and others is small. So minute that over the years, timing and luck at times have more to do with success than preparation and execution. Because at...
FOXBOROUGH, Mass. -- It is going to be a Harbaugh vs. Harbaugh Super Bowl. Hours after Jim Harbaugh directed the San Francisco 49ers into the NFL's title game, his brother John's Baltimore Ravens upset the New England Patriots with a second-half rally that produced a 28-13 win Sunday in the AFC Championship Game. The coaching brothers and their teams will square off in...
Congrats to the Baltimore Ravens and San Francisco 49ers, who both defeated higher-seeded opponents on the road to punch tickets to the Super Bowl. Here's our initial preview of the biggest matchup on the planet, which kicks off 332 hours from now. Two storylines you're going to be sick of by Wednesday: 1. Jim Harbaugh and John Harbaugh are the first brothers to hold...
With the Super Bowl quickly approaching, be on the lookout for plenty of prognostications from folks. This even includes some picks from animals. Namely, Princess, a 26-year old camel from Popcorn Park Zoo in New Jersey.The prophetic mammal has chosen the correct winner in six of the last seven Super Bowls, according to the zoo's general manager. She correctly tabbed the New...
49ers Jim Harbaugh announced that David Akers will remain the team's kicker despite missing a field goal against the Falcons. (NFLTR) Bengals Bengals may look to the draft to find a backup quarterback for next season. (NFLTR) Browns Browns CEO Joe Banner mentioned that he viewed hiring Chip Kelly as their HC as too big of a "gamble." (Sports Illustrated) Cardinals...
NFL News

Delivered to your inbox

You'll also receive Yardbarker's daily Top 10, featuring the best sports stories from around the web. Customize your newsletter to get articles on your favorite sports and teams. And the best part? It's free!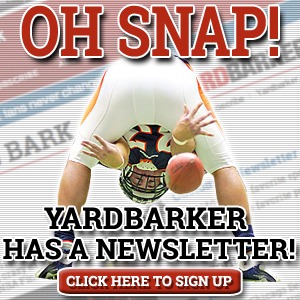 Latest Rumors
The Backyard

Today's Best Stuff

For Bloggers

Join the Yardbarker Network for more promotion, traffic, and money.

Company Info

Help

What is Yardbarker?

Yardbarker is the largest network of sports blogs and pro athlete blogs on the web. This site is the hub of the Yardbarker Network, where our editors and algorithms curate the best sports content from our network and beyond.