Found August 08, 2012 on Turn On The Jets:
PLAYERS:
Jeff Ireland
,
Chad Ochocinco
,
Rex Ryan
,
LeBron James
,
Dwyane Wade
,
Ryan Tannehill
,
David Garrard
,
Eric Steinbach
,
Braylon Edwards
,
Terrell Owens
,
Tom Brady
,
Tony Dungy
,
Reggie Bush
TEAMS:
Miami Dolphins
,
Miami Heat
,
Seattle Seahawks
,
New England Patriots
,
New York Jets
Outside of his Stock Watch and Fantasy Football columns, Mike Donnelly is throwing on the TV critic hat for us today. Here is his take on the first episode of Hard Knocks
After the first episode last night of Hard Knocks: Training Camp with the Miami Dolphins, I felt compelled to write something about it. A few snarky Tweets weren't going to be enough, especially since mine got drowned out in the massive tidal wave of snarky tweets that hit Twitter between 10 and 11pm EST from everyone else in the world. There was just too much to make fun of, between Joe Philbin being the most boring man in the entire world, Jeff Ireland being Jeff Ireland, and of course Lauren Tannehill, who has done the nearly-impossible and rendered her husband Ryan the second most overrated Tannehill in their household.
So what does all this mean? An emergency edition of Stock Watch: Hard Knocks edition! I'd attempt to drop more F-bombs than Chad Ochocinco did last night just to see if it's possible, but just the thought of our fearless leader Joe having a Joe Philbin-style boring chat with me about how that's unacceptable. By the way, where's the outrage today about Chad doing that? Everyone was ready to send Rex Ryan to the electric chair after the language he used two years ago when the Jets were on. Anyway, let's get started…
SELL: Joe Philbin – If I were a Dolphins fan I would already start scouting the 2013 draft class, or just forget about football altogether. I mean it won't be long until LeBron James, Dwyane Wade and the Miami Heat are back and I'd actually have something worth cheering for. Really, did you see Joe Philbin in "action" last night? The guy has got to be the least inspiring and dull professional sports coach I've ever seen. Can't you just picture him giving the big "fire the team up" speech before a big game this year in his boring monotone as he's twitching nervously like he was when talking to Chad Ochocinco Johnson? "Ok guys, we have a football game and we should all do our best, let's go get 'em" as everyone gets up and sullenly walks out of the locker room?
SELL: Dolphins QB Coach who looks like he's 17 years old – For the record his name is Zac Taylor and he's actually 29, just five years older than Ryan Tannehill, the 1st round pick that he's supposed to be mentoring, and five years younger than projected starter David Garrard. How did such an inexperienced coach (who was an assistant in college the past 2 years) get such a prominent NFL job? Well the answer to that would be good old fashioned nepotism, as he is now married to offensive coordinator Mike Sherman's daughter, Sarah. When I
pointed this out on Twitter and that this wasn't mentioned on the show, Mike Sherman's other daughter, Emily, somehow found my tweet on Twitter and proceeded to tell me I am pathetic, which really truly hurt my feelings in an unspeakable manner. I hope Emily is happy this year when the Dolphins quarterbacks are getting laughed off the field this year. I know I will be. Nuff Said indeed.
SELL: Eric Steinbach – When they said the Dolphins were bringing in two veterans for a workout and they showed the older, chubby, balding man standing there, I legitimately thought they were showing one of the facility janitors or low, low-level assistant coaches – you know, the kind of guy who holds the 1st down markers or something. When they said it was actually offensive lineman Eric Steinbach, my friend Dan and I who were watching the show together were absolutely blown away. He was walking with a limp in his big knee brace, appeared to have no muscles, didn't seem that big at all in general, and Boring Joe Philbin even commented that he wasn't that quick. Those all seem like important things for an offensive lineman, no? In short, Eric Steinbach was the least professional athlete-looking man I've ever seen, which makes a lot of sense since Jeff Ireland is the one who signed him.
BUY: Braylon Edwards mentioning Rex Ryan – Did anyone else get the impression Braylon Edwards would have rather been anywhere else other than in Jeff Ireland's office talking to him about joining the Dolphins? Pretty awkward scene. Braylon was one of my favorite Jets players, so I'm glad he didn't sign and ended up in Seattle to team up with Terrell Owens to form the 2007 All-Stars in the Great Northwest.
SELL: Lauren Tannehill - Mentioned this above, but it bears repeating: Over. Rated. Don't get me wrong, she's very pretty, but I just don't get why everyone is fawning over her so much. I'd like to see more of those Dolphins cheerleaders though… (let's just move on before I get myself in trouble)
SELL: Chad Ochocinco Johnson – Oof, that was painful to watch Chad. He seems like he's just a big caricature of his former self at this point. His line about taking last year off to allow others to catch up to him was cute, but the reality is far worse for Mr. 85. The fact is that Chad just isn't a good football player anymore, and that showed last year in a big way. If you can't have success with TOM BRADY I don't see it happening with David Garrard, sorry. And it sure did seem like he was trying just a little — ok, actually a lot — too hard to be "cool" with all the cursing and "outlandish" behavior. Again, I'm shocked I haven't seen major outrage this morning that Chad dropped a few F-bombs. Where is Tony Dungy? For the love of God, can we please get Tony Dungy's take on this?!?!
BUY: Chad and Reggie Bush playing Video Games together – There was just something very hilarious about this. Almost as hilarious as when Reggie Bush said he's expecting to lead the league in rushing this year. That's cute, Reg.
BUY: Boring Joe mentioning George Costanza – I loved that Philbin name dropped George Costanza and the Seinfeld episode where George makes grand entrances and goes out on a high note. I mean sure he didn't exactly go out with a "bang" and more or less just boringly slunk out the door after nearly putting his quarterback group to sleep, but it was still cool to hear a good Seinfeld reference. Unfortunately for Boring Joe, I don't think his Dolphins tenure is going to end on a high note either, and he's far more likely to slink out of another door sometime in 2013 after the Dolphins struggle toward another 4-win season.
Looking forward to episode 2!
Original Story:
http://turnonthejets.com/2012/08/buyi...
THE BACKYARD
BEST OF MAXIM
RELATED ARTICLES
DIAL 'D' FOR 'DERP!'
During the premiere episode of Hard Knocks, rookie quarterback Ryan Tannehill's cell phone number was revealed on the screen of Dolphins GM Jeff Ireland's computer.
DAVIE, Fl-Somebody has to go. It does not matter what the depth chart says at the moment, QB Matt Moore understands that even if first-round pick Ryan Tannehill is listed in the number three slot that he has zero job security. Please click the link below to read this feature.
The Miami Dolphins have changed quite a bit since 2011.  Gone are the days of the tight-lipped, anti-media ways of Bill Parcells.  Now, the Dolphins are trying to become more open and transparent with the  media and fans.  When the Dolphins agreed to take part in HBO's Hard Knocks this offseason, it showed their commitment [...]
This week was the debut of HBO's popular NFL training camp series "Hard Knocks" which this year is following the Miami Dolphins. During one of the segments, there was a close-up of Dolphins general manager Jeff Ireland's computer which showed an image from the Player Enterprise Management System of Dolphins rookie quarterback Ryan Tannehill. If you took a...
David Garrard says it's ''pretty cool'' to be listed as the starting quarterback on the Miami Dolphins' first depth chart of the season, though he knows the competition for the starting job isn't over. Last year's starter, Matt Moore, says ''I guess it's frustrating a little bit, but I'm not worried.'' Garrard was listed on...
AP Photo According to Adam Beasley of The Miami Herald, Dolphins wide receiver Legedu Naanee has been a pleasant surprise so far in training camp and is set to start this week's preseason game alongside Chad Johnson. "Naanee, the journeyman receiver who signed a one-year deal with the Dolphins in the spring, has rocketed to the top of a team's depth chart after a string of...
As we all kicked back on our couches yesterday and enjoyed the first episode of Hard Knocks it wasn't all good times and laughs as there was one major concern that came from the program.  Vontae Davis! Davis still hasn't fully found his place in the NFL yet showing flashes of brilliances and at times moments where you simply put your hands over your head. Earlier this week...
Rookie tight end Les Brown's unusual journey from college basketball player to accountant to trying to make the Dolphins roster was featured on the premiere episode of "Hard Knocks" Tuesday night. Brown also was the subject of this feature story from The Associated Press.
For those who thought the Miami Dolphins would be a boring choice for this season's Hard Knocks, those worries can be erased. You got Lauren Tannehill wearing her cute white watch and Chad Johnson telling the HBO crew that "If you pause Call of Duty for somebody (a woman), that's the f*ckin one." Oh, and Matt Moore's wife, Tara, makes her television debut. Is she in Lauren's...
With the success of the joker tight end across the NFL in the last years for teams like Green Bay (Jermichael Finley), New England (Rob Gronkowski / Aaron Hernandez), and New Orleans (Jimmy Graham), we are likely to see increased usage of these type of players across the league this season. Not many people are talking about him, but one of the next players we may see emerge in this...
Loquacious wide receiver Chad Johnson was at his best in Cincinnati when he was a boisterous, attention-grabbing Pro Bowl target known as much for his touchdown celebrations and media dealings as his talent on the field. Head coach Joe Philbin issued a direct warning to Johnson on Tuesday, when Johnson told reporters after practice, "I don't do media anymore." Johnson...
Every season RDM obsesses on the NFL team win total over/unders. It's one of the more fun bets in all of sports. A single well-placed bet turns an otherwise random team into a must see weekly event. Today we look at the 2012 Miami Dolphins. The number: 6.5 wins Chad Ochocinco's Johnson's addition to the Dolphins literally makes me want to bet the under. It's not just the...
NFL News

Delivered to your inbox

You'll also receive Yardbarker's daily Top 10, featuring the best sports stories from around the web. Customize your newsletter to get articles on your favorite sports and teams. And the best part? It's free!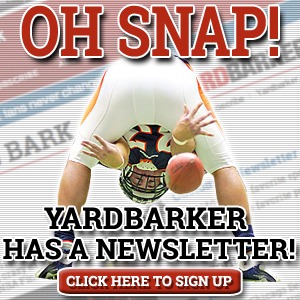 Latest Rumors
Best of Yardbarker

Today's Best Stuff

For Bloggers

Join the Yardbarker Network for more promotion, traffic, and money.

Company Info

Help

What is Yardbarker?

Yardbarker is the largest network of sports blogs and pro athlete blogs on the web. This site is the hub of the Yardbarker Network, where our editors and algorithms curate the best sports content from our network and beyond.