Found March 24, 2012 on Packer Update:
PLAYERS:
Erik Walden
,
Jarius Wynn
,
Ted Thompson
,
Anthony Hargrove
,
Charles Barkley
,
Warren Sapp
,
Brett Favre
,
Peter King
,
Mike Neal
,
Nick Mangold
,
Ryan Pickett
,
C.J. Wilson
,
Howard Green
TEAMS:
Green Bay Packers
,
Minnesota Vikings
,
New York Jets
,
Georgia Tech Yellow Jackets
Former Saint has already been suspended twice by the league Unable to sign a proven pass rusher in free agency and unwilling to rely on the likes of Erik Walden and Jarius Wynn for another season, the normally conservative Ted Thompson now appears willing to go the unconventional route in an effort to improve what was his team's Achilles' heel in 2011. What other explanation could there be for defensive lineman Anthony Hargrove's arrival in Green Bay on Friday morning? How unusual is Thompson's interest in Hargrove? It's about as unusual as Charles Barkley or Warren Sapp making a cogent point on a pregame show. The former Georgia Tech star would seem to be the last player the Packers would be interested in signing. Not only is he undersized for a 3-4 end (he weighed 282 pounds with Philly last summer), but he carries more baggage than a Boeing 787. The 28-year-old was traded from St. Louis to Buffalo after an unexcused and unexplained two-day absence in '06, and he was suspended for the first four games of the '07 season and the entire '08 season for violating the NFL's substance abuse policy. Hargrove managed to avoid controversy for the past three years, but that came to an end earlier this month when the ex-Saint was forced to release a statement to address media reports about his role in the 2010 NFC Championship game. According to the National Football League, the Saints had an organized bounty program to reward players for knocking Vikings quarterback Brett Favre out of the game. Hargrove was penalized and later fined $5,000 for a late hit on Favre. And according to a story by Peter King in Sports Illustrated, Hargrove was heard screaming "Favre is out of the game! Favre is done! Favre is done!" after the quarterback briefly left the game with an ankle injury. In the statement released on Mar. 8, Hargrove said, "I have made many mistakes in my life and have paid dearly for some of them, and the late hit and the comments were both mistakes, in my opinion. But players all over the league do the same thing every Sunday, make late hits and say stupid things. But I can say with absolute certainty that neither the late hit nor the comment have anything whatsoever to do with the issue being so hotly discussed in the media." Unexplained absences, multiple drug suspensions and a potential starring role in one of the biggest scandals in the history of the NFL. Look, I'm still not sure what coach Mike McCarthy meant by the term "Packer People" in the missionary statement he read at his introductory press conference in 2006, but I'm pretty sure Hargrove doesn't fit the criteria. So why is Thompson even remotely interested in such a player? Probably because he knows how anemic the pass rush was last season and how difficult it will be to make it significantly better in 2012. He already knows that the defense will be without Mike Neal for the first four games due to a suspension. Make any snide remark you want, but the organization still has, or at least had, high hopes for the former Purdue star. Sure the upcoming draft could help, but it's always a crapshoot picking near the end of round one. For every one Nick Mangold, there are three Ahmad Carrolls. Hargrove has only 19.5 sacks in 102 games so he's far from a dynamic pass rusher, but he has shown the ability to beat guards and provide inside pressure – at least in spurts – throughout his career. He gets off the ball quickly and flashes explosiveness at times. His problem has always been finishing plays. He tends to get lost in traffic too often and he lacks a closing burst. Still after watching Neal, Wynn, Ryan Pickett, C.J. Wilson and Howard Green "rush" last season, the thought of having a player within even five feet of the quarterback has to make Thompson smile just a little. OK, there is another possibility to explain Thompson's interest in Hargrove. The always mellow Texan will never admit it, but it's safe to assume he hates Favre with a passion. And let's be honest, who could blame him. Not only did the old pervert literally throw away Thompson's first legitimate crack at taking a team to the Super Bowl, but he spent an entire summer bad-mouthing his former boss in every medium available. So maybe Thompson got goose bumps watching Hargrove attempt to decapitate Favre in that championship game and simply wants to say thanks by signing him to a modest contract. Of course, I'm just kidding, but it almost makes as much sense as any other theory.
Original Story:
http://packerupdate.net/?p=17158
THE BACKYARD
BEST OF MAXIM
RELATED ARTICLES
ESPN Milwaukee is reporting that Anthony Hargrove is headed to Green Bay. Hargrove's Tweet: Play with Pickett when he was a Ram. Going to be great playing with him again… The 272-lb. defensive end may seem too small for the position in a 3-4, but generally if a player has success at both end and tackle in a 4-3 they can handle the end responsibilities in a 3-4. When he earned...
In his first year as Green Bay Packers General Manager (2006), Ted Thompson grabbed Charles Woodson and Ryan Pickett via free agency. Neither appeared to be a stud at the time—the Oakland Raiders thought Woodson was breaking down—but adding two starters to a team that had gone 4-12 was a step in the right direction. In the five years that followed, Thompson's free agents were...
GREEN BAY, Wis. -- Ted Thompson has suddenly become quite active in free agency. Just hours after signing center Jeff Saturday, the Packers have added defensive tackle Daniel Muir. Muir, 28, played for Green Bay as an undrafted rookie in 2007, appearing in three games and recording four tackles. Muir has spent the past four seasons with the Indianapolis Colts, where he started 26...
Jeff Saturday is without doubt my favorite Colt. His everyman story of struggling just to make in the NFL is inspiring. He's a good man, a father and clearly a man on great character. He's also been one whale of an offensive lineman and a leader to boot.  Nate Dunlevy tackles the tough question about Jeff's credentials for the Hall of Fame in his tweet bag: A: Great...
GREEN BAY, Wis. -- After 10 days of inactivity in free agency, the Green Bay Packers have agreed to sign longtime Indianapolis Colts center Jeff Saturday, according to multiple internet reports. Terms of the contract are not yet known. Saturday, a 13-year veteran after going undrafted in 1998, has played his entire career with the Colts. Nearly all of those years were spent snapping...
I can't really take credit for that headline concept (darn it!). That was more or less an ESPN line. Something to the effect that "Jeff Saturday signed Friday to play Sunday." Well done, es-pen, well done indeed.Anyway, the point of all the above is that veteran, venerable, free agent center Jeff Saturday was signed by the Green Bay Packers yesterday. He will replace...
NC State's Markus Kuhn, who was born in Germany, has the size, athletic ability and love of the game to appeal to the Packers, who needed a defensive end before Mike Neal's suspension. Kuhn, who will 26 in May, is one of the most underrated players in the draft and is a midround prospect.
Hot News for DT Anthony Hargrove
Hot News for DT Anthony Hargrove
Jeff Saturday was a great addition but he does nothing to address the long-term needs at center. Mississippi State's Quentin Saulsberry is the Packers' kind of lineman, with starts at four positions during his career.
NFL News

Delivered to your inbox

You'll also receive Yardbarker's daily Top 10, featuring the best sports stories from around the web. Customize your newsletter to get articles on your favorite sports and teams. And the best part? It's free!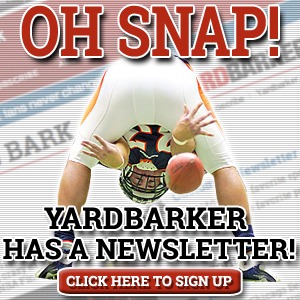 Latest Rumors
Best of Yardbarker

Today's Best Stuff

For Bloggers

Join the Yardbarker Network for more promotion, traffic, and money.

Company Info

Help

What is Yardbarker?

Yardbarker is the largest network of sports blogs and pro athlete blogs on the web. This site is the hub of the Yardbarker Network, where our editors and algorithms curate the best sports content from our network and beyond.