Found November 28, 2011 on Fox Sports North:
PLAYERS:
Percy Harvin
,
Leslie Frazier
,
Adrian Peterson
,
Toby Gerhart
,
Benny Sapp
,
Antoine Winfield
,
Cullen Loeffler
,
Tyrell Johnson
,
Michael Jenkins
,
Asher Allen
,
Husain Abdullah
TEAMS:
Minnesota Vikings
EDEN PRAIRIE, Minn. Percy Harvin, all 5-foot-11, 184-pounds of him, was trying to bull his way through defensive linemen and linebackers on a third-and-goal run at the 2-yard line. Harvin was stopped short, but kept fighting and replays showed he might have extended the ball across the goal line with 5:06 remaining in Sunday's 24-14 loss at Atlanta. There was no challenge, though Harvin told reporters after the game he thought he had scored but the image of the little guy fighting the giants inside provided a lasting image from the 2-9 Vikings loss Sunday. With the season having spiraled out of control, Harvin is still fighting for every yard. "His character, his competitiveness, his strength is such an example for everybody else," Minnesota coach Leslie Frazier said. "When our season's going in the direction that its going, for him to come out and play as hard as he's playing just makes my job and everybody else's job a lot easier." Without running back Adrian Peterson on the field the past two games, Harvin's been involved more offensively. He had 11 offensive touches a week ago against Oakland when Peterson left early, combining for 94 yards and a touchdown. On Sunday, he had a season-high 13 touches (eight catches, five rushes) for 106 yards. He hauled in a 39-yard touchdown reception on fourth-and-13 in the fourth quarter and added a 104-yard kickoff return which set up the key goal-line stance late in the game. "It just so happens when Adrian is out of the lineup, his star gets a little bit brighter because of that," Frazier said. "He's a guy who we're always trying to figure out ways in the game plan to feature." Harvin's use has been questioned at times this season, in the offense and on kick returns. Including Peterson, he's one of the two biggest weapons for an offense that has struggled throughout the season, ranking 23rd in the league in total offense. When he's gotten the chance, he's contributed in many ways. Harvin has fought through a rib injury to lead the team with 51 receptions for 554 yards. He has 33 carries for 235 yards as well and added two receiving touchdowns, one rushing score and a kickoff return for a touchdown this season. He's averaging 36.2 yards on 11 kick returns and has returns of 104 and 103 yards this season. According to the Elias Sports Bureau, Harvin's 104-yard kick return Sunday was the longest play in NFL history that didn't result in a touchdown. Harvin was dragged down at the 3-yard line.Following a timeout, Harvin went right back in for more offensive snaps, including carrying twice straight up the middle. "He has no regard for his body," running back Toby Gerhart said. "You can see that whenever he plays. He's a dynamic athlete. Small in stature but big in heart." Miscommunication led to no challenge: While the failed fourth-down attempt with Gerhart received much of the attention after the game, Frazier was questioned Monday about not challenging Harvin's third-down run when he appeared to stretch the ball across the line. Frazier said there were some communication issues which led to missing out on the challenge. "We got to review our communication based on that play alone," Frazier said. "We really got to review that going forward. Seeing the play and realizing that there was a chance to maybe get a challenge in there is something that we have to re-look at it how we're communicating between myself and the guys upstairs." The team has one person specifically assigned to watch replays and inform Frazier of specific challenge opportunities, but Frazier said there are a "couple of guys who can have my ear." Frazier said everyone involved need to improve the communication in such instances. "They talked to me about some things that occurred and some things that we've got to do a better job of communicating between myself and them if we're ever in that situation again," Frazier said. "We've just got to be a lot clearer on what we want to get communicated." Sapp says players need to "buy in": Cornerback Benny Sapp has only been with the team for two games after being signed as an injury replacement when Antoine Winfield went on injured reserve. It hasn't taken Sapp long to get a feel for what's going on with the Vikings though and he was willing to share on Monday. "It's really no issue," Sapp said. "It's just a mindset. I could be saying anything right now, but we just have to buy in. That's one thing that I feel as a team that we lack a little bit, just buying in and believing what the coaches are telling us to do and going out there and playing within ourself and within the scheme and don't have no out-of-body experiences, just play ball." Now in his second stint with the team, Sapp has been known as a player willing to open up and offer insight. He feels the team is going to be headed in the right direction soon. "People, fans might look at it like, Oh, the Minnesota Vikings suck, suck, suck,'" Sapp said. "Everybody have their down years. Everybody have their down days. Everybody have their down times. Right now it's just the Minnesota Vikings' down time. As an organization we just need to stick together and work through it. Everybody's goes through problems in life. You don't just fall down and stay down. This team, we're going to get up. Trust me, we're going to get up. We have to." Injuries continue to mount: Injuries are making it harder to get back up. Long snapper Cullen Loeffler has a sacrum fracture in his lower back and will be out between two to six weeks. Frazier said the team will look to sign a fill-in while Loeffler is out. Loeffler was injured while running downfield to cover a punt in the second quarter Sunday. Loeffler was blindsided by a Falcons player and landed awkwardly. "At the time I didn't think it was," Loeffler said when asked if he thought the hit was illegal. "Any time a punt return is setting up like that, it seemed to be a legal hit. Was it that close to the returner, I don't think that it was, but its part of the game and that's what happens on returns like that, unfortunately. You're vulnerable. Everyone is." Safety Tyrell Johnson was diagnosed with a "significant" hamstring injury which will keep him out "for a while", according to Frazier. Frazier said receiver Michael Jenkins has a knee injury that could cause him to miss time as well. Cornerback Asher Allen has a sprained AC joint in his shoulder and Frazier said he will be considered day-to-day based on what Allen can tolerate. Meanwhile safety Husain Abdullah is still recovering from a concussion and Frazier said Peterson is progressing with his high ankle sprain. Both will be re-evaluated later in the week.
Original Story:
http://www.foxsportsnorth.com/11/28/1...
THE BACKYARD
BEST OF MAXIM
RELATED ARTICLES
Earlier this season, the Minnesota Vikings were the first-half team -- ending games in frustrating fashion as four straight opponents had second-half comebacks to beat Minnesota. The Vikings tried to flip the circumstances Sunday at Atlanta. Only this time it was another disappointing finish in a 24-14 road loss. Minnesota is 2-9 this season and has to fight the urge to tack on...
Q: How does a football player run for 104 yards but still not get a touchdown? A: Like this. Percy Harvin returned a kickoff 104 yards, but his well-known speed was not enough to get him in the end zone. To make it worse, the Vikings could not capitalize on that near perfect field position. Christian Ponder was sacked, and then Harvin and Toby Gerhart could not get in the end zone...
The Vikings had a chance to score a TD and get back in the game in the fourth after a long Percy Harvin kickoff return but in the end they failed to punch the ball in from 3 yards out and gave possession back to the Falcons. During that ill-fated series Bill Musgrave called a bootleg for Christian Ponder that ended up in a sack, then two runs for Percy Harvin that both apparently...
Falcons 24, Vikings 14. With AP Photos. By PAUL NEWBERRY AP Sports Writer Percy Harvin was streaking down the sideline on one of the NFL's longest kickoff returns, just a few yards from a touchdown. Chris Owens never gave up. His hustle may have saved Atlanta's season. Owens made a diving tackle on Harvin's 104-yard kickoff return, knocking him down at the 3, and the...
Percy Harvin set an NFL record and also extended a Vikings record, and Christian Ponder is inching closer to Fran Tarkenton's rookie records.
The Atlanta Falcons cheerleaders kick up their heels performing during a time out in 1st half action against the Vikings. Curtis Compton / ccompton@ajc.com For the second consecutive outing, the Falcons built a nice lead only to nearly let it slip away. Instead of routing the Minnesota Vikings, they settled for a 24-14 victory Sunday at the Georgia Dome. Cornerback Christopher Owens...
Just a nice, solid, loss: Yes, PERFECT, you guys, that's EXACTLY how it's done. You let the opposing team shut you out going into half time. Great work, totally a Vikings move. Then you let them get a nice, totally impossible to overcome, 17 point lead on you with your best player not in the game. AMAZING! There is no way you are scoring more than 17 points, so game lost...
Down 17-0 at the half and presumed to be dead, the Vikings found a way to make their game in Atlanta interesting. A 14-play drive capped by a Toby Gerhart touchdown run gave the Vikings seven points, and a simple "go" route from the slot by Percy Harvin after a Falcons punt sliced the margin…
Vikings News

Delivered to your inbox

You'll also receive Yardbarker's daily Top 10, featuring the best sports stories from around the web. Customize your newsletter to get articles on your favorite sports and teams. And the best part? It's free!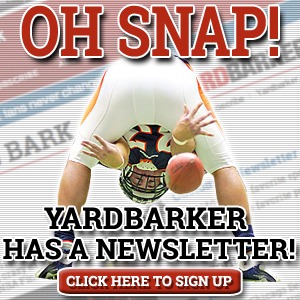 Latest Rumors
The Backyard

Today's Best Stuff

For Bloggers

Join the Yardbarker Network for more promotion, traffic, and money.

Company Info

Help

What is Yardbarker?

Yardbarker is the largest network of sports blogs and pro athlete blogs on the web. This site is the hub of the Yardbarker Network, where our editors and algorithms curate the best sports content from our network and beyond.