Found April 08, 2012 on Grits Blitz:
PLAYERS:
Michael Turner
,
Jacquizz Rodgers
,
Jason Snelling
,
Roddy White
,
Tony Gonzalez
,
Dirk Koetter
,
John Abraham
,
Brent Grimes
,
Sean Weatherspoon
,
Julio Jones
,
William Moore
,
Thomas DeCoud
,
Harry Douglas
,
Joe Hawley
,
Lawrence Sidbury
,
Dominique Franks
TEAMS:
Atlanta Falcons
I was browsing google "news" for the Atlanta Falcons and came across an interesting article from a website called ThePigskinReport.com. The author basically states that he feels that the Falcons might be at their peak. His reasons for the feeling? The major players got one year older (Roddy, Turner and Gonzo), Matty Ice threw for more yards but also increased his turnovers and the Falcons have been relatively silent in Free Agency. He goes on to state that "perhaps" Mike Smith should be on the hot seat. Worried about the "hot seat"? Let's deal with the whole "hot seat" issue now. Anybody who has been an Atlanta Falcons fan for more than two years understands that Smith is not on the "hot seat". The Falcons hadn't even had a winning record in back-to-back seasons before Smith arrived on the scene. Now the Falcons are a consistent playoff team and have four consecutive winning seasons under their belt. Much like any coach in the NFL, if the bottom drops out then yes he might be fired but barring a complete collapse Mike Smith is nowhere near a hot seat and any talk of such is ridiculous. Now let's talk about the age of the trio of players in question. Michael Turner's getting older is a huge question mark that we've debated on our very site. The Falcons have talked about cutting back on Turner's load this year and giving more work to Jacquizz Rodgers and Jason Snelling, both of which are more than competent. The running back position is a concern, especially in short yardage, but I don't feel that it's a huge concern or a weakness (except in short yardage). Any concern about Roddy White being one year older and that affecting him on the field are completely unfounded. If you look at Roddy White's statistics over the last five years he is a model of consistency. I have absolutely zero concerns with Roddy getting older. Gonzo is also one year older and while that's a concern, he keeps himself in peak physical condition and honestly he's a freak. Again, if you look at the stats there was no drop off last year. Compare Gonzo's stats now to when he was in Kansas City and they compare very favorably except for the four years that Gonzalez balled out of his mind (and those were spread out throughout his career there). I have no fear that the Tony Gonzalez that we got this year is just as good as the one we had last year. In terms of Matty Ice, I really can't look at last year without looking at the failure of the offensive line and that is still a true concern going into this season. Dirk Koetter will bring a new offense but can the OL that we have block sufficiently for it. I'm not concerned about Matty Ice but I am concerned about the trust level he will have with the OL. And that's an issue. The last point is one that has the most relevance to the topic at hand. The Falcons have been relatively silent in free agency. Yes, we re-signed John Abraham (which was huge), we franchised Brent Grimes, re-signed DeCoud and McClure. Basically, we've stayed status quo so far except for bidding Curtis Lofton adieu. From a talent level, the Falcons are not going to be better than they were last year. They are going to be about the same. I don't agree with the majority of the author's supporting points as to why he feels the Falcons "might have peaked" but I do think that the question is fair and legitimate and he does raise some red flags. Ultimately, whether or not the Falcons have peaked will come down to how the new coordinators work out and the development of some of our key young talent this season. Can guys like Sean Weatherspoon, Julio Jones and William Moore can take that next step from talented to superstar? Can guys like Thomas DeCoud, Harry Douglas and Jacquizz Rodgers take that step from contributor to dependable? Can guys like Joe Hawley, Lawrence Sidbury and Dominique Franks make a difference on the field this year? Those are a lot of question marks but those guys (along with the new coaching staff) will go along way to letting us know if the current regime has in fact peaked. [follow]
Original Story:
http://gritsblitz.com/2012-articles/a...
THE BACKYARD
BEST OF MAXIM
RELATED ARTICLES
At the NFL meeting, Falcons coach Mike Smith reiterated his position that he made at the NFL Scouting Combine about the team being committed to Sam Baker as the left tackle. The offensive line was hurt significantly by back and elbow injuries to Baker last season. Smith believes the unit will be stronger if Baker, who had back surgery during the season, can return healthy. Will...
Hear Falcons DT Corey Peters LIVE on "The Sports Craze" Atlanta Falcons defensive Tackle Corey Peters will be joining me on my BlogTalkRadio show, "The Sports Craze".  We'll be talking to Corey about the NFL documentary film "Late Rounders" which he is featured in. Late Rounders follows graduating college football players as they attempt to...
Earlier today, ESPN's Pat Yasinskas put out an article regarding an interview he had with Arthur Blank.   His suit jacket cost more than your house. Blank answers some questions about why Atlanta has not been active in free agency, and Yasinskas reads into his comments.  Hardly sounds too interesting, but there are gems from Yasinskas, such as: I get the sense that the...
Going to a "small school" might hinder your first big NFL paycheck, but it doesn't mean you can't ball. From Falcons running back Michael Turner (Northern Illinois) to perennial Pro Bowl defensive end DeMarcus Ware (Troy),  many big names come out of these small schools and have impacts that will forever be remembered in the NFL.   The next potential small school, big...
The Atlanta Falcons have made few moves this free agency period and after surrendering so many draft choices last year in order to select WR Julio Jones in the draft, free agency was going to be the sole fashion of adding additional needed pieces this offseason. However, Atlanta has been fairly lax in the free agent market this season and fans have to be wondering what...
I might be the only Atlanta Falcons fan on earth that still has somewhat of a soft spot for Bobby Petrino. Yes, I think his cowardly ditch of the Falcons when Michael Vick was carted off to face dogfighting charges was epically wrong. But Petrino entertains me with his slick (slimy?) ways–even his press conferences can be things to remember. You know, the kinda things that get...
Falcons News

Delivered to your inbox

You'll also receive Yardbarker's daily Top 10, featuring the best sports stories from around the web. Customize your newsletter to get articles on your favorite sports and teams. And the best part? It's free!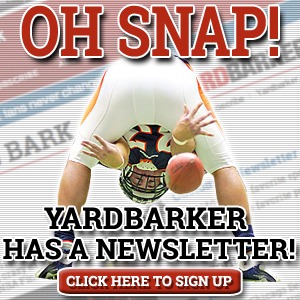 Latest Rumors
Best of Yardbarker

Today's Best Stuff

For Bloggers

Join the Yardbarker Network for more promotion, traffic, and money.

Company Info

Help

What is Yardbarker?

Yardbarker is the largest network of sports blogs and pro athlete blogs on the web. This site is the hub of the Yardbarker Network, where our editors and algorithms curate the best sports content from our network and beyond.