Found November 12, 2012 on Fox Sports Southwest:
BEREA, Ohio (AP) -- Browns president Mike Holmgren is on his way out. He just hasn't decided where he's going or what he wants to do. Hoping to squelch a weekend report that he would be interested in coaching the Dallas Cowboys if Jason Garrett gets fired, Holmgren, who may leave the Browns before this season ends, went out of his way Monday to make it known he isn't angling for any job. Holmgren made an unscheduled appearance in the media room at Browns headquarters to deny he is pursuing a future with the Cowboys. During a farewell news conference on Oct. 23, Holmgren had opened the possibility of a return to coaching. "I haven't booked my tickets to Dallas," joked Holmgren, who spent Cleveland's bye week with his wife, Kathy, in Arizona. "I haven't talked to a single soul. That's the first thing. The second thing is I honestly don't know what the future holds or what I want to do. Honestly. Believe me on that. Thirdly, I've always been, quite honestly, bothered by the speculation during the season when coaches are trying to work and they're fighting like crazy for their jobs, and I would never do that. "I would never do that to anybody. I have tremendous respect for obviously Jason Garrett." Adding intrigue is that the Browns (2-7) visit the Cowboys (4-5) this week. On Sunday, Jason LaCanfora of CBSSports.com reported that Holmgren has "serious interest" in the Dallas' job if it opened because of a competitive roster, skill players and his relationship with Cowboys owner Jerry Jones. The two served together on the NFL's competition committee. The 64-year-old Holmgren said while he and Jones have remained good friends, he hasn't expressed any interest in them working together again. "I just wouldn't do that," he said. "So help me with that, please. I'm telling you the way it is. I have no idea how any of that stuff gets started, but I'm telling you the straight scoop on that, OK?" Holmgren said he has not spoken to his agent, Bob LaMonte, in a month and that he doesn't know where the report started. "I don't know anything about it, I'm just telling you what I'm saying," he said. "I'm telling you and you got it straight from the horse's mouth." Holmgren hopes to remain with the Browns until the end of this season in an advisory role. He was not offered a position under new Browns owner Jimmy Haslam, who brought in former Philadelphia President Joe Banner as the club's CEO. "As long as I feel I can contribute a little bit and helping some of the players and helping the coaches a little bit, Joe (Banner) and I have talked," Holmgren said. "As long as I'm feeling good about a contribution I'll stay, but if I'm not helping that could change, but right now the plan is to be here through the end of the season." Holmgren doesn't think the report on any link to the Cowboys will distract the Browns from preparing for this week's game. "I cannot imagine that," he said. "Why I came down here is that it's everything I don't believe in on a story like that. I wouldn't do that. And I didn't do it. That's why." Browns cornerback Joe Haden laughed when he was asked if Holmgren's situation would sidetrack him and his teammates. "There's nothing that can distract us," Haden said. "We've been through it all." Holmgren intends to attend Sunday's game at Cowboy Stadium -- but not for an interview. "Yeah, and I hope to say hello to Jerry (Jones) and those guys," he said.
Original Story:
http://www.foxsportssouthwest.com/11/...
THE BACKYARD
BEST OF MAXIM
RELATED ARTICLES
Says Deadspin's Barry Petchetsky on Holmgren, the recent Cowboys rumor and Bob LaMonte's black magic on behalf of clients Holmgren and Andy Reid: "If one of your clients wants plausible deniability, don't plant two identical rumors about multiple clients with the same reporter at the same time." Read the whole thing and heaven forbid as always that anyone at the Plain Dealer...
Leave it to 'the Walrus' to backpedal. Mike Holmgren denied today that he was interested in coaching the Dallas Cowboys. "I don't know how any of that stuff gets started," Holmgren said. "The last time I talked to anybody about my future was in this (Browns) room. I honestly don't know what I want to do." Holmgren insists that he is still committed to the Cleveland...
PHILADELPHIA The best explanation for why Jerry Jones would attempt to sidestep last weekend's rumors about Sean Payton as a future Cowboys coach but then this weekend talk fairly openly about rumors about Mike Holmgren as a future Cowboys coach has nothing to do with Payton, with Holmgren, or with sitting Dallas coach Jason Garrett. It has everything to do with Jerry being...
Letting the negative public relations last all of of one morning, Cleveland Browns retiring president Mike Holmgren says that he is upset at hearing his name being linked to "having interest" in a potential coaching job with the Dallas Cowboys. "I don't know how any of that stuff gets started," said Holmgren, on Monday morning, in regard to a recent report by Jason LaCanfora...
A change of ownership in the Cleveland Browns front office has left one experienced former head coach without a job when thw 2012 regular season concludes. Mike Holmgren, who has occupied an office in the Browns front office for the last few years will be a free agent at the conclusion of this season. Rumors have already surfaced about the possibility that Holmgren might join the...
Outgoing Cleveland Browns team president Mike Holmgren denied a report that he has already shown interest in potentially coaching the Dallas Cowboys. "I don't know how any of that stuff gets started," Holmgren told reporters at the Browns' headquarters Monday, according to Mary Kay Cabot of the Cleveland Plain-Dealer. CBS Sports' Jason La Canfora reported...
Outgoing Browns President Mike Holmgren still hasn't decided if he wants to coach again.
Jason La Canfora of CBS Sports reported on Sunday that Mike Holmgren would be interested in taking over as the Cowboys head coach, should the job become available. Holmgren reportedly likes their roster and the fact that he does have ties to owner Jerry Jones suggests that it's at least a remote possibility. "Of course, Mike Holmgren is a heck of a coach," said Jerry Jones...
"I hear the weather's nice in Dallas." The Cowboys got a crucial win over the Eagles yesterday by riding defensive and special teams touchdowns to victory…and by knocking Michael Vick out of commission and then harassing rookie QB Nick Foles just enough. Oh, and by Tony Romo not throwing a single INT. So, let's celebrate the big win by throwing fuel on the newest rumor...
With Mike Holmgren on his way out as Cleveland Browns president, speculation has shifted to where the former Super Bowl champion coach will land next. One of those spots could be the Dallas Cowboys, should coach Jason Garrett be fired after the season. Holmgren has known owner Jerry Jones for many years. Holmgren attempted to quiet that talk Monday, telling the Cleveland media...
The Dallas Cowboys can finally talk about the NFC East race, now that they are back in it. A week ago, the Cowboys lost to Atlanta and speculation centered on whether Sean Payton might replace coach Jason Garrett. On Sunday, there was a report that Mike Holmgren might be interested if Garrett was out. Garrett spent all week deflecting the Payton questions, and owner Jerry Jones...
Everybody hates Mondays, hopefully these links and images brighten up your day. NFL "Grungy" iPhone Wallpapers Stat of the Day:  Russell Wilson is now undefeated at home and hasn't thrown an INT in 111 attempts at Century Link. He was a 3rd round pick, best Seahawks pick-up in years. Report: Mike Holmgren wants to coach Dallas Cowboys -NFL.com 49ers and Rams players fail...
NFL News

Delivered to your inbox

You'll also receive Yardbarker's daily Top 10, featuring the best sports stories from around the web. Customize your newsletter to get articles on your favorite sports and teams. And the best part? It's free!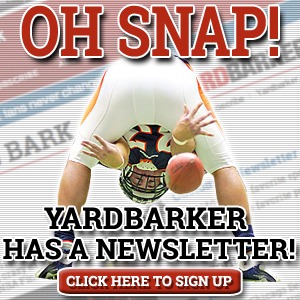 Latest Rumors
The Backyard

Today's Best Stuff

For Bloggers

Join the Yardbarker Network for more promotion, traffic, and money.

Company Info

Help

What is Yardbarker?

Yardbarker is the largest network of sports blogs and pro athlete blogs on the web. This site is the hub of the Yardbarker Network, where our editors and algorithms curate the best sports content from our network and beyond.