Found February 03, 2013 on isportsweb.com:
The Super Bowl is upon us, and like me many Texans fans believed at the start of the season that our Houston Texans had a great chance at being here in this game. Now that they're not and we are on the outside looking in, it's a good time to look at what we have to look forward too next season. DE JJ Watt was elected the NFL Defensive Player of the Year yesterday, the first time a Texans player has won the award and hopefully it won't be the last. Even with the DPOY award being given to a Texan, and the Texans setting the franchise record in wins yet again in consecutive years there are still things that could push us to that next level. There are some things that are looking forward to next season, and even during the off season before the season starts. In my opinion these 5 things are key to the Texans making the next step to making them next years Super Bowl champs, or at least get them to the game. Texans ILB Brian Cushing is the heart and soul of their defense and his return will be welcomed by all on this team. 1. The Return of Brian Cushing- The Texans lost their defensive captain and emotional leader to a ACL injury in a Monday nighrt game against the New York Jets. Through weeks 1-4 before Cushing got hurt the Texans ranked 1st in yards and points per game, after week 4 the Texans ranks fell to 13th and 18th. Many argue that the teams the Texans played were the Dolphins, Titans, and Jags but playing both the Titans and Jags without Cushing later in the season seemed to be a much harder task. Cushing brings an intensity that really couldn't be matched by any of his teammates. It's easy to say if Cushing played all season long the Texans would've at least had 1 more win to add to their total. Even his teammates know that Cushing is a asset that coouldn't be replaced. "He was always the heart and soul of the defense. We went as Cush went." CB Johnathan Joseph on Brian Cushing. With Cushing getting back to full strength and back on the field the Texans defense will be a much better unit. His drive and hunger on the field was missed after his injury, and will be at an all time high when this next season starts back up for the Texans. The Texans were able to get impact free agents like Bradie James, and expect more after the continued success from this season. 2. Better Players for less- After just their 2nd winning season in franchise history and 1st playoff birth the Texans got to enjoy 1 of the spoils that come with being a good team, getting quality free agents for less. They were able to sign ILB Bradie James towards the end of free agency, a move that became huge after Brian Cushing went down early in the season. James took over play calling and was able coordinate this defense on the field relatively successfully. Other signings included players that weren't starters for their prior teams but were valuable because of the knowledge they had of Texans defensive coordinator Wade Phillips. Players like ILB Tim Dobbins and Alan Ball who both played a good amount of snaps and made plays this year. Another big signing was veteran RB Justin Forsett who left the Seahawks as a 2nd RB to come play 3rd fiddle to to Arian Foster and Ben Tate. When Tate went down to injury Forsett didn't hesitate to show he was worth signinig. Forsett averaged 5.9 yards per carry in 2012, that's big for a guy in most situations wouldn't even expect to play. Look for the Texans to get more of the same type of quality players for less than many other teams would have had to pay. Be on the look out for the Texans to target more players familiar with their scheme's on both sides of the ball. Whether it's the zone run/passing game or Wade Phillips style of 3-4 defense. Bradie James will be a free agent after signing only a 1 year contract last year as well as Tim Dobbins, but both should be back in my opinion. Former Chargers LB Shaun Phillips is a free agent and was drafted by Wade Phillips. With Connor Barwin still not signed the Texans could be looking to fill a spot and still have the depth they had this season at OLB by targeting a player like Shaun Phillips. Another player to be on the look out for, Quentin Jammer. Another Wade Phillips drafted player, he went to The University Texas and is a Texas native. Having him at the nickel corner would help out bunches for the Texans. Texans rookie OLB Whitney Mercilus led the nation in sacks and fell to #27 before the Texans took him in the draft last year, this is why the draft always means a lot. 3. 2013 Texans Draft- In the last 5 years the Texans have had some great drafts getting players like JJ Watt, Whitney Mercilus, and Brooks Reed. Watt was drafted at #11 in the 2011 draft and won the Defensive Player of The Year award following a season with over 15 sacks and 15 passes defensed from the DE position in a 3-4. Reed set the rookie record for sacks in a season during the 2011 season playing in place of the injured Mario Williams. That record would be topped the following year by the Texans 1st round #27 pick Whitney Mercilus, so needless to say the Texans have had some good drafts in the last few years. Even with all the players I just mentioned there are still more that made plays this season from a crop of young players we have been getting year after year. This year shouldn't be any different with Texans GM Rick Smith heading yet another draft. Smith knows what his coaches want out of certain players, Smith's job is making sure he gets the players that do what his coaches have asked for. A great example is CB Brandon Harris, who the Texans traded up to get in the same draft as Watt and Reed. Harris came in this season and made great plays. He's physical at the line of scrimmage and has gotten better at everything since seeing an increase in his number of reps on the field. Year in and year out the Texans have had good drafts, that's always something to look forward to for fans. Johnson finished the season with 112 catches and 1,598 yards receiving. So much for getting old and being injury prone. He should have an even better 2013 after getting through this season injury free. 4. Andre Still In His Prime- As the season began many were skeptic about Texans veteran WR Andre Johnson. After only playing in 7 games during the 2011 season people thought he may have been starting his downhill slide from atop the elite class of WR in the league. Johnson did start the year slow due to some lingering issues with his hamstring from last season but finished with his most productive season in the league. The craziest part about his stats is that he's on a team with a player that rushed for over 1,400 yards. Meaning the Texans are far from a pass happy team, like the Lions or Packers. And ironically enough the only person to have more yards this year was Calvin Johnson of the Lions, his team's highest rusher had 798 yards. The pick your poison type of offense the Texans have really helped Johnson out this season. After 10 years in the NFL Johnson now has 818 receptions ranking him 22nd of all time and 11,254 receiving yards which ranks him at 27th all time. Johnson isn't just the best WR in Texans history he's one of the best in the history of this league and is showing it. If Johnson is still playing at this level come the start of the 2013 season the Texans will be back knocking on the door of the Super Bowl. Both Gary Kubiak and Wade Phillips have depth and youth to play around with next season. This should help the Texans tons down the stretch. 5. The Maturation of Texans Youth- When the Houston Texans offense is mentioned in football conversations around the globe right now there are 2 things I know are being discussed. Matt Schaub not being the QB needed to take the team to a Super Bowl,  and whether or not Kubiak should still be our coach. 1 thing I know isn't being discussed and should be is how young and talented the Texans have gotten over the last 3 years. HC Gary Kubiak has added many great players to an offense that was already extremely good at what they do. Additions like Ben Jones, Derek Newton, Garrett Graham, Devier Posey, and Keyshawn Martin. These are all players the Texans have drafted or signed straight out of college after not being drafted in the last 2 years. Everyone of these players played significant roles on this team this year, and will continue to do so for at least the next couple of years. Ben Jones was a converted C from college that was a RG for the Texans, he started more than 1 game for them this year, Newton was drafted last the season before and got the starting job at RT after beating out veteran Antione Caldwell, TE Garrett Graham went to Wisconsin along with JJ Watt as did veteran TE Owen Daniels. No surprise that Graham has learned a lot from Daniels and has become a big weapon because the Texans like running a lot of 2 TE sets running and passing the ball. Devier Posey was drafted in the 3rd round and missed every game his senior year due to punishment by the NCAA. As soon as Posey got a chance to play he did very well, in the playoffs against the Patriots Posey caught his 1st career TD in the playoffs. Shortly after he got hurt and had to leave the game. When he returns in 2013 he'll be a great compliment to Andre Johnson and Kevin Walter. The youth doesn't stop with the offense though, the Texans defense is also very talented and full of young talent. Players like Whitney Mercilus, Jared Crick, Brandon Harris, and Earl Mitchell make up the under belly of what people call Wade Phillips Bulls On Parade. Mercilus had 6 sacks this season as a rookie in limited snaps and showed he has a lot of upside. DT Earl Mitchell has learned from JJ Watt that putting your hands to use at the line of scrimmage can make a big difference in disrupting the QB. Mitchell was drafted a year before Wade Phillips joined the Texans as DC but showed he can play DT in a 3-4 scheme. With the play of Shaun Cody lacking in the running game I'd expect to see more of Mitchell this year as we did in the playoffs to end the 2012 season. Jared Crick was a 1st round pick, maybe even a top 10 pick before hurting himself his Senior year at Nebraska. Crick recorded 9.5 sacks as a sophomore and junior from the DT spot in a 4-3. Now backing up JJ Watt Crick hopes to play on the other side of Watt here in the near future and terrorize QB's along with him.
Original Story:
http://feedproxy.google.com/~r/isport...
THE BACKYARD
BEST OF MAXIM
RELATED ARTICLES
The off-season is officially underway with the Super Bowl in the books and the 2013 NFL season starting before we know it.  We decided to look at the Houston Texans and what their current roster looks like, including the players under contract and current free agents. An early look at the Texans' roster leads us to believe that there is plenty of work to be put into the 2013 training camp...
New Orleans, LA (Sports Network) - Houston Texans defensive end J.J. Watt has been honored as the NFL's Defensive Player of the Year Saturday, as voted by the Associated Press.Watt is the first Texans player to get a league-wide honor. Additionally, he's the first defensive lineman to capture the award since Miami's Jason Taylor won it in 2006.Watt led the NFL with 20...
NEW ORLEANS (AP) -- Second-year Houston Texans end J.J. Watt, a former Wisconsin Badger, has won The Associated Press 2012 NFL Defensive Player of the Year award, missing a perfect ballot by one vote. The NFL's sacks leader with 20 12 and a pass-blocking fiend, Watt earned 49 votes from a nationwide panel of 50 media members who regularly cover the league. Denver linebacker...
Texans defensive end J.J. Watt was honored as the NFL's Defensive Player of the Year on Saturday.Fantasy Spin:This one was a no-brainer. Watt led the league with 20.5 sacks while also recording 81 tackles and four forced fumbles. His combination of size, speed and anticipation make him a nightmare for opposing QBs. Don't be surprised if Watt wins this award again next season.
Our longtime photographer friend in Houston, Scott B., sent word today that he threw a blowout Super Bowl party. It's no secret that Scott appreciates cheerleaders. He has sent us thousands of photos over the last c0uple years. It's no secret that he appreciates the Houston Texans cheerleaders. So Scott hired two Texans cheerleaders to work his Super Bowl party. That's Mackenzie...
Looks like someone jumped the gun in their report that Arian Foster will 'likely' undergo a heart procedure to fix an irregular heart beat that existed since he was a child. That person, Alex Flanagan of the NFL Network, reported the news on Thursday, and everyone ran with it, including us. "Thank you for all the concern," Foster, flanked by GM Rick Smith, said during...
Houston Texans running back Arian Foster told ESPN's Colin Cowherd of The Herd that he's seen and been around guys that juice. "I've seen and been around guys who juice," Foster said in a recent radio interview with ESPN's Colin Cowherd. It's important to note that Foster did not say when, if it was while in high school or college at the University of Tennessee or in...
Even though the Super Bowl is over and the off-season is set to start, we all know there is no off-season in pro football. Texans running back Arian Foster is much respected for his character and his honesty. According to Nick Mathews of the Houston Chronicle, Foster was super honest recently on ESPN's Colin Cowherd show, and it will be interesting to see the drama that comes from...
Minnesota Vikings running backs Adrian Peterson was not only named the NFL's Most Valuable Player for 2012, but he also won the AP Offensive Player of the Year award.  He rushed for over 2,000 yards and 12 touchdowns. Houston Texans defensive end J.J. Watt was named the AP Defensive Player of the Year. Watt racked up 81 tackles, 20.5 sacks and 4 forced fumbles.   Need NFL Tickets...
The battle for NFL Most Valuable Player was expected to be a tight race, as Adrian Peterson and Peyton Manning both made strong cases for their candidacy. But in the end, it was the Vikings tailback who ran away with it, taking home both MVP and Offensive Player of the Year honors from the Associated Press. Peterson not only recorded one of the most statistically impressive seasons...
Texans News

Delivered to your inbox

You'll also receive Yardbarker's daily Top 10, featuring the best sports stories from around the web. Customize your newsletter to get articles on your favorite sports and teams. And the best part? It's free!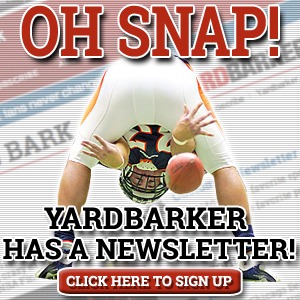 Latest Rumors
Best of Yardbarker

Today's Best Stuff

For Bloggers

Join the Yardbarker Network for more promotion, traffic, and money.

Company Info

Help

What is Yardbarker?

Yardbarker is the largest network of sports blogs and pro athlete blogs on the web. This site is the hub of the Yardbarker Network, where our editors and algorithms curate the best sports content from our network and beyond.