Found March 22, 2012 on Detroit Sports 360:
PLAYERS:
Calvin Johnson
,
LeBron James
,
Albert Pujols
,
Walter Payton
,
Emmitt Smith
,
Jim Brown
,
Barry Sanders
,
Scott Mitchell
,
Charlie Batch
,
Matthew Stafford
,
Leonard Thompson
,
Allen Iverson
,
Stephen Tulloch
,
Cliff Avril
,
Larry Hughes
,
Antawn Jamison
TEAMS:
Detroit Lions
,
Miami Heat
,
Cleveland Cavaliers
,
Los Angeles Angels
,
Pittsburgh Steelers
,
St. Louis Cardinals
,
Rice Owls
Calvin Johnson
Superstars don't come around too often, especially for the Detroit Lions.  But when they do, they have the power to make or break your franchise with a single decision:  should I stay or should I go?
We saw what the LeBron James decision has done to both the Cleveland Cavaliers and Miami Heat, and we're soon to see what Albert Pujols's departure will do for the St. Louis Cardinals and Los Angeles Angels….but thanks to the fact that the Detroit Lions have one of the most humble superstars throughout the four major sports in Calvin Johnson, we're not going to have to fear the same repercussions as Cavaliers and Cardinals fans.
So, I'm about to navigate through some pretty testy waters, here.  Any of you with framed #20 jerseys or autographed portraits of one of the greatest running backs the NFL has ever seen may need a second or two to digest.  Bring out the pitchforks, torches, flamethrowers, what-have-you, but I'm just going to come out and say it:  If the Lions' season-to-season growth continues and injuries subside, Calvin Johnson will be the greatest Lion of all time.
We'll talk about Barry for a hot second real quick, both because it's necessary for my case and because it's just outright fun to look at some simply stunning career accomplishments.  Barry topped 1,000 yards in each of his ten seasons in the NFL, led the league in rushing 4 times, and became the third player of all time to rush for over 2,000 yards in a single season (O.J. and Dickerson preceding him).  Upon retiring, Sanders stood in 2nd place all-time in rushing yards, just 150 shy of the great Walter Payton, before Emmitt Smith eventually passed both hall-of-famers.  But while Payton and Smith took 3,838 and 4,409 carries respectively to top out the career list, Barry only received 3,062 handoffs. His career 5.0 yards per carry (probably the most telling stat from a running back standpoint) is the highest of any running back in the top 25 career rushers besides the 5.2 per carry of Jim Brown – who played one less season than Barry.  Payton's 4.4 and Smith's 4.2 are stellar career numbers, but a significant notch below Barry's.  With a career 5.0 yards per carry, we're talking about a guy who averages half a first down every time he was handed the ball throughout his career. Absolutely remarkable.
Barry Sanders
Now let's look at the playoff numbers.  It's no secret that Barry's legacy was greatly tarnished by the inability of the Lions to surround him with the proper support, but you can't ignore the lack of playoff accomplishments: a career 1-5 record, only 2 touchdowns (both in the opening round victory in '91 against the Cowboys), and only 1 game over 100 yards rushing – then a second, over 100 yards combined rushing and receiving.  We can go on and on about Scott Mitchell and Charlie Batch and the whole plague of the Lions franchise, but the fact of the matter is that we never made it anywhere with Barry.
On the other hand, if you look at Calvin's five-year tenure in the NFL so far, you'll see the potential for one of the most storied careers in recent memory…possibly ever.  Entering into one of the most laughed-at franchises in all four sports, Johnson quickly became part of the kind of historical achievement you don't want to be remembered for.  In his second season – and forgive me because I hate to refresh your memory, but it's key to the trajectory of Calvin's career – the Lions became the first NFL franchise to go win-less in 16 games.  Things didn't get much better after that.  The Lions took Georgia Quarterback Matthew Stafford first overall in the following draft and injuries plagued his first two seasons.  The Lions only slightly improved in 2010, winning 2 games throughout the season….but closed out the 2011 campaign with a 4-game winning streak that showed us we may finally be turning over a new leaf in Detroit.
Despite win totals of 7, 0, 2, and 6 during his first four seasons, Calvin was able to put up some pretty monster numbers that compare pretty respectably to some of the all time best at the position.  Then, when you throw in Calvin's jaw-dropper of a campaign this past year – his first with a solid starting QB throughout the entire season – you can tell that Calvin may be on the track of a career second to, well, maybe only Jerry Rice.
So why not muse over some comparisons with the greatest wide-out of all time?
1681 Yards in 2011
Calvin has topped 1,000 yards receiving and scored over 10 touchdowns in three of his first five seasons – the three in which he suited up for all 16 games.  Rice was over 1,000 for four of his first five, over 10 for three, and while his 22 touchdowns in his third year are just plain stupid good, only once in Rice's career did he ever top the 1,681 yards Calvin put up this past season….and it wasn't until his 11th season in the league.
Back to the comparison. In his first foray into the playoffs, Calvin instantly tied Barry's career playoff touchdown total, and put together the most impressive statistical game for a wide receiver in Lions' history.  His 211 receiving yards shattered the previous Lions' franchise record held by both Brett Perriman and Leonard Thompson.  Although the outcome was one we'd like to forget, let's remember that we were fielding a young and undeveloped defense against one of the best offenses in NFL history.  Meanwhile, our offense was still learning how to gel after their first full season together.
That brings me to the key point in the Lions' near future now that Calvin is signed on through 2019, because a superstar is still only as good as the supporting cast allows him to be.  It was the story of Barry's career and a frustrating element in a lot of storied careers within the past couple decades.  How many more rings could Payton Manning have if he ever had a defense that could make a stop?  Or what if Allen Iverson had a competent offensive forward during his glory years to maybe give Shaq and Kobe something to worry about?
Dominant
We don't want a team that's going to just put up some huge offensive numbers and a few thrilling comebacks a year; we're hoping that's just a preview of coming events.  We need to model our team off of those that have had the most success within the past decade and the three franchises that come to mind are the only three that have won multiple super bowls in the 21st century: the Patriots, Steelers, and Giants.  What we need is an all-around team, one that – like these big three – can rely both on their offense to pick up key scores and first downs as well as their defense to come up with the key stops.  (Of course the last two super bowls showed that both the Patriots' and Steelers' defenses had some significant holes, but super bowl runner-up still isn't half bad, right?)
And Lions GM Martin Mayhew has now – after the 5-year contract agreement with linebacker Stephen Tulloch – taken care of all the priorities the Lions needed to address this off-season.  I'm not going to make the foolish statement that retaining Tulloch and Cliff Avril were even nearly as significant as locking up Calvin's talent for the next seven years, but it's extremely reassuring to see that Mayhew wasn't too caught up in the Calvin deal to forget about two other significant elements on the team.  With Calvin secured as the face of the franchise, Tulloch and Cliff Avril will help lead the more undeveloped side of the ball towards improvement.
Unlike the Cavaliers who in seven seasons were unable to find LeBron a more attractive running mate than Larry Hughes, Mo Williams, or Antawn Jamison, or the Cardinals who simply couldn't scrounge together the cash to retain the face of their franchise, the Lions have not only supplied the necessary cash and longevity a player like Calvin demands in this market, but have surrounded him with a talented supporting cast as well through solid drafting – namely Stafford, Suh, and Avril – and by not allowing any key components to run off to other teams.  You aren't going to see the Lions defense suddenly improve to one of the game's premier units in the league this year, but with another season to develop together, the differences should be noticeable.  Even though the franchise tag wasn't the optimal off-season scenario for Avril, hopefully another year in the system will prove to him that his home is truly in Detroit and that life without Ndamakong – even though it could include a Mario Williams-like deal – would not be as easy or generous to the stat sheet.
// < ![CDATA[ // < ![CDATA[ google_ad_client = "ca-pub-2050928829510309"; /* AndrewE */ google_ad_slot = "1886221523"; google_ad_width = 468; google_ad_height = 60; // ]]>
// < ![CDATA[ // < ![CDATA[ // ]]>Upon completing the contract negotiations with Megatron, Coach Schwartz told the press that whatever you pay a player like Calvin Johnson, it's simply not enough.  And while it's undoubtedly true that the promise his talent brings to us versus how crippling his departure would be is rather incalculable, it's hard to argue that the contract pays itself off if the Lions don't make it anywhere.  As with Barry, the sky is the limit for Calvin, but we need to make sure he has the right supporting cast to take him over the top.  And if the Lions' first Super Bowl is where Calvin takes us, you can keep those flamethrowers tucked away safely in your closets.
DS360 Tags:
Calvin Johnson
,
Free Agency
,
Detroit Lions
Original Story:
http://feedproxy.google.com/~r/Detroi...
THE BACKYARD
BEST OF MAXIM
RELATED ARTICLES
The Detroit Lions announced today that the club has resigned linebacker Stephen Tulloch to a five-year deal.  The details haven't been announced, but the contract is believed to be worth around $40 million according to the Lions official website. This deal ultimately marks the end of relevant free agency signings for Detroit, as this move leaves them with little cap room. The...
This offseason hasn't been a flashy one for the Detroit Lions but it has been maybe their best one in over a decade. The Lions had been lacking continuity for years but now things are changing. This offseason could be the most important one in Detroit Lions history.  General Manager Martin Mayhew has had his hands full, and he is proving his worth. The Lions are already offseason...
The Detroit Lions have been relatively quite during this 2012 NFL Free Agency frenzy. However, the Lions made some leaps and took a more assertive approach on Tuesday. Photo Credit: DetroitLions.com In addition to scheduling a visit for defensive end Everette Brown, the Lions also signed cornerback Jacob Lacey, re-signed Andre Fluellen and brought back star linebacker Stephen...
ALLEN PARK, Mich. There was a decided lack of drama in contract negotiations between the Lions and middle linebacker Stephen Tulloch that eventually led to Tulloch re-signing with a 5-year contract. Tulloch wanted to return to the Lions. The Lions wanted him back. All it took was time not hand-wringing or name-calling to get a deal done. Eight days a lifetime for many during...
Roughly four months ago, on the heels of Ndamukong Suh's suspension, the Lions became vilified and labeled with such tags as 'undisciplined' and 'reckless' after being heavily penalized in a nationally televised contest against the Saints. Mike Mady asks: Who's the villain now?
According to Mike Florio of ProFootballTalk.com, the Detroit Lions have signed linebacker Stephen Tulloch to a five-year deal.  We don't have the specifics of the contract at this time. The Lions had been working really hard to lock up Tulloch who had a very good season in 2011 with 111 tackles, 3 sacks and 2 interceptions.  
ALLEN PARK, Mich. It is hard not to be impressed by Calvin Johnson. Everything about the star wide receiver is big big body, big catches, big smile, big contract. The image Johnson has portrayed to the public on and off the field in his five seasons with the Lions has been that of a superstar performer and consummate professional who is big in every way, with one exception - he...
NFL News

Delivered to your inbox

You'll also receive Yardbarker's daily Top 10, featuring the best sports stories from around the web. Customize your newsletter to get articles on your favorite sports and teams. And the best part? It's free!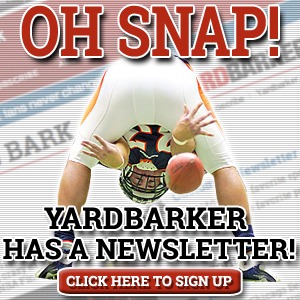 Latest Rumors
The Backyard

Today's Best Stuff

For Bloggers

Join the Yardbarker Network for more promotion, traffic, and money.

Company Info

Help

What is Yardbarker?

Yardbarker is the largest network of sports blogs and pro athlete blogs on the web. This site is the hub of the Yardbarker Network, where our editors and algorithms curate the best sports content from our network and beyond.