One of the things that we'll be doing throughout the summer is reviewing the 2011 Colts' high and low points by going through big plays throughout the season. 
The first section is bittersweet: defensive interceptions. Positive: they are good plays for the Colts, turnovers caused by the defense. Negative: they didn't happen much in 2011, the Colts only had eight interceptions, tying with Minnesota for least in the league (another fun fact: Colts had the least passes defended with 55). 
Nevertheless, we will celebrate what we can. 
Week One: 1-10-IND 39 (14:12 1st Quarter) M.Schaub pass short right intended for A.Johnson INTERCEPTED by M.Bullitt at IND 25. M.Bullitt to IND40 for 15 yards (K.Walter).
The Texans ran two straight play action rollouts for Schaub to start the game, both resulting in a wide open Andre Johnson. The first one went for 21 yards, but the second one resulted in an overthrow by Schaub, and Melvin Bullitt made a great play to grab the tipped ball. A lucky break, but a break nonetheless. it's just too bad the offense couldn't do anything with it. 
Week One: 3-9-IND 9 (14:27 4th Quarter) (Shotgun) M.Schaub pass short middle intended for S.Slaton INTERCEPTED by G.Brackett at IND 10.G.Brackett pushed ob at IND 37 for 27 yards (M.Brisiel).
The game is over by this point, but it's a nice play anyway. Gary Brackett fakes the blitz up the A-gap, and then takes a step back and sits in the shallow middle zone, spying the quarterback on any short routes by the running back. The bait works beautifully, as Schaub rushes a throw to Steve Slaton over the middle, right where Brackett is waiting. He gets the pick, and rumbles down the sideline for 27 more yards. Unfortunately this was the play that caused Brackett to miss the rest of the season, as he gets hurt when he's takled. 
Week Three: (1:46 2nd quarter) (Shotgun) B.Roethlisberger pass deep left intended for E.Sanders INTERCEPTED by J.Lefeged at 50.J.Lefeged to PIT 25 for 25 yards (J.Scott).1-10-PIT 20PENALTY on PIT-A.Brown, Low Block, 13 yards, enforced at PIT 25.
Ben Roethlisberger got sacked on the previous play, fumbled and Jamaal Anderson took the ball to the house for a TD, tying the game. This play would allow the Colts to get a field goal before halftime, pulling ahead 13-10. Emmanuel is running a deep post, and gets in space between the linebacker and safety. But, Roethlisberger floats the pass over his head, and Lefeged makes a great leaping catch to make the interception. 
Week Nine: 2-9-ATL 2 (7:53 2nd Quarter) (Run formation) M.Ryan pass short left intended for R.White INTERCEPTED by J.Powers at ATL 6.J.Powers for 6 yards, TOUCHDOWN.
The Falcons were backed up to their own one yard line after a fantastic punt by Pat McAfee rolled out of bounds just before the endzone. The Colts were down 21-0, and needed a big play to get some momentum. After stopping the run on first down for just one yard, the Falcons had a second down. Before the snap, Jerraud Powers saw something he recognized, and realized that a slant to Roddy White was very possible. Motioning to Antoine Bethea to move up and cover for him if he was wrong, he jumped the route as soon as the ball was snapped, and adjusted to make a great play on the ball (and take it six yards for the score). This is the kind of veteran play and leadership the Colts needed last year, and will need again this year with all of the young guys in the secondary.
Week Ten: 2-12-IND 20 (13:57 First Quarter) (Run formation) B.Gabbert pass short left intended for J.Hill INTERCEPTED by J.Powers at IND 5.J.Powers to IND 18 for 13 yards (G.Whimper).
After Curtis Painter threw a pick on the first series, the Jaguars had excellent field position, starting their drive on the Colts' 18-yard line. Kavell Conner and Fili Moala made a great play on first down, penetrating the offensive line to stop Maurice Jones-Drew for a two yard loss. On second down, Gabbert play faked to Jones-Drew, then sat back and threw a ball to WR Jason Hill, who seemed to have found space in the Colts' zone coverage. But, the ball was slightly underthrown, and Jerraud Powers, who was sitting in the shallow zone on that side, made the easy catch for the pick.
Week Fourteen: 3-8-IND 21 (13:35 Fourth Quarter) (Shotgun) J.Flacco pass deep middle intended for A.Boldin INTERCEPTED by J.Lefeged at IND 0.Touchback.
A strong play on the runner on first down by safety David Caldwell and a hit on the quarterback by Robert Mathis on second down led to a third and long situation for the Ravens. Defensive Tackle Ricardo Matthews had a great inside move to beat the guard and center, putting pressure on Joe Flacco and collapsing the pocket. Flacco couldn't step into the throw, allowing the ball to sail on him just enough to go over Anquan Boldin (who was 20 yards down field in the middle of the endzone). Joe Lefeged had great position, he likely could have made a play even if the throw was perfect, and made the easy play for the pick. 
Week Fifteen: 1-10-TEN 29 (6:41 Third Quarter) (Shotgun) M.Hasselbeck pass short right intended for C.Johnson INTERCEPTED by J.Lacey at TEN32. J.Lacey for 32 yards, TOUCHDOWN.
After a touchdown connection between Dan Orlovsky and Reggie Wayne, the Colts had a 10-6 lead, but the Titans were slowly moving the ball. One 1st and 10 from the 29, Matt Hasselback looked to the quick in by Chris Johnson (who lined up outside). As Johnson made his break, Jacob Lacey hesitantly closed in on him. As soon as the ball was thrown, Lacey jumped in and muscled the ball away from Johnson, knocking him to the ground and clearing the way for a 32-yard return for a touchdown. It was a great play by a player who had ability when not instructed to play 10-yards off of his man on the outside. The play gave the Colts' an 11-point lead, leading to their first win of the season.
Week Fifteen: 1-10-IND 25 (7:27 Fourth Quarter) (No Huddle, Shotgun) M.Hasselbeck pass deep left intended for N.Washington INTERCEPTED by P.Angerer[A.Johnson] at IND 0. Touchback.
The Colts had build a 20-6 lead by this point, but the Titans were threatening to make it a one possession game, taking it to the Colts' 25-yard line. In one of the few times where the defensive line stunts actually worked, Antonio Johnson looped around the outside, and went untouched to Matt Hasselback. Hasselback slung one off his back foot towards Nate Washington down the middle of the field, where Pat Angerer was patrolling in his deep middle role in the Tampa-2. Angerer capped off a fantastic game (12 tackles, two tackles for loss, two passes defended, a forced fumble, and an interception) with his first pick of his career, a leaping grab in the endzone. 
The final breakdown of picks by position: three by cornerbacks (Powers-2, Lacey-1), three by safeties (Lefeged-2, Bullitt-1), and two by linebackers (Brackett, Angerer). The Colts really needed more playmakers in the secondary (although their defensive scheme wasn't helping) in 2011, and my fear is that 2012 will be no different.
If the Colts can find a way to take the ball away from opposing quarterbacks, the offense under rookie quarterback Andrew Luck will be in far better position. Rather than having the worst starting field position in the league, as they did in 2011, the young offense would benefit greatly from being put in a position to succeed. 
PLAYERS:
Andre Johnson
,
Melvin Bullitt
,
Gary Brackett
,
Ben Roethlisberger
,
Pat McAfee
,
Jerraud Powers
,
Roddy White
,
Antoine Bethea
,
Curtis Painter
,
Kavell Conner
,
Fili Moala
,
Maurice Jones-Drew
,
David Caldwell
,
Robert Mathis
,
Joe Flacco
,
Anquan Boldin
,
Joe Lefeged
,
Dan Orlovsky
,
Reggie Wayne
,
Chris Johnson
,
Antonio Johnson
,
Nate Washington
,
Pat Angerer
,
Andrew Luck
TEAMS:
Houston Texans
,
Indianapolis Colts
,
Pittsburgh Steelers
,
Atlanta Falcons
,
Baltimore Ravens
,
Jacksonville Jaguars
,
Tennessee Titans
MORE FROM YARDBARKER
NFL News

Delivered to your inbox

You'll also receive Yardbarker's daily Top 10, featuring the best sports stories from around the web. Customize your newsletter to get articles on your favorite sports and teams. And the best part? It's free!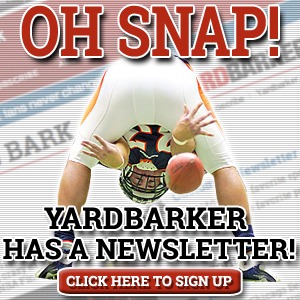 Latest Rumors
Best of Yardbarker

Today's Best Stuff

For Bloggers

Join the Yardbarker Network for more promotion, traffic, and money.

Company Info

Help

What is Yardbarker?

Yardbarker is the largest network of sports blogs and pro athlete blogs on the web. This site is the hub of the Yardbarker Network, where our editors and algorithms curate the best sports content from our network and beyond.